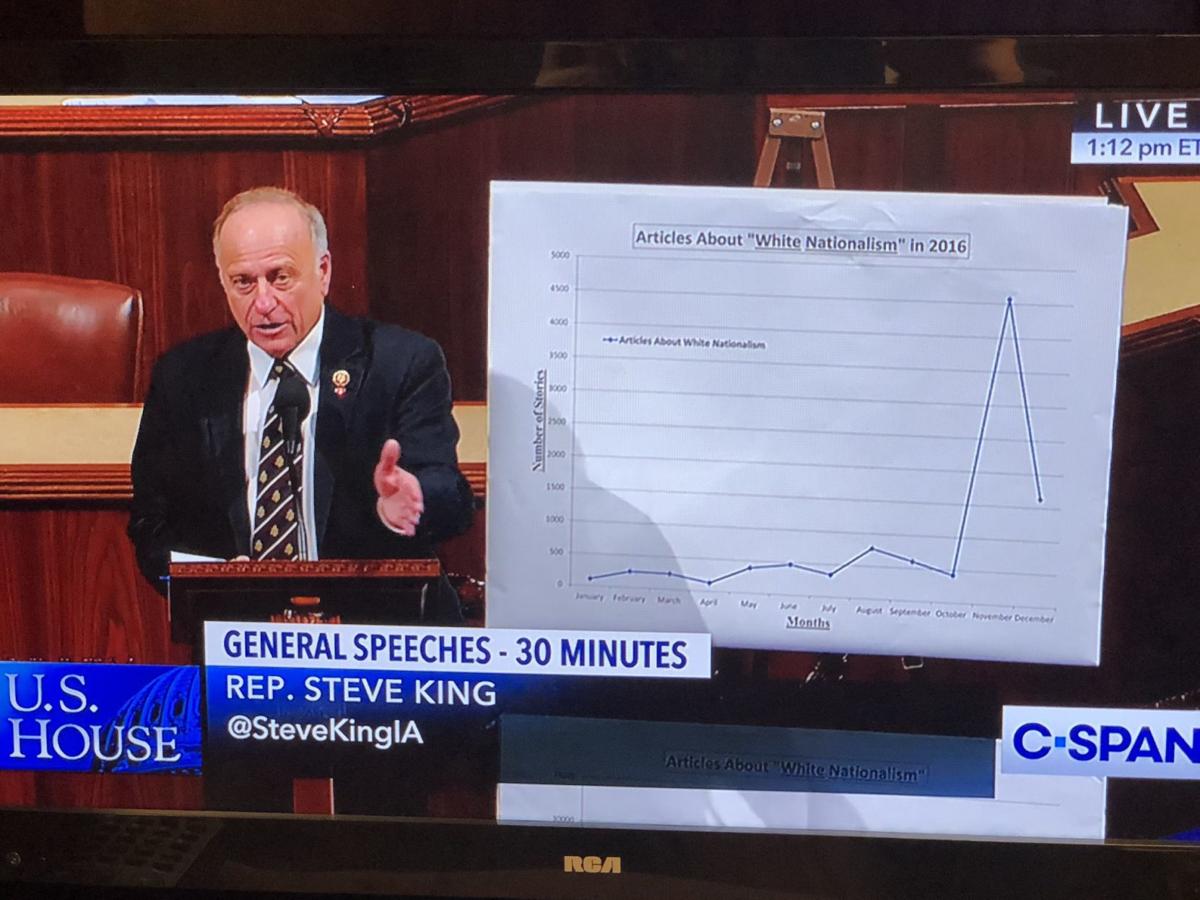 In a New York Times story on immigration a year ago, King was quoted as asking, "White nationalist, white supremacist, Western civilization — how did that language become offensive? Why did I sit in classes teaching me about the merits of our history and our civilization?"
The published remarks fueled a national backlash that prompted GOP House leaders to strip him of his committee assignments for at least two years, and for the full House to pass a resolution condemning white supremacy and white nationalism. 
Since then, King has repeatedly insisted the Times reporter misquoted him, and that Republican leaders were too squishy over the fallout to reinstate him to his committees.
King, a nine-term incumbent, took to the House floor Friday to again criticize House Minority Leader Kevin McCarthy, describing his treatment by the GOP leader as "unprecedented." Of the four members of Congress previously removed from committees, three had been been convicted or pleaded guilty to felonies, said King, who noted he broke no laws. 
"...to be treated like a federal felon by my own leadership for a made-up story that doesn't hold up, cannot hold up under the scrutiny of history, must be rectified," King said in his floor speech. 
During his speech, King also displayed large graphs that showed a sharp increase in online stories using the term white nationalism in the years since Donald Trump was elected president in 2016. He argued the political left has adopted a strategy of using the "weaponization of language" to attack conservatives and Trump supporters.
"This is a weaponized term created by the left," King said. 
"We should never forget that the left in this country, in particular, and I hope it's to a lesser degree and I believe it is from the other side, assigns a belief system to people and then attacks them for the belief system that they have assigned," he said. "And they use the words that they've been assigned to use to assign to people for the belief system that they've assigned."
You have free articles remaining.
J.D. Scholten, the Sioux City Democrat who narrowly lost to King in 2018, accused King of saying "white nationalism isn't real."
"For the record @SteveKingIA, white nationalism is very real and has been used to fuel mass murders across this country," Scholten, who is running in the 4th District again this year, said in a tweet. "Mother Emanuel AME Church, Charlottesville, Tree of Life Synagogue, El Paso, and many, many more. We stand strong against this hate."
During his floor speech Friday, King also formally asked for a correction in the Congressional Record for what he contended was an inaccurate portrayal of comments he had previously delivered on the House floor.
"The error the Congressional Record made was identical to the error made in the New York Times misquote, and shows how easily the Times' error could have been made, even if one accepts no malice or bias on the part of the liberal Times," King's office said.
Editor's Note: A prior version of this story incorrectly specified that King lost to Scholten in 2018.