SIOUX CITY -- Monica Swords ran her hand through her gray-tinted hair as she rocked back and forth in a brown leather recliner on a Thursday evening in late January.
On the couch, her 5-year-old grandson Rian held a bag of Cheetos in his lap. His wide eyes were transfixed on a cartoon playing on a flat-screen TV in the dimly lit living room.
"My lips are chapped!" Rian suddenly proclaimed. He pursed his orange-dusted lips together to make a popping sound.
A few minutes later, "Nanny, I need water. I need water," he yelled.
Swords, who had been awake since 2 a.m., firmly told him to get his own water. Rian, who likes to jump and somersault, dashed from the living room into the dining room, where the words "Grandmas never run" are painted in bright pink letters on a beige wall.
Nationally, an estimated 2.6 million grandparents, like the 53-year-old Swords, are raising their grandchildren, for a myriad of reasons, including drug addiction, mental health issues, incarceration and death.
Rachel Dunifon, interim dean of the College of Human Ecology at Cornell University and a professor of policy analysis and management, has researched grandfamilies, households in which grandparents are raising grandchildren. Dunifon said these grandparents are playing a "very important role" that often goes unrecognized in society.
"I think if the grandparents weren't stepping in to do this, we would see more and more kids facing abuse and neglect, potentially. We'd see more and more kids entering foster care or just living through very difficult situations," she said.
Siouxland grandparents raising grandchildren say they often don't know where to find information and services and feel like they "fit nowhere." In 2017, more than 870 grandparents in the Sioux City metro area were responsible for their grandchildren, according to U.S. Census data.
In this four-part Journal series, reporter Dolly A. Butz and photographer Justin Wan chronicle grandparents in Siouxland who are taking on the…
Robin Capers, a clinical social worker who owns Family Wellness Associates in Sioux City, said finding and accessing supportive services, including financial assistance and child behavioral health care, is "almost impossible" for area grandparents if the children they are raising are not in the child welfare system.
"If a child's in the system, DHS or a social worker is there to navigate that, but, a lot of times, children are not in the system," she said. "Parents have voluntarily placed their children with their (own) parents."
After Swords' 33-year-old son Travis ended his life on June 20, 2017, Rian immediately came to live with her. Raising Rian, now 6, in a city more than 100 times the size of the rural South Dakota town where her children grew up, has been challenging.
"If I'm struggling this hard, how difficult must it be for folks who don't know where to go or who to turn to?" said Swords, who works full time as a reproductive health care assistant at Siouxland Community Health Center.
Services needed
The vast majority of grandparents raising grandchildren are female; and in Dunifon's study, slightly fewer than half of the grandparents were married.
Dunifon, who interviewed 59 families composed of grandparents and youth between the ages of 12 and 18 from across New York State and wrote a book about her research, said the parents still remained highly involved in their children's lives even though they weren't living with them.
"Sometimes, they live nearby, or, sometimes, they sort of come and go out of the kids' lives," she said. "That can be sometimes good, but sometimes very stressful, and it can cause confusion as to who's really in charge or who's really the person responsible for raising the grandchildren."
Dunifon said grandparents raising grandchildren benefit from support groups, as well as parenting classes and access to some form of legal guidance, which isn't always available in communities. She cited Cornell Cooperative Extension's Parenting a Second Time Around (PASTA), a workshop series for grandparents and relatives who are parenting again, as an example of a program that is having a positive impact on grandfamilies. Topics covered by PASTA include child development, discipline, legal issues and living with teens.
"We've done some research and it has showed that it really has helped reduce grandparent stress as they're raising their grandchildren, increased their knowledge of resources available to them, and helped them feel as if they're being more effective in their parenting," she said.
Sioux City didn't even have a support group for grandparents raising grandchildren until last fall, when Swords formed one with the backing of her employer. The majority of those who attend the twice-monthly meetings are single women between the ages of 50 and 70 whose adult children are addicted to methamphetamine. Swords is the only grandparent in the group whose child is deceased.
"I was afraid that there would be some anger at their kids, and I totally understand that, but my response to that is, 'As long as they're alive, there's still hope,'" she said.
A common bond
Later, on that same winter's night, Rian sprinted from the living room into Swords' bedroom in search of a toy guitar that his father gave him. Each time, he returned with a new find other than the guitar -- a crystal, a box of cars and Transformers, a set of keys.
"Don't lose them or I will cry; and I'm just not in the mood for tears tonight," Swords pleaded as Rian teasingly dangled the keys in front of her face.
You have free articles remaining.
A few months earlier, around Thanksgiving, Swords did cry as she watched Rian standing on her back porch singing at the top of his lungs and strumming the basswood guitar, which has since lost all but one of its strings.
Swords said Rian's words and actions often remind her of her son, who played the guitar and mandolin and loved to fish and hunt for wild mushrooms and asparagus. She said her son also battled depression and anxiety most of his life and struggled with alcohol.
The days and weeks after her son's death were an "absolute blur." She was coping with grief, while chasing after Rian.
That first year, Swords kept her grandson at home and established a routine to help him feel safe and secure. When friends asked her out to a movie or invited her to a party, she declined. But as the summer of 2018 came to a close, Swords found herself feeling anxious.
"I couldn't figure out what was going on, and then it finally dawned on me that winter was coming and I was going to be alone again," she recalled, voice quaking. "I couldn't do that again."
When Mari Kaptain-Dahlen, the health center's CEO, heard about Swords' intention to form the support group, she told her to "go for it," even though it meant Swords would have to leave work early on meeting nights in order to pick up Rian from daycare.
"Our concept of family and our definition of family has changed as times have changed. We see more and more that there are grandparents who actually have responsibility for their grandchildren," Kaptain-Dahlen said.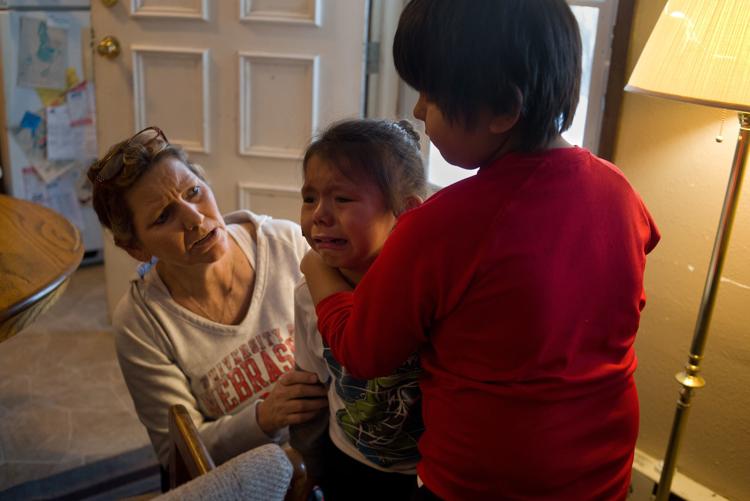 Last August, Swords met Becky Valentine at Leif Erikson Pool. The 57-year-old Sioux City woman is raising her grandsons, Elijah, 8, and Isaiah, 5, on her own because of her daughter's drug use and mental health issues.
Swords and Valentine talked at the edge of the pool as the boys played in the water and realized they shared a common bond. Swords pitched her plan to form a support group for grandparents raising grandchildren to Valentine, who was interested.
"It's hard. We don't have that free life no more," said Valentine, who used to be a regular at karaoke on Friday and Saturday nights.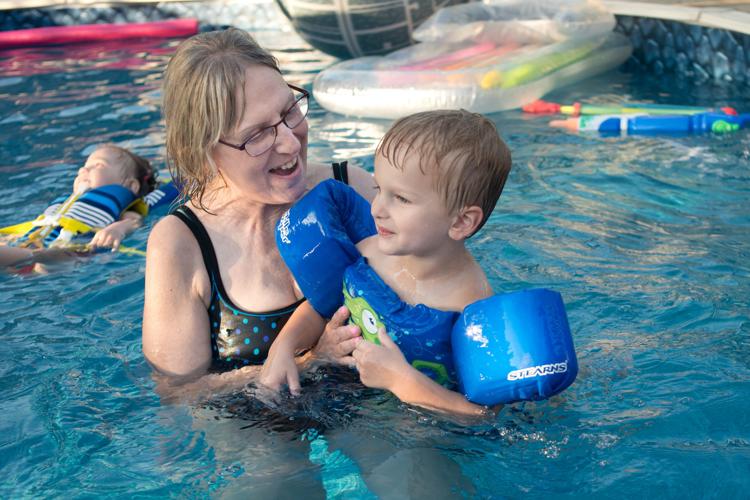 Finding support
Valentine was among the six grandparents who attended the support group's first meeting on Oct. 25 at First Unitarian Church.
Swords said offering childcare on site is key to sustaining the group, which sometimes doubles in size. Health center staff members, including Swords' supervisor, Brandi Steck, volunteer to watch the children in an upstairs playroom at the church, while the grandparents share their fears, struggles and frustrations downstairs.
"My whole life is up and down, up and down, but I'm not a criminal. I don't want to hurt you," said Amanda Hard, whose two sons are being raised by her mother. "I want to be fixed."
Jan Schnack, a family caregiver specialist for Connections Area Agency on Aging, facilitates the discussion, which just seems to flow among the grandparents. They talk about potty training, preschool and the social isolation they feel.
Donna Kelley, 58, adopted her 3-year-old grandson Laythm in November 2017, after her daughter lost her parental rights.
"I feel like we can't even be grandparents. We're all back to being mommies again," Kelley said while she sat at a long table in the church's basement.
Dr. Kristi Walz, a family physician at the health center, said she encounters at least a patient a week who is sleep-deprived and fatigued from raising a grandchild.
"You're supposed to be retired and enjoying life, and then you're having to change diapers and get up at 3 in the morning and put up with temper tantrums. It's just cruel," she said. "The reason we're seeing this is because parents are addicted to drugs. That's the No. 1 reason why I see it."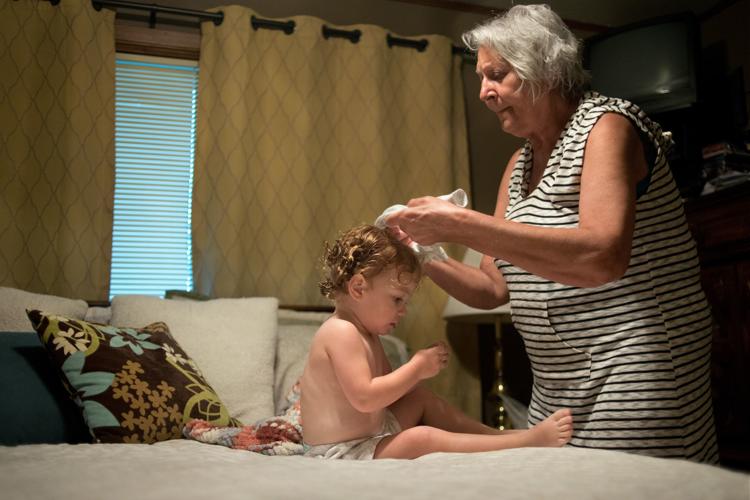 Freda and Allan Brown envisioned spending their golden years visiting their children and grandchildren, the majority of whom live out of state, and wintering someplace warm by the sand. But those plans changed when their daughter gave birth to a baby girl while she was incarcerated in South Dakota on drug-related charges.
Now, the Sergeant Bluff couple, who are in their late 60s, can't just pack up and go. Their world revolves around Stella, a toddler with naturally curly hair, big brown eyes and a penchant for climbing anything and everything.
"My husband and I realize that we just both need to dig in and do this," Brown said.
Swords, Valentine and Kelley are equally committed to the task that lies in front of them.