SIOUX CITY -- Delbert Christensen describes Sioux City's Hubbard Park as a diamond that's "a little bit rough." 
Christensen and his fellow Sioux City Fastpitch Softball Association board members, along with their support staff, are working to revitalize the more than 81-year-old softball stadium and 93-year-old park at 2800 Jones St. 
"It's got good bones, but there's some work that needs to be done," said Christensen, who estimates that Hubbard Park needs some $300,000 worth of repairs and upgrades, including concrete work, paint and fencing. He said replacing the field lighting alone will cost around $180,000.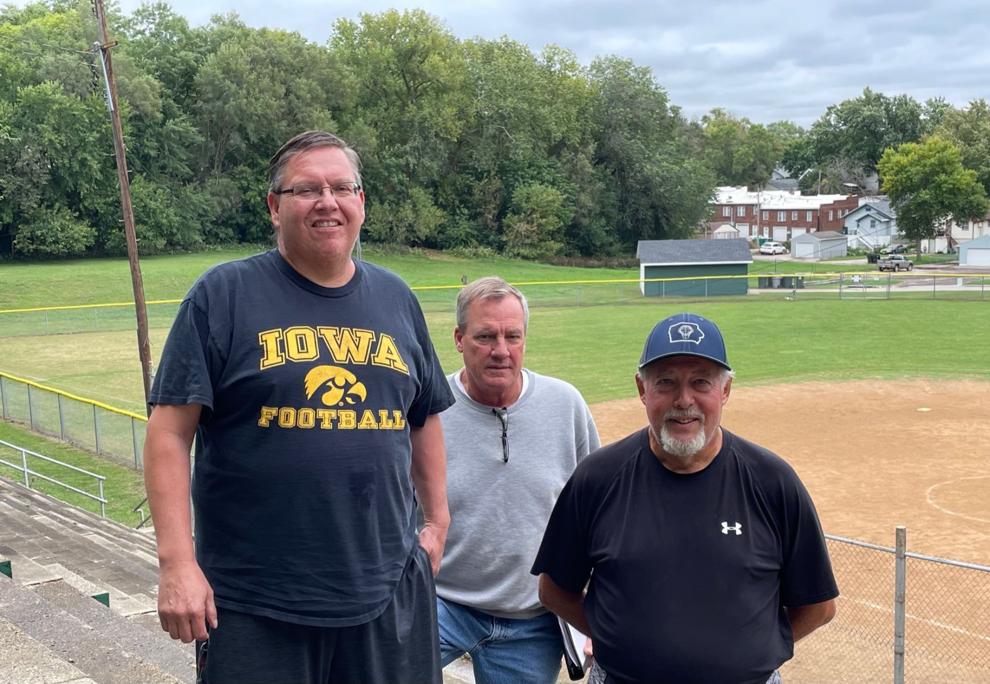 If the Hubbard Park Softball Stadium is named to the National Register of Historic Places, the restoration project will become eligible for historic tax credits and associated grants. Grandview Park's music pavilion received the designation in 2011.
On Monday, by voting in favor of their consent agenda, Sioux City Council members approved a resolution authorizing the submission of an application for a certified local government grant to the State Historic Preservation Office to support the stadium's nomination. Christensen said the nomination process is expected to take at least two years. 
In the meantime, the association's board and its support staff are doing what they can to improve the ballpark with the proceeds from sign sales. Steve Hauge, vice president of the association, said Christensen has put in countless hours cleaning up the park, which, in mid-July, had eye-level weeds growing behind the fencing in right field. 
"We all love the ballpark," Hauge said. "We've all done as much as we can to help out." 
Pete Sandman, the association's president, grew up half a block from the park. As a child, he watched games there and served as a batboy. Eventually, he played in the league with people he considered his heroes. 
"If we fix it, they will come. We think teams will want to play here because there's no venue like this that you can play at or watch a game at," he said. 
Hubbard Park opened as a city park in 1928. A year later, the City of Sioux City graded land for a baseball and softball field. 
Then, in the late 1930s, the concrete stadium seating, concession stand, dugouts, lighting and natural turf were constructed as a Works Progress Administration (WPA) project. The WPA, which was renamed the Work Projects Administration in 1939, was an American New Deal agency that employed millions of job-seekers to carry out public works projects. 
Some 4,000 people jammed the stadium on July 15, 1940 for the first two games of the softball season, which marked the dedication of the new facility, according to a Journal file photo. Christensen said the stands were only built to handle 2,500 people. 
Over the years, the ballpark has fielded more than 30 inductees to the Iowa Amateur Softball Association Hall of Fame and several world championship teams out of Sioux City. 
"It's a unique venue just because of the layout and everything," Christensen said. "In some respects, in the fastpitch softball world at least in the Midwest, this is our equivalent of Wrigley Field and Fenway Park." 
Christensen said Hubbard Park is one of a "small handful" of existing, functional fastpitch softball parks in the country. He said it has a "national reputation" in the men's fastpitch softball world. 
"You can go from California to New York state, you'll find somebody who's either heard of it or played here," he said.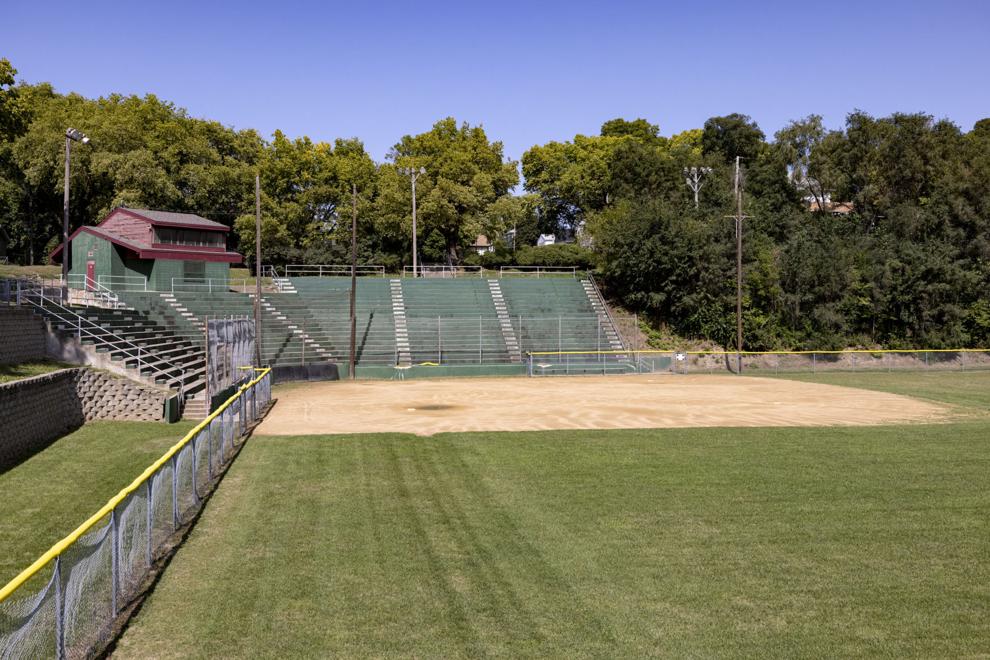 Thousands didn't just flock to the ballpark for games. Christensen recalled just as many people being drawn to the park twice, during the 1980s, to view a traveling Vietnam Veterans Memorial.
"The park got shut down a week each time they set it up in the outfield. There were thousands of people that came through here to see that. It was probably one of the park's finest moments," he said. 
The ballpark's popularity began to dwindle after Penn Corp Park was built near the airport in 1983, according to Christensen. But, unlike Hubbard Park Softball Stadium, Penn Corp Park is no longer standing.
For the last 20 years, Hauge said Hubbard Park Softball Stadium has been typically used as a practice facility. It recently hosted a Briar Cliff University softball intrasquad doubleheader and was used by little league teams for tryouts. 
"We'd like to turn it into 100 percent games," he said. "Not just practice, but games."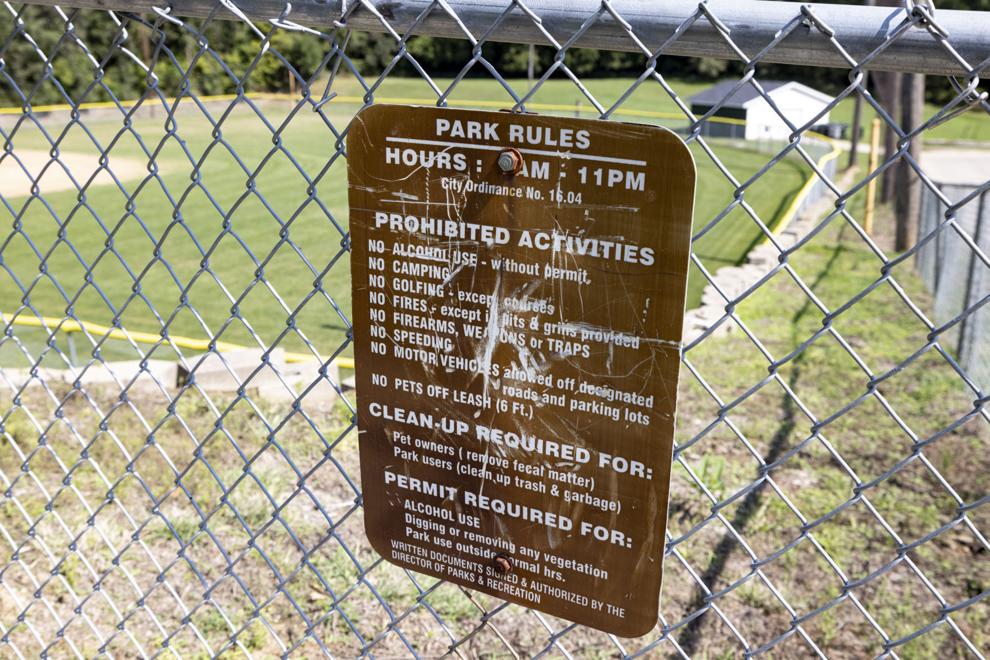 Sandman said the group's long-term goal also consists of making the park "family-friendly." He said he envisions playground equipment and a small diamond for kids to play on during the games. 
"Parents can sit up there and they can watch the kids on the playground and they can watch the game at the same time," he said. 
However, Christensen, Sandman and Hauge said they aren't waiting for the National Register of Historic Places designation to be awarded before bringing games back to the stadium. Christensen said a Siouxland women's fastpitch softball league is expected to begin playing at the park next spring. He said the group also hopes to bring an NCAA Division 1 softball game to the park in the next couple of years. 
"We have to put up a portable outfield fence with shorter dimensions, but is the place going to be playable? Absolutely," he said.