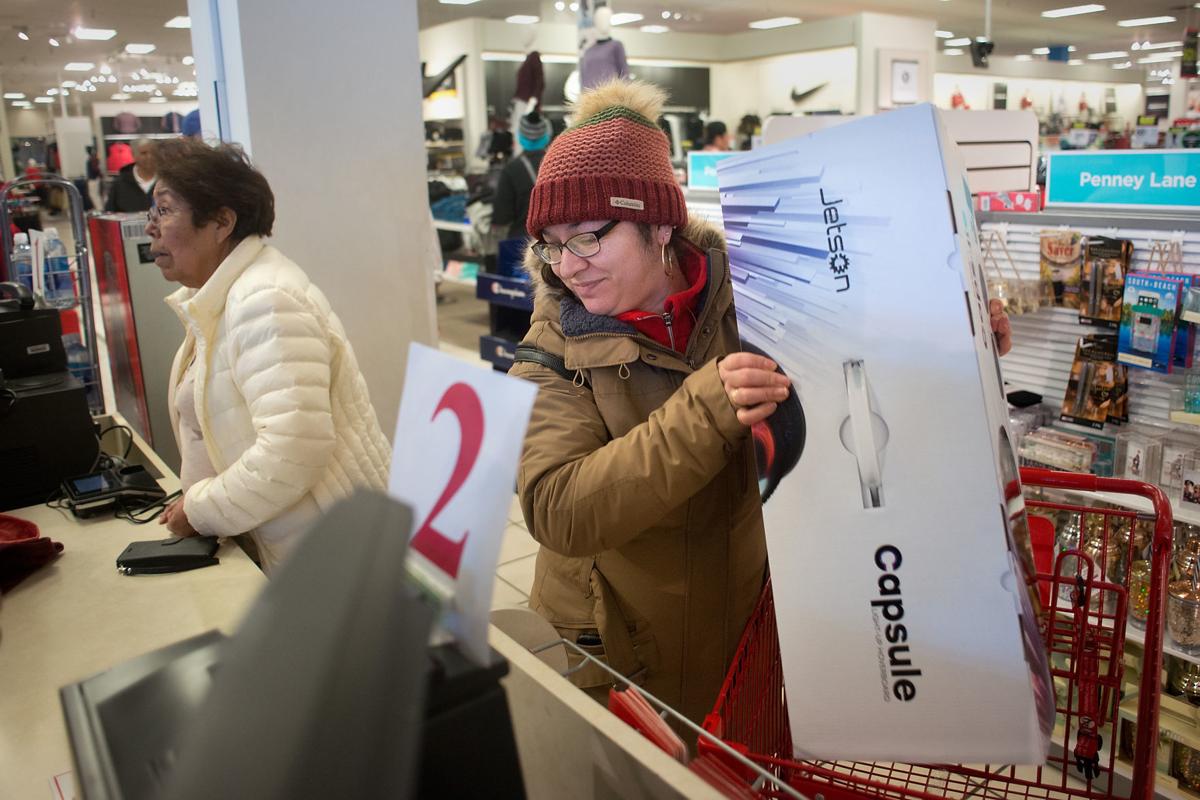 SIOUX CITY -- Continuing a trend that began years ago, consumers across the country will venture out in search of bargains on electronics, toys and other items soon after finishing their Thanksgiving dinners.
Many national retailers with a presence in Sioux City will offer some of their lowest prices of the year during in-store Black Friday specials on Thanksgiving Day.
J.C. Penney, one of the last remaining anchors at Southern Hills Mall, will start the day off with door-busters at 2 p.m. Thursday. 
The mall itself will have extended hours, opening at 6 p.m. and remaining until midnight Thanksgiving Day. The mall will reopen at 6 a.m. on Friday. (Some individual stores and food court restaurants may have different operating hours.)
At the adjacent Lakeport Commons, the largest anchor, Kohl's, will open at 5 p.m. Thanksgiving Day. Start times for other major retailers at the open-air shopping center include 3 p.m. for Gordmans and Old Navy, 5 p.m. for Best Buy and 6 p.m. for Michaels and Five Below.
Just down the hill at the Sunnybrook shopping area, big box retailers Target, Bed, Bath & Beyond and Ulta Beauty will open at 5 p.m. Thursday. 
Dunham's Sports in the Eastgate Shopping Center starts doorbusters at 3 p.m. 
Walmart, which has multiple stores in Siouxland, start offering a series of Black Friday deals at 6 p.m. Thanksgiving Day.
Though traditionally not known as Black Friday destinations, Dollar General, Dollar Tree and Family Dollar stores all will be open Thanksgiving Day. 
Many other retailers will be closed Thanksgiving Day so their employees don't have to work on the holiday, but will reopen early Friday morning with special deals.
Fleet Farm, which made its debut in Sioux City last year, will open its store at Sunnybrook Village at 5 a.m. Friday. Bomgaars, Lowe's, Menards and Home Depot will follow with 6 a.m. openings on Friday. 
You have free articles remaining.
At 7 a.m., PetSmart, PetCo, Sam's Club, Scheels, Staples and Marshalls will open their doors; followed by Hobby Lobby and Pier 1 Imports at 8 a.m. and Barnes & Noble and It's $5 Below at 9 a.m. It's $5 Five Below, whose owners promoted the store as offering a "Black Friday every week," opened this year in the upper hall of the former Younkers space at Southern Hills Mall.
Younkers shuttered its Sioux City store in 2018 after its parent company filed for bankruptcy. Sears, another original anchor of the mall, closed in March as the troubled national retailer downsized its outlets. And, Shopko, the largest anchor at Marketplace Shopping Centre, went out of business in June. All three department stores had been major Black Friday players for decades.  
The time-honored tradition of kicking off the holiday shopping season in the wee morning hours of the Friday after Thanksgiving has taken a back seat in recent years to Turkey Day itself. Black Friday essentially morphed into what many now dub as Grey Thursday.
This year, Thanksgiving falls on the fourth Thursday of November. It happens to be Nov. 28, the latest possible day for the holiday. That means there are just three full weeks of shopping before Christmas Eve, one fewer than in other years.
More than 165 million people are expected to shop during the period between Thanksgiving and Cyber Monday, an annual one-day blitz when many retailers offer special online deals, according to the National Retail Federation. That's more than half the entire U.S. population. 
39.6 million are reportedly considering shopping on Thanksgiving Day, while 114.6 million plan to shop Black Friday; 66.6 million are expected to make purchases during "Small Business Saturday" and another 33.3 million on Sunday, the only day of that five-day stretch without a specific designation. 68.7 million plan to shop on Cyber Monday, a Black Friday-like event for online retailers. 
Total holiday season spending this year is projected to grow by between 3.8 to 4.2 percent over 2018 levels, to an estimated total of between $727.9 billion and $730.7 billion, the NRF reported. 
Brick-and-mortar and online retailers continued jockeying for dollars during the 2018 holiday season. According to the NRF, 54 percent of shoppers made "multichannel" purchases -- both in store and online, last year; 25 percent shopped only online; and 21 percent shopped only in physical stores.