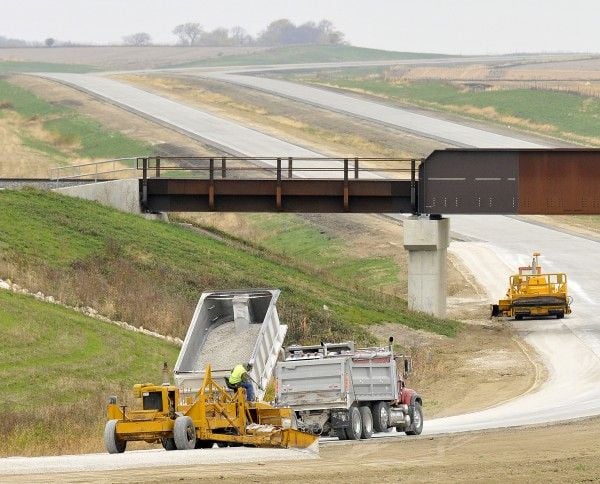 SIOUX CITY | The U.S. Highway 20 expansion project in Northwest Iowa won't share in an extra $70.7 million that landed in Iowa Transportation Commission coffers in September.
Instead, the panel voted Tuesday during a meeting in Ames, Iowa, to direct the money to projects that can be completed in 2013, said Jon Ranney, Iowa Department of Transportation Office of Program Management director.
The ongoing widening of Highway 20, begun in 1959, could be a decade away from completion. The newly widened 26 miles between Rockwell City and Early will open this month, and Woodbury County officials and others had lobbied for some of the $70.7 million windfall to go toward the final stretch, 42 miles from Early to Moville.
You have free articles remaining.
The $70.7 million was from a combination of savings, additional federal revenues and funds carried forward from the previous fiscal year. The commission had set its 2013-17 Transportation Improvement Program budget in June, before the additional funds were freed up.
The commission designated $101.7 million through 2017 for the Early-Moville portion of the 308-mile highway, which spans Iowa from Sioux City to Dubuque.
Among those who sought to have some of the extra money allocated for Highway 20 was Woodbury County Board member David Tripp, of Sioux City. When he learned the project, viewed as a vital tool to improve access and economic opportunities in the area, had been bypassed, he said, "I am very, very disappointed."
"(Highway) 20 needs to be completed, and they really needed to authorize some of that money for Highway 20," he said.
The biggest chunk, $25 million, will go to a section of Interstate 35 in Clarke County.