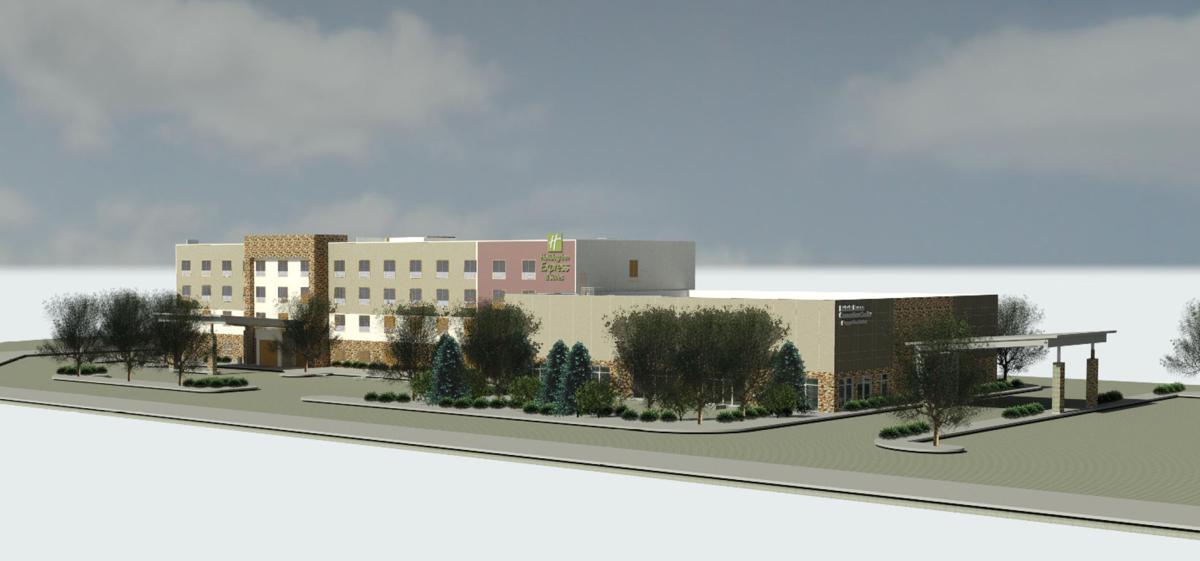 DAKOTA DUNES | A Yankton-based development group has broken ground on a $12 million hotel and event center in Dakota Dunes, South Dakota, earlier this month.
The 92-room Holiday Inn Express will be located on Cottonwood Lane adjacent to the Malloy Electric building and Interstate 29, according to Tim Rutjes, an executive with SRK Development of Yankton.
Rutjes said SRK did its homework on Dakota Dunes and thought it was an ideal market to enter for a multitude of reasons, including the southeast South Dakota community's demographics and the high traffic counts on Interstate 29.
"The challenge with South Dakota is there isn't a big enough population base, but the nice thing with the Dunes is we have access to the entire Siouxland area population base; yet, we are still in that business-friendly environment of South Dakota," he said.
Rutjes is confident the hotel's 11,000-square-foot event center will see plenty of use.
"Our research basically indicated that market is in need of some more supply, as far as wedding space goes and event space, meeting space — it's just not enough available," he said.
Likewise, Tim Swanson, residential manager of Dakota Dunes Development Co.,  thinks the event center could make a positive impact on the region.
"That's a real asset," he said.
Swanson views the Holiday Inn Express as a nice addition to the Dunes and is a fan of SRK's work. The company's newest property is a recently opened Candlewood Suites in Omaha.
"We've seen their other properties and they are spectacular," Swanson said. "Can't wait to see it get going."
Initial talks between SRK and Dakota Dunes Development began in October 2015, and the Yankton group purchased the land in Dakota Dunes a year later.
Rutjes said SRK builds the hotels it owns and operates, which allows them to take their time on construction and be really particular about the building and design process.
Additionally, this strategy allows SRK to incorporate itself into the communities where it does business, which Rutjes said is something they enjoy doing.
"We are looking to integrate ourselves as part of the community and we think the area has so much to offer and we are kind of at the beginning stages of a real development boom and we really look forward to seeing the area grow," he said. "By having the new hotel and event center in place, we'll be there to facilitate a lot of that growth and to make sure that people have a nice place to stay."
The project is expected to take a year to complete, and it will be the third Holiday Inn Express in the metro area, joining locations in Sioux City along Southern Hills Drive and Le Mars, Iowa.