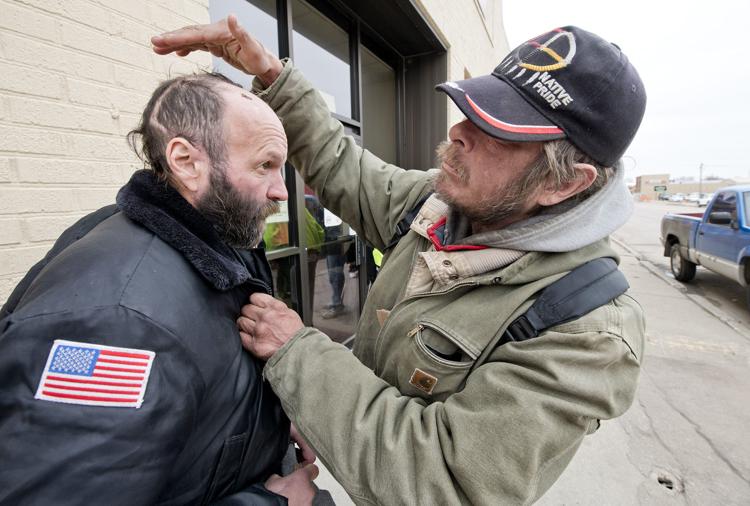 SIOUX CITY -- When Jack Paulsen heard that his best friend, Erik Nuzum, had died, he didn't believe it at first.
While walking the streets of downtown Sioux City, Paulsen said he still finds himself talking to Nuzum, who was featured in day three of the Journal's five-day series "Homeless in Siouxland," which chronicled the plight of men and women living on Sioux City streets and in shelters. 
"I tell him what the weather is," Paulsen said as he sat hunched at a picnic table draped in a bright blue tablecloth. A glass jar emblazoned with a photo of Nuzum held white flowers nearby. "I loved Erik with all my heart."
Around two dozen people -- friends, family members and former high school classmates -- gathered Friday evening at the Siouxland Soup Kitchen to honor Nuzum, a 50-year-old Sioux City native, whom they remembered as a gentle soul with a kind heart. They bowed their heads as strains of Amazing Grace emanated from a cellphone. Some swept tears away from their eyes.
"Erik was a homeless man, but Erik is homeless no more," Joe Twidwell, president of the Warming Shelter's board of directors, told those gathered. "He is not a poor wanderer anymore. He does not struggle with addictions anymore. Erik is free and he is free because he is welcomed by the very same Jesus who was a homeless savior." 
SIOUX CITY -- The pungent smell of body odor makes it difficult for Raymond Jepsen to fall asleep at the Warming Shelter at night.
On a windy, dreary day in late April, Nuzum stood in front of the Siouxland Soup Kitchen chuckling as Paulsen, cracked jokes.
"No matter how down and out we are, we laugh. You gotta maintain your sense of humor no matter what," said Nuzum, who had little else but the clothing on his back. He wore a gray stocking cap that covered a large scar that jutted from the top of his forehead to his right ear.
Nuzum slipped and fell on a patch of ice during the winter and spent a month in the hospital with a brain injury. Less than two months after Nuzum was interviewed on the street in April, he died on June 13, according to information filed with the Woodbury County Recorder's Office. His death certificate hasn't been completed.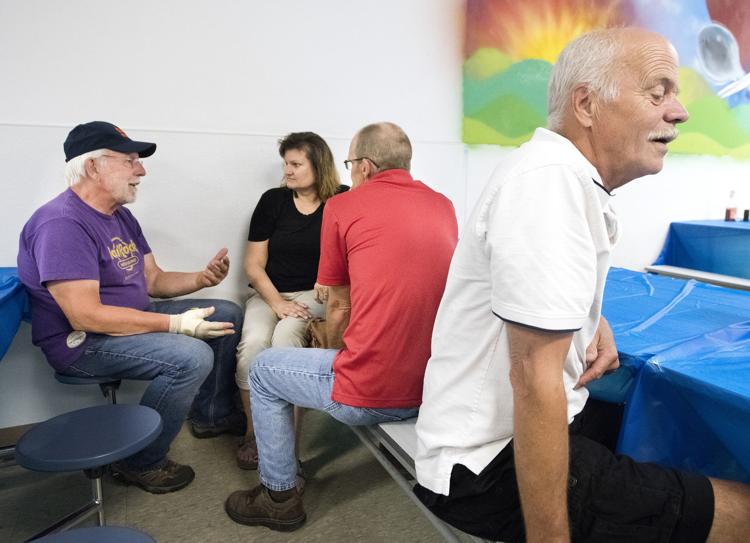 Nuzum's older sister, Tracy Nuzum Sturgeon, who attended the memorial service, said he died from severe brain damage that he suffered after falling again in a downtown alleyway.
According to the statistics, as a chronically homeless man, Nuzum's days were numbered. The average life expectancy among the homeless is estimated to be between 42 and 52 years, compared to 78 years in the general population, according to the National Coalition for the Homeless.
Nuzum, who said he was experiencing blurriness and double-vision as a result of that earlier fall, talked to a Journal reporter about his battle with alcohol addiction and the brushes with death he experienced.
"Even though I'm down in the dumps, I'm a believer. The Lord is my life," he said. "Otherwise, I wouldn't even be standing here talking to you. I'd be six feet under in a hole, because I've overdosed. I've been hit by cars."
Nuzum's descent into addiction began at age 13, when Nuzum Sturgeon said he drank from a whisky bottle her parents kept in a cupboard. But before then, she said Nuzum was a "normal," funny, intelligent kid with an innate talent for sketching.
"He made a warship. He was probably 7 or 8 years old and the ship looked like an adult professional had drawn it," she recalled.
Nuzum moved from drinking liquor to smoking marijuana and his substance use escalated when he reached East High School, where he played the saxophone in the marching band and won a number of awards for his artwork.
"He was a gentle soul and he was very quiet, but he was an artist," East High School classmate Sandy Reuter said of Nuzum. "None of us knew the path his life took."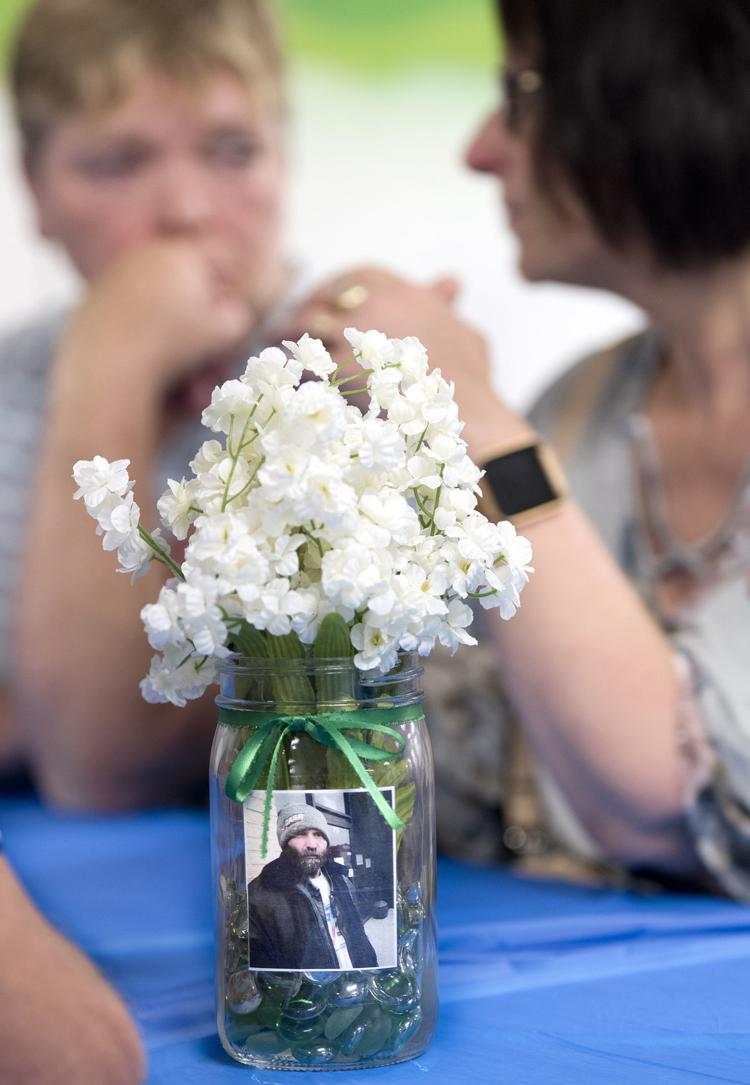 After graduating in 1985, Nuzum decided to enter the workforce rather than attend college. His father, who had been a butcher, helped him get a job working in the meatpacking industry. Nuzum Sturgeon said her brother worked hard, but also partied hard.
Nuzum became a father as a teenager when his girlfriend, Tammy, whom he later married, gave birth to their son, Erik Jr. A few years later, the couple had a daughter, Kiley.
Nuzum Sturgeon said she and Tammy had Nuzum committed when he was in his early 20s. After spending about three months in rehab at Cherokee Mental Health Institute, she said her brother went right back to doing drugs. Nuzum admitted past marijuana, methamphetamine and cocaine use when he was interviewed by the Journal.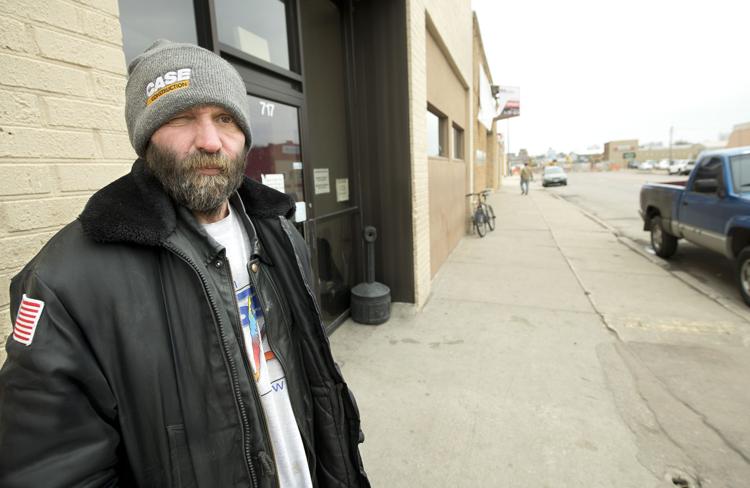 Nuzum Sturgeon described her brother's addiction as "totally devastating." She lost track of him after their parents' deaths. Their paths crossed in 2002, when Nuzum showed up at their childhood home where Nuzum Sturgeon was living, and then again in 2006, when he was hospitalized after a fall.
According to Nuzum Sturgeon, Nuzum fell headfirst from a fire escape while trying to get into a girlfriend's second-floor apartment. His wrists were "mangled." Nuzum told the Journal he broke his wrists when he fell off a ladder, while helping a friend with a roofing project. Whatever the circumstances, the injury left Nuzum unable to wield a knife. His more than 30-year career working in meat packing plants ended and his drinking intensified.
Michael Cayou said he met Nuzum about 10 years ago when the two worked at a cold storage company. 
"I'm hurt today that he's gone. He was good friend of mine. He was a good man," he said voice quaking.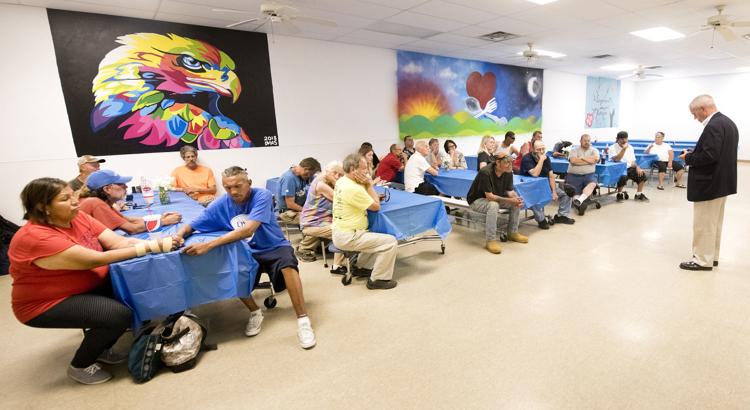 Danielle Tott, who manages the Siouxland Soup Kitchen and arranged the memorial service for Nuzum, described him as a "special person" whom she loved.
"He was the guy that always had a smile. He was the guy that had a meltdown every time he caught me throwing away food because he thought there were people that needed it," she said. "I hope he rests in peace."
Brian Holmberg, Nuzum's cousin, who fondly recalled family camping trips and holidays spent together at their grandmother's house, said he hadn't seen Nuzum in decades.
"I always wondered how he was doing. I had no idea he was homeless," said Holmberg, who thanked those in the homeless community for befriending his cousin. 
In April, Nuzum Sturgeon learned her brother was back in the hospital after another fall. She said he had a blood clot in his brain and needed surgery, which he underwent at Mercy Medical Center.
Nuzum Sturgeon visited her brother the first three weeks of his hospital stay, but since doctors kept him sedated, she doubts he knew she was there. Before she had an opportunity to speak with her brother, he was discharged from the hospital.
Nuzum told the Journal of his family shortly after he was released from the hospital, "I don't think they know where I'm at." He mentioned that he'd like to "reconnect" with his sister, Tracy, seemingly oblivious to the fact that she had been in his hospital room.
Nuzum wasn't back on the streets long before suffering another fall, which landed him in a vegetative state. Nuzum Sturgeon said Kiley Nuzum was at her father's side when his breathing tube was removed. 
On June 26, the day Nuzum Sturgeon picked up her brother's ashes from the funeral home, a story about homelessness that featured Nuzum ran on the Journal's front page. Nuzum Sturgeon read about her brother's desire to reconnect with her and wondered what might've been had they had the chance.
"There has to be somewhere to put these people that cannot take care of themselves," she said. "If Erik could've just gotten dried out, if he could've been somewhere for a year, like a sober living facility where he couldn't leave from, maybe he could've gotten his life turned around."
Nuzum Sturgeon said she plans to lay her brother's ashes to rest at Graceland Cemetery in Morningside where their parents are buried.