HORNICK, Iowa -- Standing in front of a trailer carrying a vast assortment of cleaning supplies and a sign that proclaimed "#HornickStrong," Courtney Nelson grew emotional as she talked about the outpouring of generosity for her flood-inundated hometown.
"Everything you see here has been donated," she said as she stood in the middle of Hornick on Monday afternoon. "We have supplies from Salix, Sloan, Sergeant Bluff, Blencoe, everywhere."
Heavy rains, snow melt and a breached levee on the West Fork of the Little Sioux River forced all of Hornick's roughly 250 residents to evacuate on Thursday.
Residents and property owners were temporarily allowed back into town to survey damage on Sunday but had to leave by nightfall. Monday was the first full day for residents to begin the arduous task of clean-up.
"We had no idea what conditions our houses would be like when we returned," Nelson said. "My house ended up being dry. That wasn't the case with everyone."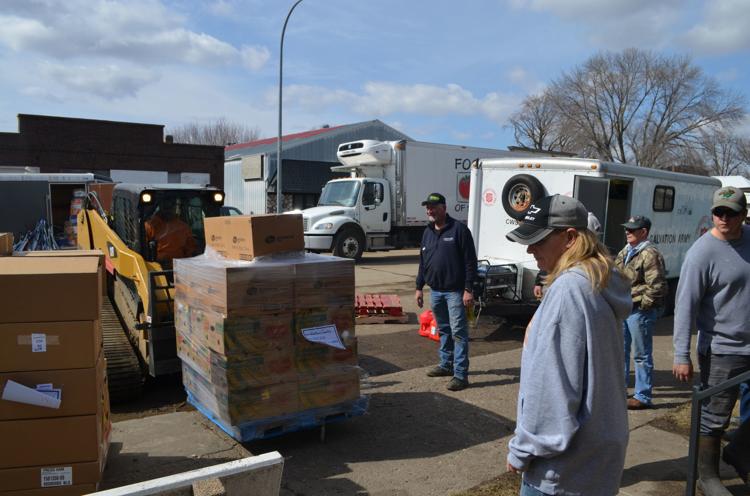 Indeed, Nelson's mom, Deb Nelson, said her basement currently has four feet of water in it.
"We lost our furnace and hot water heater but the damage was limited to the basement and not the main floor," she said. "I consider myself lucky."
As Hornick residents returned home, flooding also eased in other parts of Siouxland. At Sioux City, the Missouri River fell to 26 feet at 6 p.m. Monday, after cresting at 29.7 feet early Sunday morning, just below minor flood stages. The rising river prompted Dakota Dunes officials to briefly evacuate 260 households, many of whom were woken up in the middle of the night Sunday. 
Minor flooding also occurred along the riverfront in Sioux City and South Sioux City. Standing water on Saturday forced the closure of Hamilton Boulevard at the Interstate 29 underpass, as well as the north and southbound exit ramps for the interstate. The roads reopened to traffic Monday morning after the floodwaters retreated.
The flooding fears escalated after the U.S. Army Corps of Engineers increased flows from the upstream Gavins Point Dam to levels not seen since the 2011 flooding, which forced the four-month-long evacuation of hundreds of residents in the Dunes, an upscale planned community with dozens of lots fronting the Missouri and the Big Sioux River. Releases at the dam near Yankton, South Dakota, were briefly raised as high as 100,000 cubic feet per second to preserve room in the adjacent Lewis and Clark Reservoir following heavy rains and snow melt and unanticipated runoff from uncontrolled tributaries.
Gavins Point releases were reduced to 38,000 cfs Monday evening and further were scheduled over the next two days, with the flow slowed to 20,000 cfs on Wednesday night. For the second time in the past week, the corps also stopped all flows at Fort Randall Dam, the next dam upstream from Gavins Point.
The increased Missouri River flows have contributed to more severe flooding downstream in the Omaha-Council Bluffs area and other parts of southwest Iowa and northwest Missouri. With scores of other rivers and streams leaving their banks, hundreds of people remained out of their homes in Nebraska, where floodwaters reached record levels at 17 locations. 
You have free articles remaining.
Corps officials warned the reduced releases from the upstream dams might not last long, noting the National Weather Service forecasts high flows on the Big Sioux, Vermillion and James rivers from melting plains snowpack.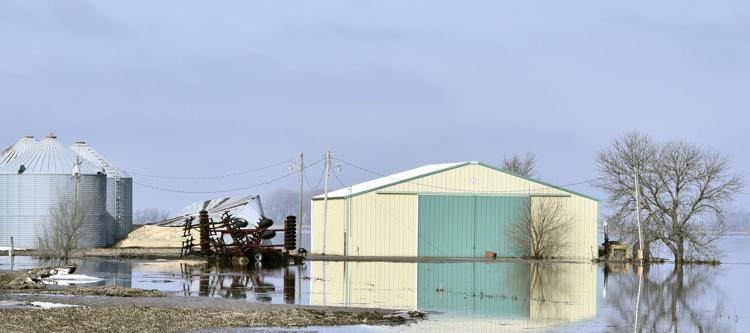 "It is important for those on these rivers and the Missouri River downstream from Sioux City not to get complacent as the stages are declining. They will likely climb again," said Kevin Low, lead hydrologist from the National Weather Service's Missouri Basin River Forecast Center in Pleasant Hill, Missouri.
The West Fork of the Little Sioux River, a tributary of the Missouri River, rose to a record crest of 26.6 feet on Friday before gradually receding over the weekend. It stood at 14.89 feet at 6 p.m. Monday. 
Deb Nelson said it was fear of the unknown that kept her up at night during the flood threat that forced Hornick residents to evacuate. This was also true for another resident, Erin Lindsay.
"Social media is great for keeping you abreast of things," Lindsay said. "It's also scary since you see, in real time, the flooding of your town."
Damage to Lindsay's home was minimal. The same can't be said for the Hornick United Methodist Church, according to the Rev. Catie Newman.
"Our kitchen and pantry are under about 4 or 5 feet of water," she said. "It's easy to feel hopeless when something like that happens. You persevere and take things one day at a time."
On Monday, Newman was creating a makeshift food pantry inside of Hornick's American Legion Hall. The food came courtesy of the American Red Cross and the Food Bank of Siouxland as well as volunteers wanting to help out.
"Today is the first day that power's been restored for most of the town," Newman said. "Food spoils when when you don't have power for days."
That's why being able to pick up canned goods or a packaged meal seems like a step toward normalcy. 
This sense of normalcy is something that Deb Nelson had spent days waiting for.
"When we were getting ready to evacuate, my heart skipped a beat when I locked the front door," she said. "We have a lot of hard work ahead of us. But at least we're home."  
The Journal's Dave Dreeszen contributed to this story.
Copyright 2019 The Sioux City Journal. All rights reserved. This material may not be published, broadcast, rewritten or redistributed.