SIOUX CITY -- In the final phase of a bitter re-election contest, Iowa Sen. Joni Ernst said that she isn't worried about polling that shows her potentially losing to her Democratic challenger, Theresa Greenfield. 
"I know the polls, and what they say, but I don't really pay attention to the polls," said Ernst, a first-term Republican incumbent. "I pay attention to what's going on on the ground in Iowa, and I, unlike my opponent, Miss Greenfield, actually get out into the counties across Iowa." 
Ernst's victory, or defeat, in the race could determine which party controls the Senate next year. Vast sums of money have been spent by both campaigns, with the airwaves in Iowa flooded with nonstop ads for both candidates. 
Sioux City was the starting point of this weekend's "Joni's Ride Across Iowa," an annual fundraiser event headed by the senator, a motorcycle enthusiast. This ride's format was different this year, being more like a poker run, without the usual roast element. Proceeds were donated to two charities, the Puppy Jake Foundation and the Greater Cedar Rapids Community Foundation's Derecho Disaster Recovery. 
Roughly 80 bikers gathered at Rooster's Harley Davidson on Lewis Boulevard for the event. From Sioux City, they rode to Carroll, and then to Des Moines. On Sunday, they're going to Cedar Rapids and then on to Davenport. 
While speaking to the press Saturday morning, Ernst, who sits on the Senate Judiciary Committee, said the confirmation of Supreme Court nominee Judge Amy Coney Barrett will likely be finished by Election Day Nov. 3. 
Two members of the Judiciary Committee, Sens. Mike Lee of Utah and Thom Tillis of North Carolina, have tested positive for the coronavirus. If they cannot join the committee in person because of the virus, Ernst said, they will "be joining by Zoom." Ernst herself expects to attend the hearings in-person. 
"We're praying that we don't have any COVID cases on the Judiciary Committee, we can drive through, we'll need everybody there to vote on the nominee" Ernst said. "We hope to have that done by the election, if that schedule stays true."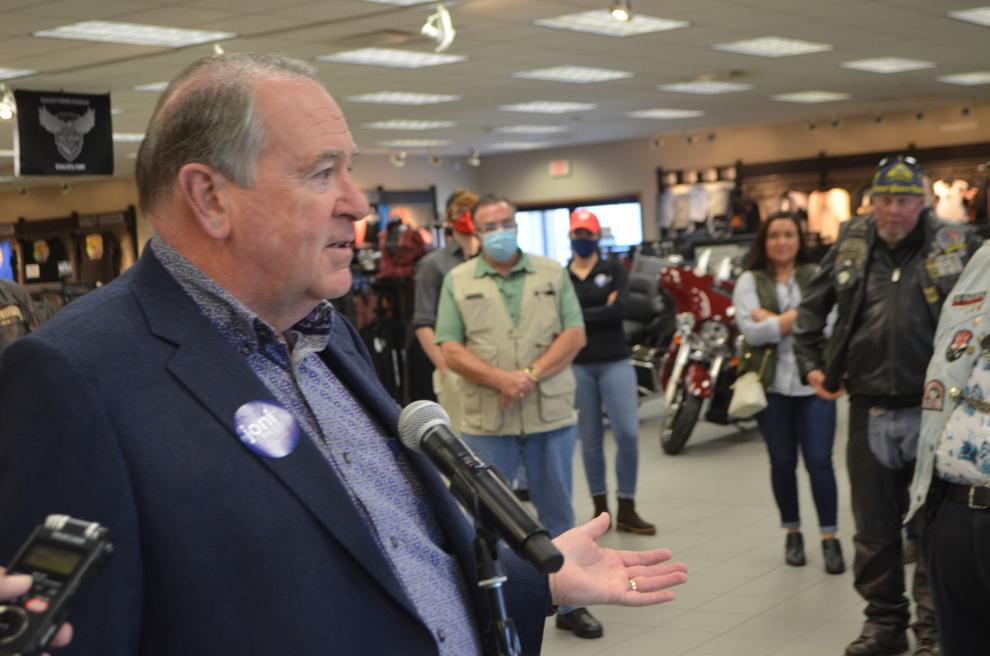 Mike Huckabee, the former governor of Arkansas and Republican presidential candidate and current conservative TV personality, accompanied Ernst at Saturday's visit in Sioux City. Huckabee, who campaigned with Ernst in her first Senate race six years ago, said she "is in the mold of a Chuck Grassley," whom Huckabee holds in high regard. 
"She's a person of integrity, I know that we can trust her. I know she's pro-life, I wouldn't support her if she wasn't," Huckabee said. 
In his remarks -- which were peppered with jokes -- Huckabee warned that Republicans need to maintain control of the Senate, calling it the "one firewall" to prevent Democrats from packing the Supreme Court or creating "new senators from newly created states, so that Democrats would have permanent control." 
"I want you to understand, this is not the old days, when Democrats and Republicans would shift power every few years, and there would be some modest differences. We're talking about radical differences, if these folks get in charge," Huckabee said.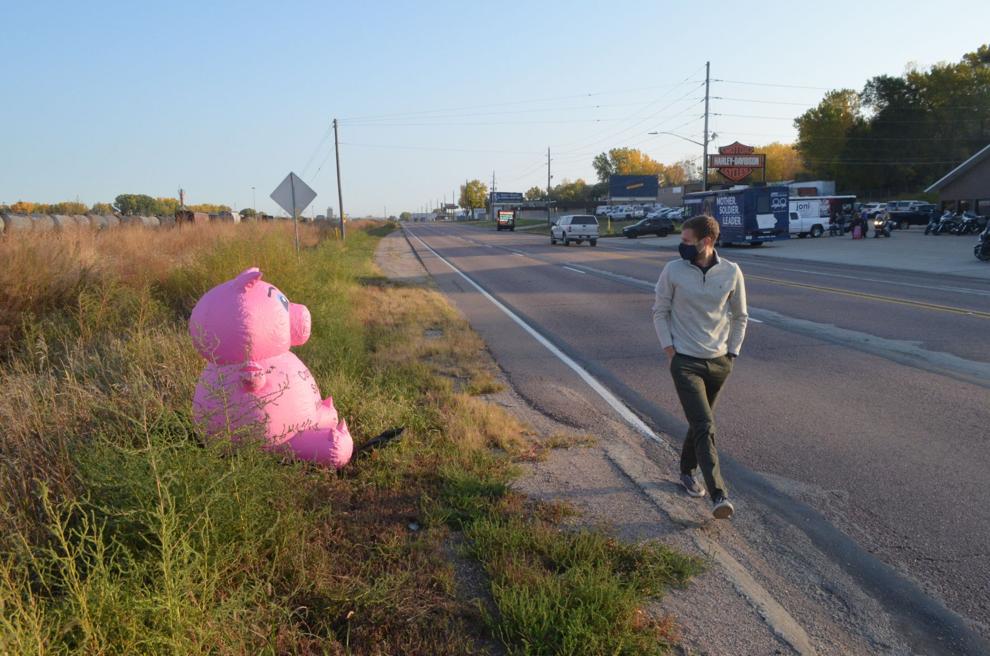 One person showed up to the the Senator's event with a dissenting message, and an inflatable pig -- Jeremy Busch, a spokesman of the Iowa Democratic Party. The pig, named "Washington Wilbur," which was a play on Ernst's 2014 pledge to make Washington squeal, which Democrats have seized on as a broken promise. 
"During those six years, instead of making Washington squeal, she's been giving billion-dollar handouts to the corporate special interests that are funding her campaign," Busch said. 
Initially Busch and the inflatable pig were stationed adjacent to Rooster's, but were soon ordered by a nearby business to go away. Busch then moved the pig and himself across the highway, to a patch weeds near the railroad tracks.