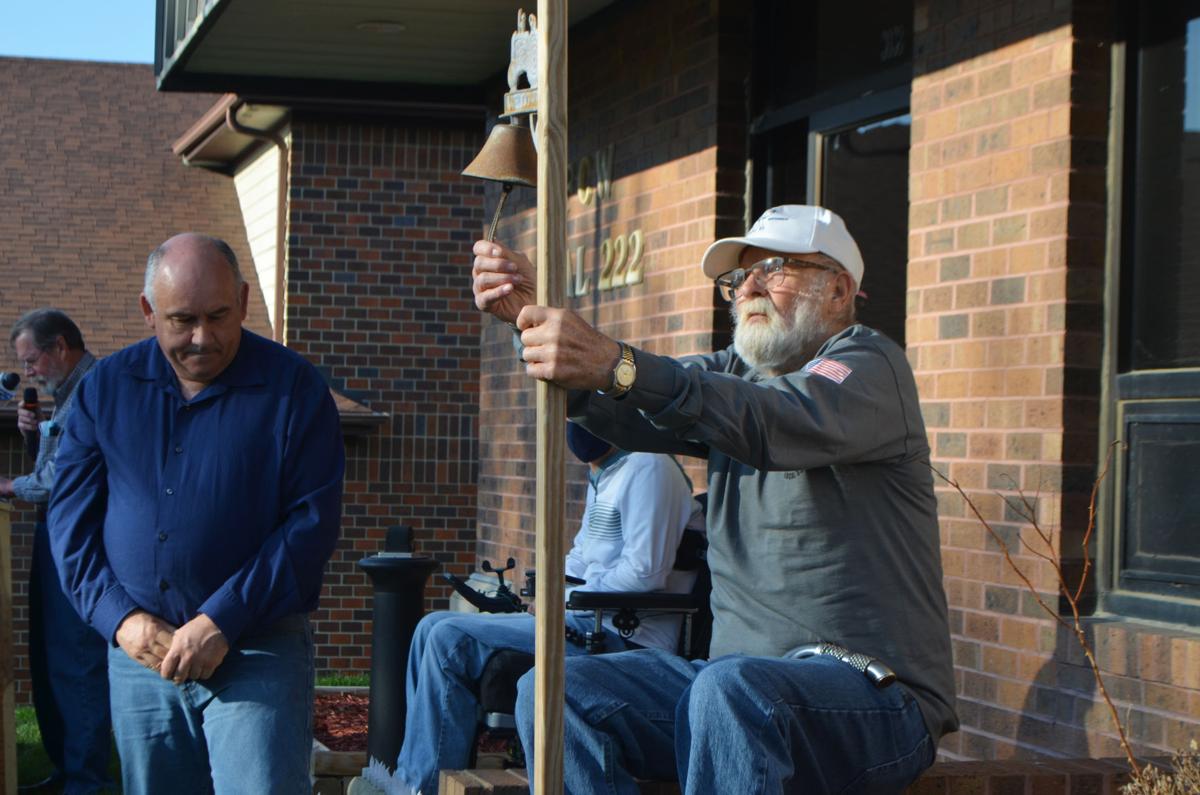 SIOUX CITY -- Fifty-one workers in Iowa died at work or as a result of workplace accidents in 2020, according to statistics compiled by the Western Iowa Labor Federation. 
Two were as young as 19. More than a dozen were in their 20s or 30s. The oldest was 79. Many of them had families. Some died in vehicle accidents, construction accidents, farming accidents or equipment accidents, some were electrocuted, and at least 10 died of COVID-19. 
They were memorialized in a Workers' Memorial Day ceremony Wednesday evening at the United Food and Commercial Workers Union Local 222 offices on Lakeport Street. The services were held on the 50th anniversary of the establishment of OSHA, the Occupational Safety and Health Administration. 
John Hamm, a retired member of the Local 33 plumbers and steamfitters union, read the names of all 51 workers, while Harlan "Curley" Salvatori, a fellow Local 33 retiree, rang a bell in their honor. A set of battery-powered candles were illuminated. Sister Shirley Fineran said a prayer. 
"We are remembering people that have died on the job or as a result of their jobs. These candles over here represent 51 people that were here last year, that are not here with us this year. People shouldn't have to die to make a living to support their families, that's all there is to it," Hamm said in a somber, mournful tone. 
The number of Iowa workers who died in their line of work last year exceeded the numbers of recent years -- there were 32 worker deaths in 2018, 34 in 2017 and 39 in 2016. 
Buena Vista County, where two Tyson Foods plants are the largest employers -- suffered more worker deaths last year than any other county in Iowa. Meat plants have been implicated in the serious outbreak of the virus last spring. 
The official number of Iowa workers who died of COVID-19 contracted on the job last year -- 10 -- is based on figures from employers who acknowledged these deaths. Jeff Shudak, president of the Western Iowa Labor Federation, told the Journal Wednesday evening that there's reason to think the true number is much higher. But, he noted, it's almost impossible to prove. 
"It certainly seems under-reported," he said. 
At a single Tyson plant in Waterloo, more than 1,000 workers were infected with the virus. A plant manager there is alleged to have organized a betting pool to predict how many of their workers would contract the virus. 
Dennis McElwain, a Sioux City attorney who has worked with labor unions, echoed Shudak's stance on the official numbers during his address at the services.