SIOUX CITY | When longtime regional ambulance service Siouxland Paramedics Inc. stops responding to emergency calls on Jan. 1, rural residents surrounding Sioux City likely will notice the change the most. 
From Akron to Mapleton, small towns and rural areas across the tri-state region will face a void in paramedic service that could leave some patients with few or no options to receive higher-level care while on their way to the hospital via an ambulance. 
The pinch will hurt most during hours of the day or night when paramedics from other area agencies aren't available, meaning patients transported by ambulances who need life support measures beyond what Emergency Medical Technicians can provide may not receive them. 
Emergency workers around the region say the void will especially impact those suffering from major medical issues such as strokes, heart attacks and diabetic episodes -- circumstances where seconds count. 
In the words of Woodbury County Emergency Services Director Gary Brown, it's a "health care crisis."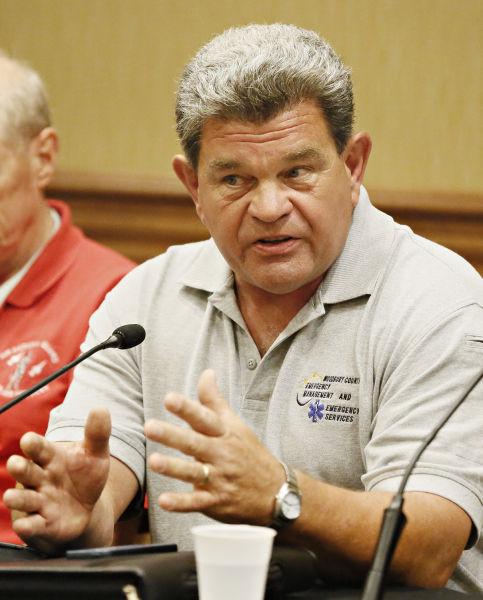 "We had an elderly person the other day who we couldn't move until we gave them some (pain medication)," Brown said. "We wouldn't be able to do that now without a paramedic. You're going to just have to tough it out, and that's not what we want to do to our patients."
In some areas, directors say they're aware of a desire among local government leaders and health care professionals for solutions. That includes talks in Woodbury County about how rural cities and townships could share the costs of staffing a 24/7 county paramedic service. But, no matter what is decided, the void will not be filled by year's end.
A solution is further along in northeastern Nebraska, where South Sioux City is working toward putting agreements in place that will allow its paramedics to assist agencies in rural areas of Dakota County and potentially neighboring Dixon and Thurston counties when needed. 
But in other areas, there's no stopgap on the horizon. And as year's end draws nearer, some emergency medical professionals say they fear the consequences could be serious. 
"Without that paramedic assist, we're going to be bringing (hospitals) patients that are potentially a lot sicker and a lot harder to bring back to good health," said Lynette Kiger, EMS director for the Akron Fire District, which covers 365 square miles in sparsely populated western Plymouth County, Iowa, and eastern Union County, South Dakota. "It's recognized by us out here that this just can't go on without having a detrimental effect."
Mercy Medical Center -- Sioux City, which has the region's highest-level trauma center, also shares an unease that some patients coming from rural areas could soon face longer waits for treatment, said Matt Robins, a hospital spokesman. 
"We are concerned about treatment delays that may occur," Robins wrote in an email. "Paramedic care can start some treatments in route that result in quicker care."
What's no longer available
For years, Siouxland Paramedics has provided 911 services to Sioux City and North Sioux City, as well as paramedic assistance throughout the tri-state region. But in August, Health Inc., a joint venture formed by Mercy and UnityPoint Health -- St. Luke's that owns Siouxland Paramedics, informed cities it would no longer respond to emergency calls as of Jan. 1, citing financial difficulties.
The nonprofit will continue a downsized service of non-emergency transports of patients between medical facilities, such as nursing homes and hospitals, which it says provides better insurance reimbursements and a more sensible business model in the current health care industry environment.
The August announcement spurred discussions among local governments about ways to quickly fill the void in the tight window before year's end. 
Sioux City Fire Rescue quickly put its own EMS Division in place -- a move expected to cost taxpayers between $600,000 and $1 million in the remaining months of the city's current budget year, which ends June 30. The city also may soon strike a deal to provide paramedic service to the Dakota Valley Fire District, which includes North Sioux City, Dakota Dunes, the Wynstone development and Big Sioux Township.
But those paramedics are not meant to travel beyond their respective boundaries, leaving outlying areas that have traditionally also been served by Siouxland Paramedics without the service. 
Siouxland Paramedics responded to 93 paramedic assists in Woodbury County during the fiscal year ending June 30, according to data obtained by the Journal. The agency responded to 40 calls in Plymouth County and a combined 136 calls in Dakota, Dixon and Thurston. 
Siouxland Paramedics has traditionally responded to paramedic assists when other nearby paramedics, such as the single paramedic employed by Woodbury County Emergency Services, aren't available. 
When more advanced measures are needed, such as pain medication and IVs, local volunteer ambulances carrying patients often meet Siouxland Paramedics rigs along the road to pick up a paramedic, who then administers treatment on the way to the hospital that basic EMTs cant not perform.
"The further away you get, the more critical the paramedic becomes"
Woodbury County Emergency Services is headquartered in Climbing Hill, placing it near the center of the county to offer 24/7 EMS response. The lone paramedic's regular schedule is 7 a.m. to 7 p.m. on weekdays. The paramedic has every other Friday off and has no replacement during sick days and vacations.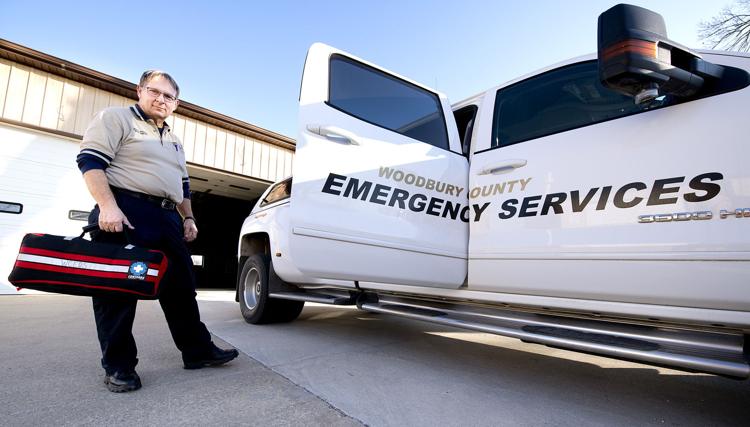 Director Gary Brown said last year, 98 percent of patients who needed paramedic care on a 911 call received it either from the county, Siouxland Paramedics or agencies from other counties. In all, those needing paramedic assistance accounted for about 30 percent of transported patients, he said.
But he said when Siouxland Paramedics stops its services, it will leave a hole in that chain, meaning one less agency will be on hand to provide that service.
Brown said the care provided by a paramedic on board can affect the length of a patient's recovery time, as well as more generally provide comfort on the ride to a hospital -- a ride that in rural areas can take several minutes or even hours, depending on distance and road conditions. 
"You get down to Danbury, and you're talking an hour's drive," Brown said. "The further away you get, the more critical the paramedic becomes."
In Plymouth County, Le Mars EMS director Bill Rosacker said the void will mainly affect the Akron area to the west and the Kingsley area to the southeast. He said Le Mars does have its own paramedics, but some areas of the county aren't geographically feasible for one of those paramedics to respond in time. 
Unlike Woodbury County, Plymouth County does not employ a paramedic.
"If they're having 'the big one,' some of the drugs are not going to be administered until they either get a paramedic on or to the hospital," Rosacker said. "For Akron, that could be a 20-minute drive. You can lose some cardiac muscle in that time during the transport."
Kiger, Akron's EMS director, said Akron received paramedic assistance from Siouxland Paramedics on about 16 percent of its calls last year.
"That doesn't seem like a lot, but when (patients) need life-saving interventions, we need them," she said. 
Kiger said it's possible her agency could use Mercy Medical Center's helicopter in certain situations, or transport a patient to Avera Health's Floyd Valley Hospital in Le Mars for stabilization before transferring them to Sioux City. 
"We just need to be able to read all the signs, read their condition to figure out what we need," she said.
Monona County Emergency Management coordinator Patrick Prorok said the most affected area in his county will be the northeastern portion of the county near Mapleton, where Siouxland Paramedics responded four times last year.
A paramedic based at Burgess Memorial Hospital in nearby Onawa is available 8 a.m. to 4:30 p.m. on weekdays, but there will be a gap during the other hours of the week, he said. 
"It's going to leave a void," Prorok said. "Anytime we can have that advanced treatment for our patients, that's really a benefit." 
Discussions are now centering on whether other cities can help foot the cost. Brown said Thursday that a Jan. 8 meeting involving local townships, city officials and the board of supervisors will discuss the issue and potential solution. 
Regardless of how those talks move forward, Brown said there will be at least a six-week gap between any funding decision and having paramedics on the ground, due to the length of the hiring process. 
"If the decision were made today to fund it, I still wouldn't have anyone on (by Jan. 1)," he said. "But that doesn't mean we still shouldn't try and get this resolved."
In Nebraska, local agencies may be able to depend upon a strengthened force in South Sioux City. Fire Chief Clint Merithew said South Sioux City currently provides some paramedic assistance when possible to other cities in Dakota County.
"When they have a patient that is critical with illness or injury, and they need advanced life support, we will be able to assist them with that," he said, then emphasized that the department's primary focus will remain caring for residents within South Sioux City. 
Merithew said he is awaiting city approval on agreements that would formally outline the partnership structure and how the city would be reimbursed. He said South Sioux City could also expand the service to Dixon and Thurston. An agreement could be in place sometime in January, he said.  
In Homer, Nebraska, which sits 11 miles to the south, Fire Chief Jim Swanson said his department has already received paramedic assistance from South Sioux City, and he's thankful for the upcoming arrangement. 
"I can't applaud South Sioux enough in how they stepped up to help us," Swanson said. "The only concern I have is if South Sioux will have the manpower to meet needs outside the city limits to all the rural communities." 
Ponca, Nebraska, Fire Chief Brad Krohn said his agency used Siouxland Paramedics about twice a month, mainly for farming accident and heart attack victims. Until he sees something in writing from South Sioux City, he said his crews will either need to call in the Mercy Air Care helicopter for serious events or work with as much speed as possible using what they have.
"Our people, some of them are trained in IV and some are trained for intubation (placing a tube down a patient's throat), so worst case we'll just have to do that and go," he said. "I guess the bright side of anything on this is we're only 24 miles from the hospital."
Krohn added that losing Siouxland Paramedics is "going to be a bad deal all-around."
For other cities, there's no replacement on the horizon. In Mapleton, Prorok said he doesn't know whether it will be feasible to work with Woodbury County to provide assistance across county lines.
In Akron, Kiger said while she has heard desires from other medical professionals for an answer, she hasn't seen one yet. She described the situation as "frustrating," but she said she is hopeful something will happen. 
In the meantime, the volunteer crews will move forward using what they have, she said. 
"We're going to do everything we can with the knowledge, the skills and treatment we can provide to get the best for our patients," she said. "That's all we can do."