SOUTH SIOUX CITY -- John Gleeson's family has a long history of leadership and service with the local United Way.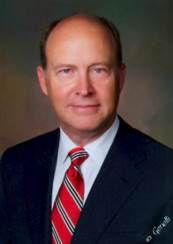 As the family's construction business, Klinger Companies, neared its 100th anniversary, Gleeson believed there was no better way to observe that company milestone than to provide a special gift to the nonprofit organization that has funded so many charitable endeavors over the years. 
The Klinger Companies and the Gleeson Family Foundation have donated $1 million to the United Way of Siouxland's endowment. The gift, which Gleeson announced at a luncheon Wednesday, is the single-largest gift in the local United Way's history.
"In the past year, I have been asked, "how are we going to celebrate our 100-year anniversary?" Gleeson told about 125 people invited to the luncheon at the Delta Hotels by Marriott South Sioux City Riverfront. "I reflected on how my parents raised my siblings and me. I looked for a common thread from my family's history and the answer became obvious for a number of reasons.
"My grandfather, my parents, and (my wife) Karen and I have been and continue to be staunch believers in paying our fair share to our community's nonprofits. My father in a letter he wrote to his family, he stated, 'It is important that you share some of your success by contributing to worthy causes and helping others who are less fortunate.'"
Gleeson is the third-generation CEO of Klinger Companies, Inc., founded by his grandfather, William Klinger. In 1919, Klinger moved his young family from Milwaukee to Sioux City to build a six-story building for his father-in-law, William Warnock. Warnock owned one of the earliest Ford Motor dealerships in the country and needed a building for his dealership and offices. The Warnock Building, as it was known for many years until the name was changed to the Benson Building, was the Klinger Companies' first construction project.
You have free articles remaining.
100 years later, the parent company that bears Klinger's name has grown to include four construction subsidiaries that rank among one of the largest construction corporations in America, completing projects in virtually every state. Each of the subsidiaries, W. A. Klinger, Younglove Construction, Gleeson Constructors and Engineers, and Klinger Constructors of New Mexico, are leaders in their respective markets.
Gleeson said he is proud of his family's tradition of community involvement, which has included multiple leadership roles with the United Way. William Klinger chaired the annual United Way campaign in 1927, helping to raise a total of $127,000. Gleeson's mother, Helen K. Gleeson, became the first woman chair of the United Way Board of Directors in 1979. And in 1984, Gleeson's father, Robert Gleeson, chaired the United Way campaign and raised a total of $1.4 million.
In 2005, John Gleeson chaired the United Way board, and, in 2013, he and his wife, Karen, chaired a campaign that raised $3.3 million.
"The Gleeson family and members of Klinger Companies have been involved, not just as donors, but as volunteer leaders of United Way in a variety of capacities over the last century," United Way of Siouxland President Heather Hennings said Wednesday.
The United Way of Siouxland distributes funding for more than 30 nonprofits each year.
The $1 million gift announced Wednesday will be placed in a separate account called the Klinger Companies, Inc. and Gleeson Family Foundation Endowed Fund, and will be administered by Security National Bank Trust Department on behalf of United Way. Annual distributions of 4 percent will be made each year to the United Way Community Impact Fund for allocation to the United Way agencies. The goal is for the $1 million to grow over time through its investments and possibly further contributions from Klinger Companies and the Gleeson family.
Hennings said Klinger Companies and the Gleeson family will become the United Way of Siouxland's first Million Dollar Roundtable Member, a national recognition society within United Way Worldwide.
Gleeson noted the gift "will not change our strong annual support that our company and its employees do every year. That will continue as we have in the past many years."
Copyright 2019 The Sioux City Journal. All rights reserved. This material may not be published, broadcast, rewritten or redistributed.