Le MARS, Iowa | The Le Mars Community School Foundation has received a $2 million donation to renovate the high school sports complex.  
The anonymous donor gave the money to help the school district build a "showcase stadium" for the community, superintendent Steve Webner said. 
Plans include replacing the existing grass football field with turf, installing a new track and replacing bleachers and locker rooms under the bleachers. Work also involves a new press box, new lighting, visitor's bleachers, fencing, and possibly visitor's restrooms. 
"The district is overwhelmed by the great generosity of the donor," Webner said Thursday. "This is truly a gift that shows the donor's support for (the) stadium renovation project, our school district, and the entire community of Le Mars."
The current facility, located on the high school grounds at 921 Third Ave. SW, was built in 1959. 
During the football season, the field is used by the Le Mars public high school, middle school and Gehlen Catholic High School teams. The up to five games a week played on the grass leaves its current condition to be "very rough," Webner said. 
You have free articles remaining.
"Artificial turf will serve our students well by providing a sound playing field that is used a great deal," he said. "The main bleachers used to house a locker room underneath but is decayed far beyond (its) usefulness. The track was asphalted in 1987 and has been resurfaced periodically; however, it is to the point that it will soon need a new base and surface."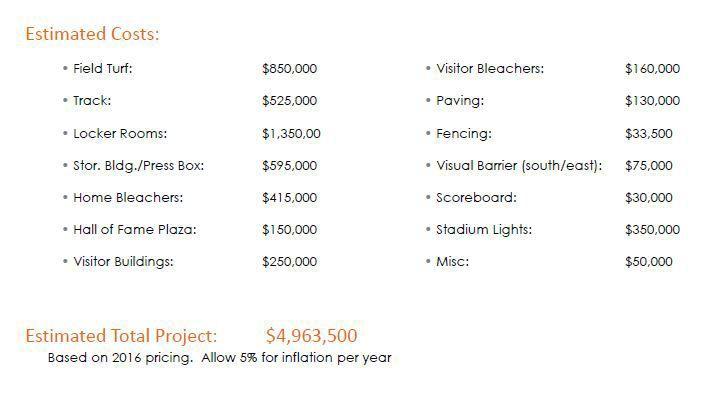 The estimated cost of the project is at nearly $5 million, based on 2016 pricing. Webner said the school board is encouraging the foundation to continue with fundraising efforts until the goal is met. The district also has a financing avenue through a statewide 1 percent sales tax program, called the Secure an Advanced Vision for Education, or SAVE, that is meant for infrastructure purposes. Webner said the district will be evaluating the usage of sales tax funds to help finance this project, based on the total amount of dollars raised during the capital campaign.
"One of the great benefits of utilizing SAVE dollars is that school districts do not need to seek increased property taxes to improve, repair, or replace infrastructure," the superintendent said.
The district hopes to start work on the project in late May 2018, which could affect the 2018-2019 football and track seasons. Webner said if that is the case, the district will start discussing possible options with other school districts to house sports played at the complex.
After architectural plans are finalized, Webner said the school board will then be presented the project for final consideration at an upcoming meeting.