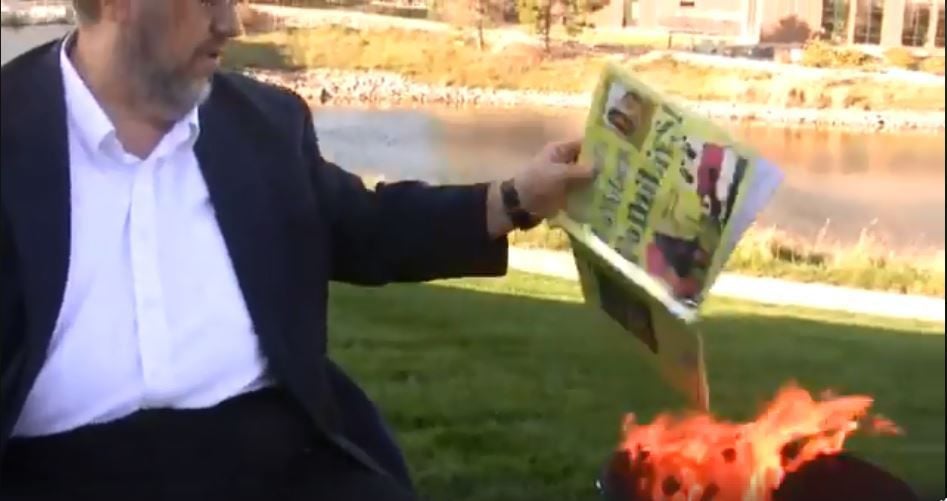 ORANGE CITY, Iowa -- Northwest Iowa Christian activist Paul Dorr has been charged with fifth-degree criminal mischief in connection with publicly burning four LGBTQ-themed books he checked out from the Orange City Public Library.
Dorr drew national attention for a half-hour long Facebook Live video on Oct. 19 that showed him tossing the books into a burning barrel. Dorr, director of the Ocheyedan-based group called Rescue the Perishing, said he was protesting a Lesbian, Gay, Bisexual, Transgender, Questioning celebration in Orange City, the introduction of sexual education into the public schools and some local churches' reluctance to denounce homosexuality.
"Orange City Library, you won't be peddling this one anymore!" Dorr said in the video as he pitched one of the books into the flames. "You should all be ashamed of yourselves and repent." 
Dorr, 62, selected four books from the library that he felt were the most egregious -- David Levithan's "Two Boys Kissing"; Suzanne and Max Lang's "Families, Families, Families!"; Gayle E. Pitman's "This Day in June"; and Christine Baldacchino's "Morris Micklewhite and the Tangerine Dress" -- and checked them out on Oct. 6. Thirteen days later, he "unlawfully" burned the books, according to court documents.
An initial court appearance for Dorr is scheduled for Jan. 22 at the Sioux County Courthouse in Orange City. In Iowa, a charge of criminal mischief, a simple misdemeanor, carries a maximum penalty of 30 days in jail and a fine of of $625. 
Dorr and library officials declined comment Thursday.
In an interview with the Journal in October, Dorr said he would not reimburse the library for the destroyed books.
The library, which earlier this year faced community opposition for putting LGBTQ books on its shelves, has declined to say whether it has replaced the books, or assessed the costs to Dorr, based on its policies. 
In the aftermath of the burning incident, individuals and groups across the country sent hundreds of dollars' worth of cash donations and books to the library. 
The library ran into a public outcry about its LGBTQ books in February, when some local residents petitioned the library to separate such books from books on other topics, and to halt acquisitions of similar books without public input. The library responded by changing its book classification system, classifying books by subjects and subcategories, rather than by the author's last name. 
Dorr was particularly incensed that one book, Andrea J. Loney's "Bunnybear," about a bear who feels like a bunny, was read to kids during this year's OC Pride event.
Copyright 2018 The Sioux City Journal. All rights reserved. This material may not be published, broadcast, rewritten or redistributed.