SIOUX CITY -- Marto Brewing Company, a new brewery, taproom and restaurant, will open to the public at 3 p.m. Thursday in a long-vacant downtown space in the Promenade complex. 
Erik Martin, the owner and namesake of the establishment (Marto has long been a nickname), said the brewery's own beers are not yet ready to be served, but regional "guest tap" craft beers will be available on opening day, along with wood-fired delicacies like pizza, wings, salmon, pretzels and oysters. 
"We've been brewing for about the last week and a half, but our beer is not ready yet because it's fermenting and conditioning yet," Martin said. The brewery's first beers should be ready "probably about mid-July." 
Martin's goal, still months away, is to serve as many as 20 of his own brews. The brewery has a 10-barrel system, which can produce as much as 310 gallons of beer a day. 
Marto has been about five years in the making, and Martin himself began brewing small quantities of beer around a decade ago. 
"Eventually made some good beer, and that motivated me to keep trying more and keep brewing more," he said. Since then, he's been named one of the nine homebrewers to watch for by Paste Magazine.
Marto's kitchen space follows a sort of "open" concept where diners can watch the wood-fired oven and cooks at work preparing the grub. 
"We're all about creating experience for people," Martin said. "You can come in and watch your food being made right there in front of you."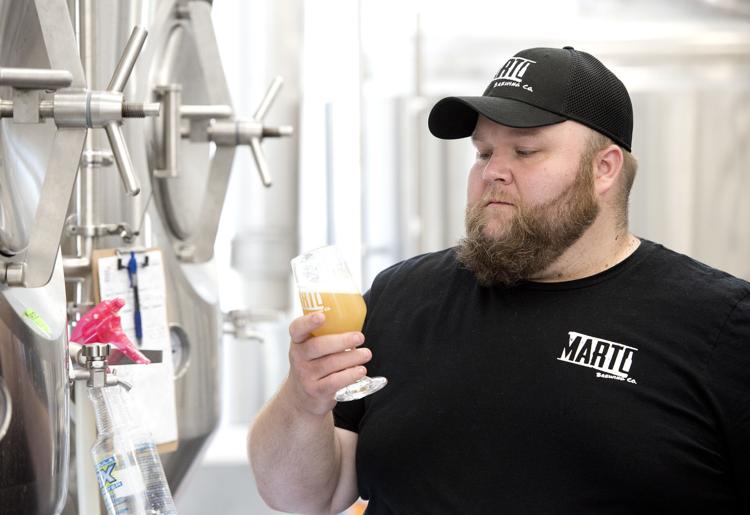 Marto Brewing is in the same commercial complex as the Promenade Cinema 14. Aside from the theater, most of the space had sat empty since the California-based developer Civic Partners built the entertainment complex in 2004, backed by millions of dollars in property tax incentives and the city's ill-fated guarantee of a bank loan.
The downtown location at 930 Fourth St., next door to the Historic Fourth District, was a favorite of Martin's early on. However, legal uncertainties made him pass on the property more than once. The bank holding the space's first mortgage foreclosed on the property, causing Civic Partners to file for Chapter 11 bankruptcy protection in 2010.
A judge dismissed the Civic Partners' bankruptcy in July 2017, after the developer reached a settlement that allowed the city to recoup some of the $2.5 million that the deal had cost the city. Martin later secured the space; brewery equipment arrived on site this spring amid renovations to the 7,300-square-foot space.