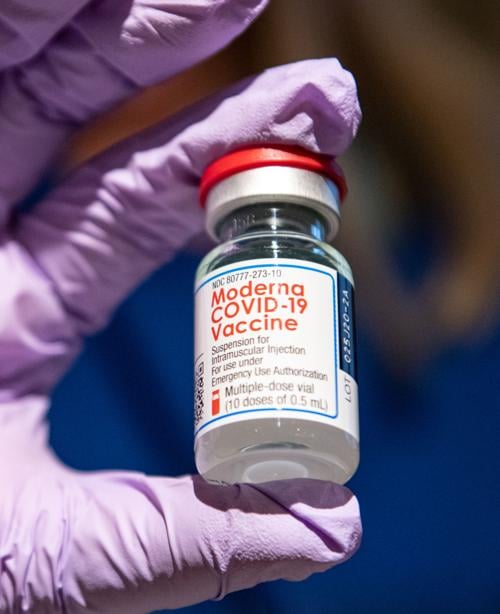 SIOUX CITY -- Mass COVID-19 vaccination clinics in Woodbury County ended this past week, at least for the time being. 
The last of such clinics in the county was held at the Siouxland Expo Center on Thursday. 1,400 doses were available to those who needed their second shot. 
"We do not have any mass vaccination clinics beyond what we did yesterday," Tyler Brock, deputy director at the Siouxland District Health Department, said on Friday. "It doesn't mean that we can't put something together if the need arises. There is some possibility if some approval for vaccine for younger kids gets done, that maybe we can do something on a larger scale." 
Brock stressed that vaccines remain very much available -- virtually every pharmacy in the city now offers vaccines to anyone age 16 and over, in some cases without so much as an appointment. Vaccines are also widely available at clinics and doctors' offices. 
"We're just not doing it in that (mass clinic) format," he said. 
Kevin Grieme, the Siouxland District Health director, said he expects vaccines for people as young as 12 to be approved at the federal level perhaps as soon as mid-May, but more likely late May. 
The county's mass public vaccine clinics began with crushing demand -- appointments for the very first clinics, held on Feb. 10 and 12 at the Tyson Events Center, were all claimed within minutes of registrations coming available. 
At the time, vaccination was strictly limited to people over age 65 and those in select professions. Prior to that, the only people eligible to receive vaccines were front-line medical workers and long-term care facility residents. 
Gradually the vaccine criteria expanded, and eventually came to include everyone age 16 and up. 
Demand has slumped since those earliest clinics, as the most-eager residents have already received their shots. Woodbury County's mass vaccination clinics went from madhouse to ghost town. 
"People aren't showing up, people aren't signing up for them," Brock said. "We had 800 appointments available on Tuesday evening, and we had 175 people sign up." 
Health officials and politicians have expressed concern in recent weeks over vaccine reluctance, though Grieme took a more optimistic view of the matter. He said there have been Woodbury County residents who initially looked askance at the vaccine or weren't interested, but subsequently "changed their mind" and decided to take the shot. 
"We would like more people vaccinated, but I think one of the other parts is, that there are certain individuals that, it's not that they're not going to, they just want to wait a little bit," he said. 
In other vaccine news, the Johnson & Johnson vaccine might return to Woodbury County. The single-dose shot hasn't been available here since the Centers for Disease Control & Prevention and the Food & Drug Administration recommended a pause on the vaccine, after a small number of people developed a rare blood clot. The Iowa Department of Public Health quickly followed suit, issuing a statewide pause. 
The IDPH lifted the pause later in April. Grieme said the J&J vaccine is ideally suited for people who might be seen only once and not turn up again -- it could be recommended to patients during visits to emergency rooms and urgent care clinics, for instance. 
"It'll probably start again at some point next week," he said.