DES MOINES -- MidAmerican Energy Company announced in late July an initiative to build a "first-of-its-kind" network of electric vehicle fast-charging stations throughout Iowa. 
According to a press release from the company, MidAmerican plans to install publicly accessible direct current fast charging stations, with two plugs per stations, in 15 cities and towns in the state. A direct current charger, also referred to as a "Level 3" charger, can reportedly charge an electric vehicle in as little as 20 to 45 minutes. 
The communities selected as fast-charging station sites include Altoona, Avoca, Carroll, Clarinda, Davenport, Dexter, Early, Emmetsburg, Iowa City, Fort Dodge, Little Sioux, Oskaloosa, Sheldon, Sioux City and Waterloo.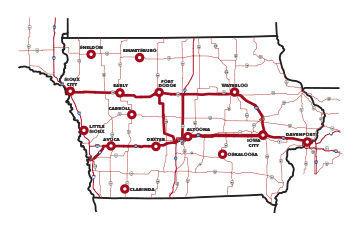 You have free articles remaining.
The company is accepting applications from businesses and community entities in the targeted areas that would be interested in hosting a charging facility, which MidAmerican will purchase, install and maintain. Each of the targeted areas will get at least one charging station. 
MidAmerican electric operations general manager Nick Nation said installing charging stations throughout the state will boost the confidence of electric vehicle owners, who might otherwise worry their vehicle will run out of battery on the road with no charging station nearby. 
 "We've come up with a plan to address the range anxiety issue by building an infrastructure of 15 fast-charging stations across Iowa that should be within roughly 50 miles of each other. We think our efforts will help jump-start Iowa's electric vehicle industry," Nation said in the press release. 
After charging station hosts are selected, MidAmerican plans to begin installing the network by the end of this year. The charging station hosts will set their own usage fees, consistent with state laws and regulations. 
To further encourage the adoption of electric vehicles, MidAmerican offers a $500 rebate to residential customers who buy or lease a new electric vehicle. The company also offers a $1,500 rebate to businesses that purchase a "Level 2" charging station, which can charge electric vehicles in 4 to 8 hours.