NORTH SIOUX CITY -- Kimberly Luken's Military Road casinos have been through hard times before: the lunch crowd at Beano & Sherry's never quite recovered after Gateway wound down its operations more than a decade ago. 
And summer usually brings a slowdown in foot traffic to her casinos. Which makes the ongoing construction of the Military Road Bridge connecting North Sioux City with the Riverside neighborhood in Sioux City all the more challenging. 
Even so, it seems her three casinos will survive. 
"I'm pretty sure we will make it through this, we've made it through a couple of floods, we've made it through Gateway closing," said Luken, who owns the 4 Aces Reno and The Outlaws casinos, which are adjacent to Beano & Sherry's. 
The Military Road Bridge project -- which includes a re-decking of the bridge, new pavement, sidewalks, street lights, water main and sanitary sewer replacements -- began May 1. Sioux City Public Works Director Dave Carney said the project is currently in its "first phase," and the old bridge deck has been removed. 
"It's two things going on simultaneously -- you have the bridge contractor, who has removed the bridge deck, and the underground contractor, who's working on water mains and sewer installation," he said.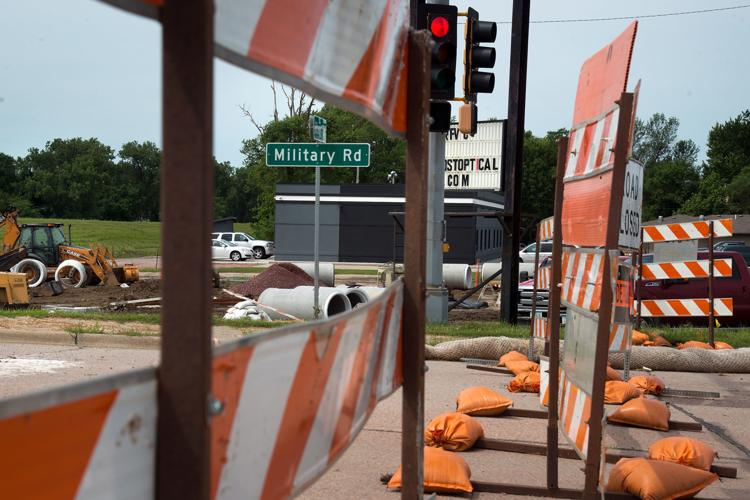 Prior to its closure, the Military Road Bridge was heavily traveled -- in 2015, roughly 7,900 vehicles crossed the bridge per day, according to Department of Transportation data. 
The city has budgeted $7.8 million for the project, with funding coming from the city, federal agencies and the South Dakota Department of Transportation. 
SIOUX CITY -- During a special meeting Thursday, the Sioux City Council awarded a North Sioux City construction company a contract for the Mil…
Phase One of the bridge reconstruction is expected to be completed within 150 days -- which is to say, by September. Phases Two and Three, a reconstruction of the roadway and underground utility work from the bridge to Riverside Boulevard, need to be completed by the end of November. 
Carney said the bridge was in sorry shape before the project, which was stalled in 2018 because of an Army Corps of Engineers funding delay. 
"It was bad enough that it received federal funding," he said. The new utilities and roadway are expected to last for decades. 
Luken said she worries about some of the neighboring casinos scattered along the North Sioux City "strip," a two-block area with hundreds of video lottery machines, and about unrelated businesses in Riverside. 
"We were doing really, really well at the beginning of this year, really ahead of the game, so this hit has kind of eaten into that," she said. "And I'm concerned about a lot of the other businesses in town and on the other side of the bridge." 
Perry Antonopoulos, the longtime proprietor of Harvey's restaurant in Riverside, said he has lost perhaps 15 to 20 percent of his Monday through Thursday diners, though his Friday, Saturday and Sunday crowds have stayed strong.
You have free articles remaining.
"During the week, some days I drop a little bit," Antonopoulos said of business at the restaurant. Lunch business in particular has been stung -- more people used to drive in from Dakota Dunes for lunch -- though it varies from day to day.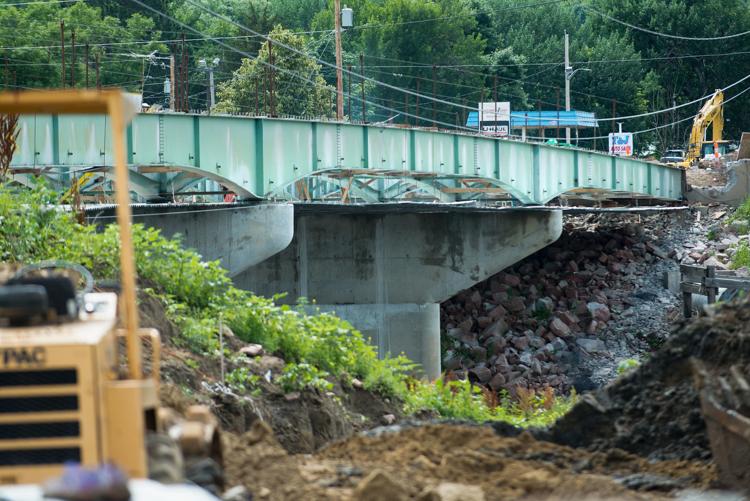 "It's just like the weather, one day it's good weather, the next it's raining," he said. Antonopoulos suspects his restaurant may have gained a few customers who couldn't make it across the bridge to North Sioux City establishments. 
He's worried, however, about the later phases of the project, when Military Road will be torn up in front of the restaurant and access to Harvey's will be choked off except for a lengthy detour.
SIOUX CITY -- It was a long slog, but West Seventh Street businesses are glad to have the street open to traffic again. 
City officials, he said, did not listen to his concerns or his alternate idea for keeping the roadway open at least far enough to reach his parking lot. 
"The thing is, the city, they never try to work with the businesses here, to listen to their ideas," Antonopoulos said. "They just did it, and that's the way it is." 
Carney said the bridge had been a trouble spot since before he started his current job with the city in 2016. He was quite aware of the concerns raised by Harvey's, but said there was little the city could do for the restaurant or the other businesses in the corridor. 
"A few of the other ones had concerns," Carney said. "Any time we do work in a commercial area, there's concerns about drop of business; especially a restaurant, loses drive-by business." 
Joan Christiansen, owner of Skyline Bar & Casinos in North Sioux City, was more pragmatic about the bridge situation. She agreed that the bridge was in terrible condition before repairs began: "You could walk over and look through some of those potholes, and see the river."
She seems to have made peace with the decline in customers.  
"It's been slower, and we expected that," she said. "I expected it to be way worse than it is. So I'm somewhat relieved. And it's just one of those things that -- it has to be done." 
Christiansen said the Interstate 29 detour to North Sioux City, and to her casino, is not actually as long and difficult as commuters may think.
"If it's not something that you've traveled, your perception is that it's way further than it is," she said. That being said, traveling from Riverside to North Sioux City, once a jaunt of only a few minutes, is much longer with the detour. 
Christiansen's daughter, Janelle Hutton, and Antonopoulos have faced longer daily commutes because of the bridge closure, though they both shrugged off the extra minutes on the road.
"I spend more money for gas now," Antonopoulos said. 
Anthony Sabonis, who commutes to work in Dakota Dunes from the Leeds neighborhood of Sioux City, said his drive is definitely longer and more hectic because of the interstate detour. Interstate traffic is pretty bad during the evening rush hour (around 5 p.m.), he said. 
"I used to usually take the bridge to avoid all the traffic back and forth," he said. "Since it's been closed I've got to take the interstate, which added like 10 to 14 minutes depending on the day, and when I leave."