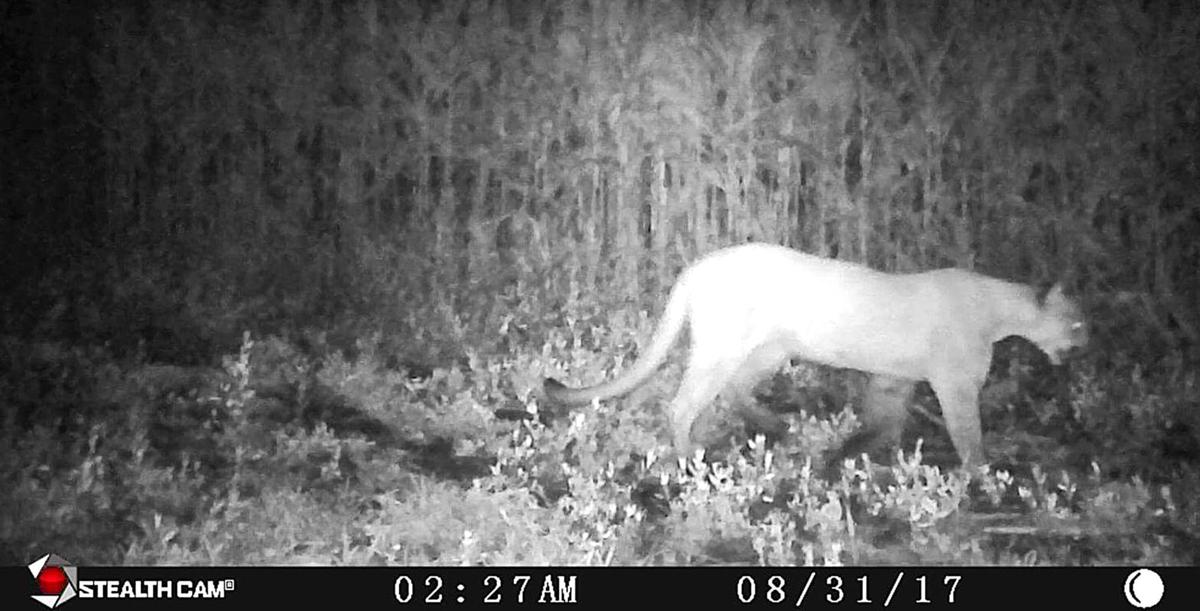 LINN GROVE, Iowa | Aaron Anderson set up a motion-sensor camera on his parents' farmstead east of Linn Grove late this summer, aiming to capture on film the movement of deer for upcoming youth and bow seasons.
Instead, he recorded a mountain lion, the third sighting of one in the area, he said.
"I've heard people have caught them on camera at Peterson (Iowa) and Cherokee (Iowa) recently," said Anderson, a truck driver. "This could be the same one. I don't know too much about them."
An Iowa Department of Natural Resources officer in late June killed a female mountain lion that climbed into a tree on a farm near Galva, Iowa, some 36 miles south of Linn Grove. That sighting proved significant as it was the first confirmed female found in Iowa in more than a century.
A DNR officer shot that mountain lion as officials believed it had recently killed cattle in the area.
Anderson said he's not sure the sex of the mountain lion that roamed his family's acreage. He's not sure of its weight, either. In truth, he'd rather not find out.
"I had a camera set up for deer. I wasn't looking for kitty-cats," he said. "I hope it goes away. I don't want to see it again."
Anderson's mother, Cheryl Anderson, recalled a time five decades ago when her family talked about mountain lion sightings in Buena Vista County. She wondered if they've been around periodically in years since.
You have free articles remaining.
"We have a lot of timber along the (Little Sioux) river," Cheryl Anderson said, adding that her family does not raise livestock, though their neighbors do. "I suppose it is following the river."
Both Cheryl and Aaron Anderson spoke of recent sightings of a big cat near Linn Grove this summer. One took place on a nearby gravel road, the other at Barnes Township Cemetery.
"A woman was throwing flowers over the fence at the cemetery after Memorial Day and she jumped it, scared it and it ran away," Aaron Anderson said.
"And, four to five weeks ago, a lady who lives out here was running on a gravel road one night and one jumped out at the end of a driveway and growled at her," he said. "She said it was a huge cat and it ran away."
DNR officials have cautioned the public to give wild animals their space in cases like this, as mountain lions often try to keep to themselves.
Aaron Anderson noted that his images of the mountain lion were recorded at 2:30 a.m. on the family farm one-half mile east of Linn Grove.
The Ida County mountain lion, shot on June 27, was the fourth killed in Iowa in recent years, and the most recent since one was killed in 2013 in Sioux County. Since 1995, there have been 21 confirmed mountain lions in Iowa.
The presence of a female could be a sign that others may be in the state and potentially reproducing here.
Anderson's brush with the animal has him thinking much more cautiously about hunting deer as a pair of season-openers approach. The first, a season for youth and disabled hunters, takes place next weekend. The second, a bow season, commences Oct. 1.
"I've never gone hunting when there's a critter out there that can hunt me," he said. "This year we'll have to be a little extra careful."