SIOUX CITY -- Col. Mark Muckey grew up flying in a Cessna with his uncle Al Anfinson at Martin Field in South Sioux City.
While still a 17-year-old East High School student, Muckey enlisted in the Air National Guard in 1984 at Sioux City's 185th Fighter Wing, as it was known back then, where his father, Richard, was the base finance officer. 
"By the time I was 15 years old, I'd been down here and knew my way around," Muckey said. "As soon as I was old enough, we were figuring out a slot to get me enlisted."
His career in the Air National Guard has taken him to Oklahoma and Illinois, but Muckey is now regaining his bearings at the 185th.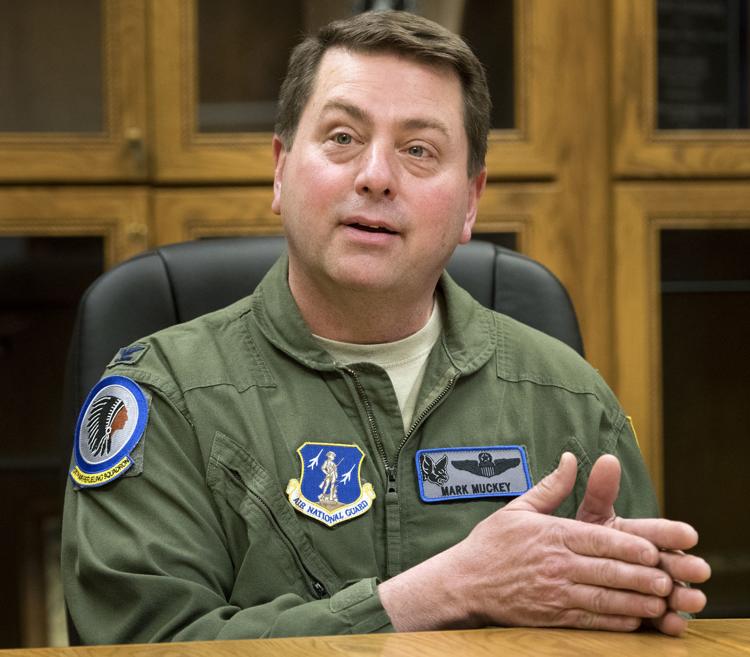 On March 2, Muckey will take over as the 14th wing commander of the 185th Air Refueling Wing, Iowa Air National Guard during a 1:30 p.m. ceremony at the Sioux City base. He succeeds Col. Larry Christensen, who has been selected as chief of staff for the Iowa Air National Guard at Camp Dodge in Des Moines.
Muckey returns home to Sioux City after serving the past four years as the Air National Guard Adviser to the Air Mobility Command Inspector General stationed at Scott Air Force Base in Illinois. The chance to return to the 185th in a leadership position had been slim at best, Muckey said. Positions for full colonels don't open up in other units that often.
But about a year ago, Christensen asked Muckey if he'd be willing to return to Sioux City if a position ever were to open up at the 185th. It wasn't a job offer, but Muckey didn't have to think hard to answer.
You have free articles remaining.
"Beyond just coming back to the home team here, it was coming back to Sioux City. I have a lot of family here," Muckey said. "The opportunity to come back to the 185th and Sioux City is overwhelming."
When he enlisted in the Air National Guard, becoming a wing commander wasn't originally in Muckey's career plans. He studied engineering at Iowa State University and figured he'd work in the private sector while serving as a traditional part-time Guard member. Plans changed, and he eventually received an aviation degree from Oklahoma State University and attended undergraduate pilot training at Vance Air Force Base in Enid, Oklahoma.
Muckey served in Oklahoma until taking the position at Scott Air Force Base near Belleville, Illinois. While there, he was detached to the 185th, where he returned periodically to maintain his flying proficiency of the KC-135 air refueling tanker. In his position at Scott Air Force Base, Muckey served on a team that visited Air National Guard units, evaluating their leadership and communications efficiency.
He's done 40 or so wing assessments, he said, and plans to use the insight gained from observing other units' operations as he settles in to his command of the 185th.
"You have to be careful not to mess up something that's working so well," he said. "Hopefully we can find ways to refine what we do, making sure everything we do has us ready to go."
Christensen said Muckey's experience inspecting other units will benefit the 185th.
"He has seen every unit out there that's similar to us and the leadership of those units. He's seen what things work, what things don't," said Christensen, who has commanded the 185th since June 2014.
Muckey said he's not planning on big changes to a unit he said is "incredibly high-functioning."
"For the most part, they can expect a lot of status quo, and we can figure out what we need to work on as we move forward," he said.
In the meantime, Muckey said he hopes to maintain the support that Sioux City and the surrounding area have for the 185th.
"You won't find a better community than Siouxland, where we have such a close relationship between the base and community," he said. "It's really a great opportunity, and I'm excited to be coming back to the 185th. I've always considered it my home base."
Copyright 2019 The Sioux City Journal. All rights reserved. This material may not be published, broadcast, rewritten or redistributed.