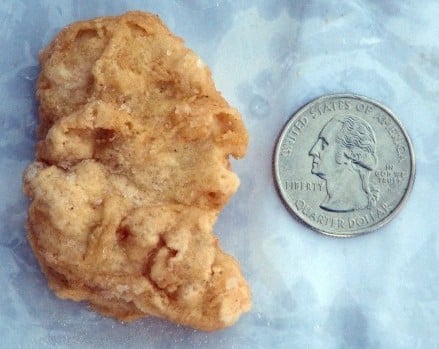 DAKOTA CITY -- No lie, a Dakota City woman said she is selling a McDonald's Chicken McNugget on eBay that she believes looks like President George Washington.
Rebekah Speight said she put the presidential McNugget on eBay Monday as a way to raise money for children at the Sioux City Family Worship Center who will attend a summer camp in Dayton, Iowa, later this year. The church is trying to raise $15,000 to send 50 children to the camp.
By Tuesday evening, the Washington McNugget had one bid for $100.
"We just screamed," Speight said. "We don't know who it is or where they're from. That bid came within the first hour."
Speight said the McNugget almost became a snack during a visit to a Sioux City McDonald's three years ago but was spared because her children wanted to play instead of eat.
It wasn't until she was about to throw the food away that Speight spotted fast food's version of the United States' first president.
"I looked down at the McNugget and just started laughing," Speight said. "I saw this portrait of George Washington staring back at me."
Speight took the McNugget home to show her husband, family and friends, some of whom spotted the resemblance right away. Others needed help to see Washington's profile.
Speight tucked the McNugget away in her freezer for three years and was debating throwing it away until a sermon at the Family Worship Center on Sunday convinced her to try to sell it for charity.
Tricia Yanney, children's minister at the church, said she was excited to use the presidential hook as a fundraiser.
"I was totally amazed that it really does look like Washington's profile," Yanney said. "God works in unbelievable ways, and God put it in her heart to do this."
Speight said she believes the McNugget will fit in with other edible eBay oddities such as an Illinois-shaped cornflake and crucifix-shaped Cheetos that have sold in the past.
"It's not one of those things you think would get money, but people put crazy stuff on there (eBay) all the time," Speight said. "For me, it's more the nature of raising money for the kids and not about the McNugget."
---
CORRECTION: An earlier version of this story misspelled Speight's name. It has been corrected.