SIOUX CITY -- If it seems like the Hard Rock Hotel & Casino's new parking ramp went up quickly, that's partly because it was assembled like Lego blocks. 
And if it seems bigger than you expected -- well that's because it is pretty big. 
Construction began last fall on the $10.9 million ramp at 205 Pearl St. The target completion date is Sept. 22. The city is footing roughly $5.5 million of the cost because the ramp will also benefit ticket holders at the nearby Tyson Events Center. 
Mike Adams, Hard Rock's director of marketing and hotel operations, said most of the heavy work of assembling the concrete structure is finished. The project, he said, is  on time and on budget. 
"Everything in that parking garage was pre-cast, so they were able, basically had everything measured out, ready to go," Adams said. "So, essentially it's just like one big ol' Lego kit." 
With that part done, it's time to focus on all the details -- elevators need to be installed, electrical work must be done, and then there's the facade and landscaping.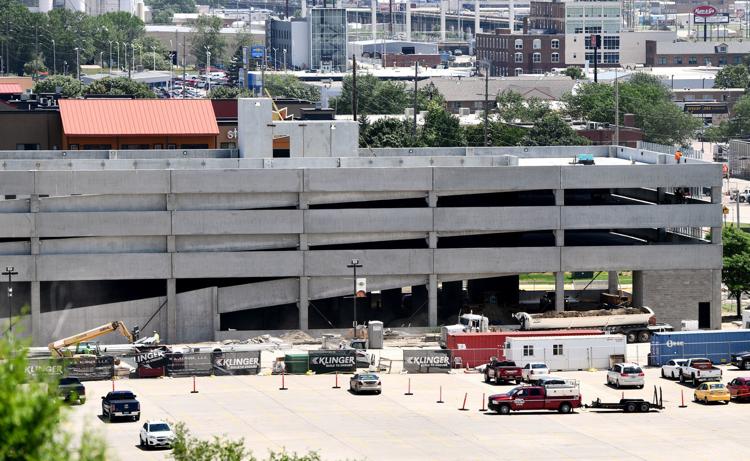 You have free articles remaining.
"There's a lot of internal work you wouldn't think in a parking garage, but now there's a lot of -- shoring everything up," Adams said. Once it's finished, the parking ramp will have a system that'll show available parking spaces with a lights system, similar to a traffic light. 
The four-story structure varies between about 40 and 56.6 feet in height and is 131 feet wide (east to west) and 457 feet long (north to south), contractor W.A. Klinger LLC reported. 
The 245,000-square-foot ramp will have 535 parking spaces and 15,000 square feet of retail space at the corner of Third and Pearl streets. Adams said the retail tenants have not yet been announced. 
"It's getting narrowed down, we just want to make sure that, whoever we put in there we do it the right way the first time," he said. "We have some ideas and we're working with an outside company to get this narrowed down, we think we've got a pretty good idea of what it's going to be, but just not at liberty to say yet." 
The ramp crosses over Third Street and joins the Hard Rock at a vestibule, currently under construction, on the south side of the casino on Third Street. 
"If you were driving by Third Street, you would see a skeleton right now of the vestibule, that is over those three sets of double doors, so that's where you'll come down and actually enter the Hard Rock," Adams said.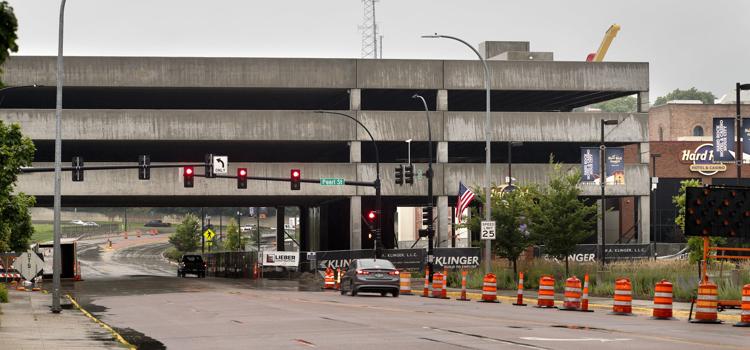 Hard Rock general manager Jim Franke said last summer that the point of the parking ramp is convenience -- customers won't have to cross the busy thoroughfare of Third Street or face inclement weather when parking their vehicles. That, and there's just so much more parking space. 
"Especially here in Sioux City, when it's snowing 3 or 4 feet, your car's underneath there and it's not going to impact you as much," Franke said. "At the end of the day, the parking garage is just about convenience and our guests being able to park there and get here quickly."