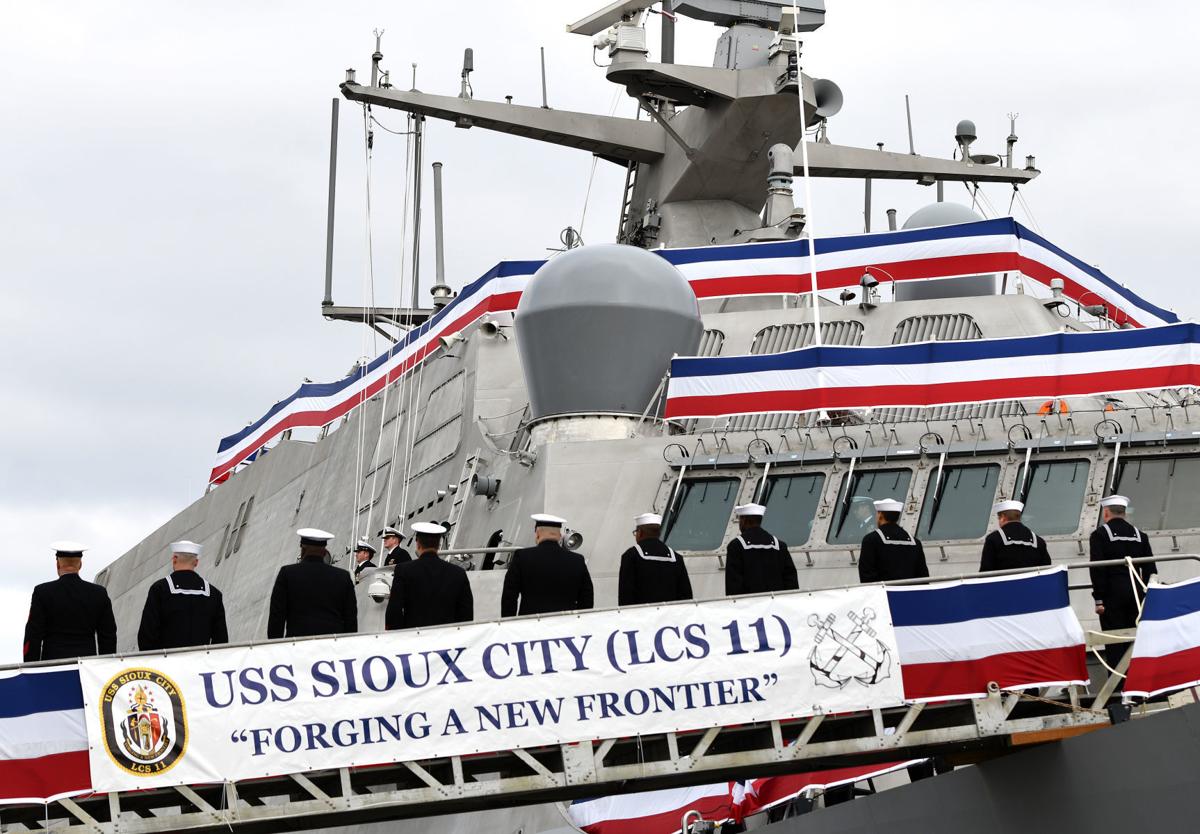 Editor's note: The Journal today continues its countdown of the Top 10 Stories of 2018 in Siouxland, as chosen by Journal editors. The No. 1 story will be revealed on Dec. 29, and the Journal's annual Newsmaker of the Year will be named on Dec. 30.
ANNAPOLIS, Md. -- It was a celebration more than six years in the making, attended by more than 6,000 people who withstood a chilly breeze to watch history being made.
The U.S. Navy announced in 2012 that Sioux City would be the name of one of the ships in its new littoral combat class, and the city followed every step of its development.
On Nov. 17, the first Navy ship named for Sioux City officially joined the Navy fleet at a commissioning ceremony at the U.S. Naval Academy. Hundreds of Sioux City and area residents made the 1,200-mile trip to Annapolis to witness the ship being "brought to life."
The commissioning was the culmination of a week of celebrations, including receptions paying tribute to history and food from Annapolis and Sioux City.
They paled in comparison to the Navy traditions that took place on a brisk Saturday morning.
You have free articles remaining.
As the crew stood at parade rest before her, ship sponsor Mary Winnefeld calld out, "Officers and crew of the USS Sioux City, man our ship and bring her to life."
"Aye, aye," crew members yelled out, then began running on board and taking a spot standing at attention at the rails while the crowd cheered and the Naval Academy band played "Anchors Aweigh."
The ship's horns were sounded, radars spun, the gun turret turned. The crowd continued to cheer.
"What a great day," the ship's commanding officer, Cmdr. Randy Malone, said once the crew was on board. He thanked Sioux City and its residents who have welcomed him and crew members every time they've visited, making them feel at home.
"We are proud to sail in your name," Malone said.
The ship is capable of surface warfare and can be modified for anti-submarine or anti-mine missions. It could be deployed to protect shipping lanes in which Iowa products are transported to overseas markets, stopping drug smugglers or a number of other missions.
Whatever its mission, it will carry Sioux City's name across the world, Cmdr. Chavius Lewis, the ship's executive officer, said when addressing the crowd at the start of the ceremony.
"The ship's crew is proud to represent the Sioux City name as we prepare to defend the American way of life whenever and wherever," he said.
Copyright 2018 The Sioux City Journal. All rights reserved. This material may not be published, broadcast, rewritten or redistributed.