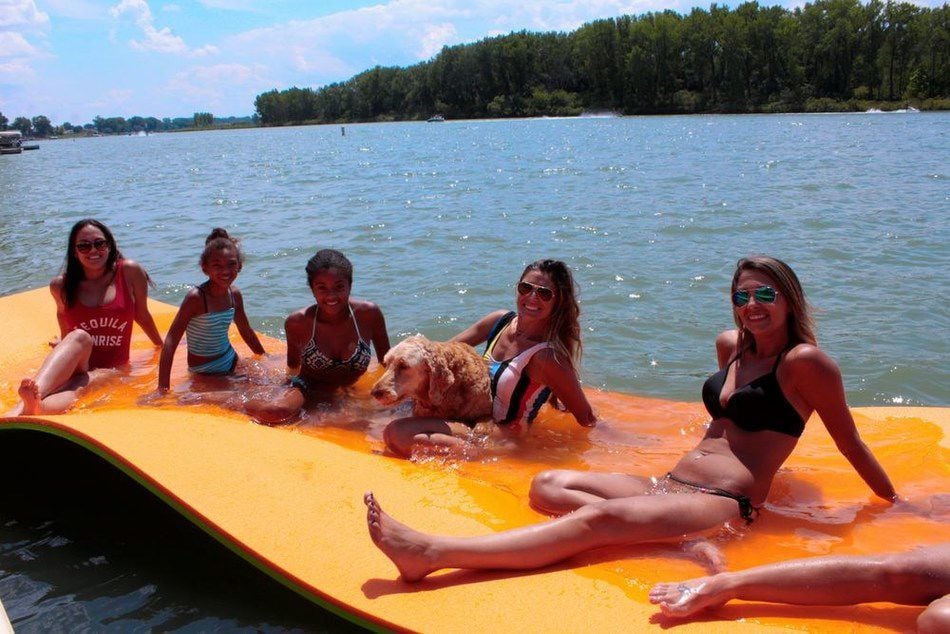 ANGOLA, Ind. -- Rubber Dockie, a North Sioux City-based provider of recreational floating mats, announced last week that an Indiana family's dog was saved by one of the company's eponymous products. 
According to a press release from the company, Jody Gates said her daughter, Kelli, was preparing to leave their house on Jimmerson Lake, in the far northeastern corner of Indiana, to take a walk with her baby. After bundling up her son, Kelli called the dogs: Bogey, Kolby and Lincoln.
Bogey and Kolby came inside, but not Lincoln. 
She went outside to find that Lincoln had fallen through the ice on the lake. The dog kept its head above water but could not get out.
Kelli, a former lifeguard, was not able to retrieve the family's paddleboard or kayak, which were suspended on a pulley system in the garage that she couldn't work. 
She spotted the Rubber Dockie hanging in the garage, carried it to the edge of the water, and laid it on the ice. Scooting across the ice on the Rubber Dockie, she reached Lincoln and pulled the 100-pound dog from the icy water by the scruff of his neck. 
"While I certainly don't recommend using this product as a lifesaving or rescue tool, I am so thankful that the Rubber Dockie kept my daughter safe and allowed her to rescue my granddog," Gates, who bought the Rubber Dockie as a Christmas gift, said in the news release. "This is probably number one among my best and most useful purchases ever!"
Copyright 2019 The Sioux City Journal. All rights reserved. This material may not be published, broadcast, rewritten or redistributed.