SIOUX CITY -- Roland McKee doesn't know where he'll sleep tonight. 
It could be in a parking garage. Or huddled in an elevator. Maybe tucked beneath a bridge.
The Sioux City Journal examines homelessness in Siouxland in this five-day series.
For now, the 59-year-old leans back in a chair in the hallway of the Siouxland Soup Kitchen on West Seventh Street, clad in a red sweater and an indigo stocking cap. As he waits for the doors to open ahead of the 5:15 p.m. meal, he's greeted by a handful of other regulars.
McKee says ever since the Warming Shelter on Nebraska Street -- the nightly refuge for many of Sioux City's unsheltered homeless -- closed for the season on May 1, he has had to find alternative accommodations. 
"You've got to sleep in the ramp. You've got to sleep in the elevators," he says. "But security will wake you up at 6 o'clock (and tell you to move)."
The nightly search for shelter isn't anything new to McKee, who moved from the Omaha Tribe reservation in northeast Nebraska to Sioux City four decades ago and has been homeless on and off ever since. He has had a few jobs and sometimes stays with friends, he says, but he's currently without work or a place to call home. 
Last year, Woodbury and Dakota counties had the lowest rate of unsheltered homeless men and women in the country among the nation's small cities, according to the U.S. Department of Housing and Urban Development. Area service agencies during their annual January count found two unsheltered homeless people in 2017, or less than 1 percent of the area's homeless population. That number increased to six this year, or 2.25 percent, although numbers often fluctuate due to the weather on the night of the count. 
But each spring brings a surge in the number of homeless in Siouxland when the Warming Shelter, which houses 60 to 100 people a night during the winter and early spring, closes at the end of April.
That spurs some to seek haven with friends and family, if they can, while many others like McKee resort to sleeping in park shelters, under bridges or anywhere else they can escape the elements.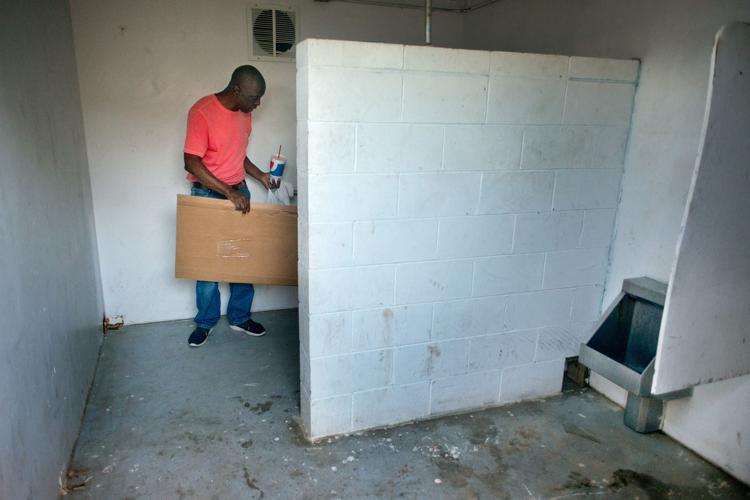 McKee says he typically travels around town during the day, sometimes looking for castaway cans he can redeem for cash. He has been working on obtaining disability income, he says, since injuries to his legs have made some movement difficult.
"Things don't work right," he says. "I've got to walk slow."
A few minutes after McKee enters the dining area for his meal, Anne Felicia, 37, pauses on her way out. She has been homeless for five months, she says, after losing her apartment following an arrest in December for willful injury and assaulting a police officer. She says she hasn't changed clothes in weeks and laments that she doesn't have a blanket. 
"I'll crawl up into a gutter tonight and be cold all night long," Felicia says. "And, you know, probably not even sleep." 
Homeless count down, but some sub-populations rising
The number of Sioux City's homeless appears to be declining after hitting a seven-year high of 348 in 2016, the latest statistics show. The 264 homeless men, women and children counted by area service agencies in January was the lowest since 2013.
But some segments of the population are increasing, such as the number of homeless Native Americans like McKee. That group increased by over 30 percent this year, from 48 to 63. The number of homeless military veterans also more than doubled, from 12 to 25, although a change in how veterans were counted this year could have contributed to the rise. 
Sioux City's homeless population is a fluctuating, diverse group of people spanning genders, ages and races. Some sleep in the elements or in vehicles, some reside in emergency and transitional shelters throughout the community, while others are "doubled up," meaning they stay with friends or extended family. 
Experts estimate approximately four in five grew up in Siouxland. Available statistics show nearly two in five are women, and nearly one in four is a child.
Just as varied as the population's makeup are the stories that got them there. Many share similar themes -- a broken relationship, a mental illness, a spiral into drug or alcohol addiction, a disability that prevents them from finding work, trouble finding an affordable place to sleep.
While local agencies are making strides in adding services to combat homelessness, experts agree there needs to be more in place to help people who are challenged for housing, especially more year-round shelter and additional resources for those who struggle with mental illness and chronic substance abuse.
They also acknowledge the annual counts likely underestimate the number of people in the city without permanent shelter, although by how much is unknown. 
Homelessness: 'A really hard number to nail down'
Each year at the end of January, volunteers comb the city to count Sioux City's homeless in what is known as the Point in Time Count.
On one set night, area shelters count the people within their walls while volunteers search under bridges, inside city parking ramps and known encampments, asking the people they find a handful of questions about their age, race and history.
Woodbury and Dakota county agencies reported 264 homeless people in January, down from 288 in 2017 and 348 in 2016.
The count, submitted to HUD each year, plays a role in federal funding for services and is widely seen as the most accurate count available of a city or region's homeless population. But experts also agree the numbers are, at best, a minimum representation of the number of people without permanent shelter.
"I think it's a really hard number to nail down," said Matt Ohman, executive director of the Siouxland Human Investment Partnership, the organization that facilitates the Siouxland Street Project, a group of community stakeholders who meet regularly to discuss the issue of homelessness in Sioux City.

It's difficult because the count misses people who are doubled up, those about to lose their permanent shelter or those without a permanent residence who spend the night in jail, a hospital or an inexpensive hotel room -- all of whom would be considered homeless.
Ohman said he would guess there are around 100 people who are missed in the count each year. 
Susan McGuire, chairwoman of the Siouxland Coalition to End Homelessness, said she believes the Point in Time numbers serve as a fairly accurate measurement of those who are "literally homeless" on the streets or in shelters. The homeless population in the jail or hospital is difficult to know or count, as is knowing the number of people who are precariously doubled-up or about to lose their residence, she said.
"If we had 500 people that were homeless on the streets in Sioux City, we would see a lot more than what we do," she said. "A lot of them are housed."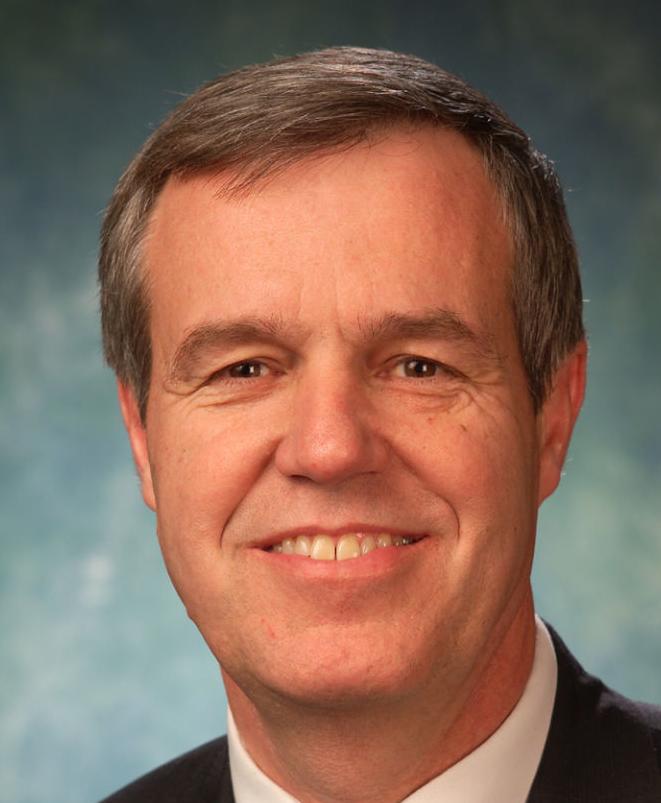 When Joe Twidwell, president of the Warming Shelter's board of directors, talks about the homeless population, he prefers to discuss anyone who does not have a permanent shelter. Based on counts in Sioux City and those in other communities, as well as who he sees walking into the Warming Shelter, he believes the number of people without permanent shelter sits around 600 or 700 on any given night. 
Sioux City's Gospel Mission, a faith-based organization that houses 45 to 55 homeless each night, quotes a similar number.  
"I think the challenge for all of us that try and serve the people that are challenged for shelter in the community is that nobody, no matter how hard we try, has a good handle on the exact number," Twidwell said. "It's always changing, too, because people are going out of relationships sometimes that then makes them have no shelter."
SIOUX CITY -- The lack of low-income housing in Sioux City can be a hurdle that makes the jump out of homelessness difficult.
In another indicator of the city's homeless population, the Sioux City Community School District had counted 381 homeless students as of mid-April, down from 417 the year before and 430 two years ago.
The school's annual count includes students who live with friends or extended family due to economic hardship or loss of housing, as well as those who are temporarily living in motels, hotels, trailer parks or campgrounds due to lack of alternative accommodations. District spokeswoman Mandie Mayo said the school's report is updated throughout the year as the district learns of changes in the students' circumstances.
Native American homelessness 'has never been worse'
Native American leaders and agencies are among those at the forefront in pushing for more resources to assist the homeless. They acknowledge a disproportionate number of those facing homelessness are Native Americans, and the uneven ratio appears to be growing. 
According to the Point in Time Count, nearly one in four of Sioux City's homeless is a Native American, even though Native Americans account for under 2 percent of the city's overall population. The 63 homeless Native Americans identified in January's count constituted the city's highest total since the counts began including race four years ago. 
Another widely cited statistic among local agencies comes from a 2016 Siouxland Street Project survey of 97 people who spend the majority of their time on the street. That survey found 47 percent of the respondents were Native American. 
"The situation has never been worse than it is now, and so has the indifference to it -- it has never been greater," said Frank LaMere, a Native American activist from South Sioux City.
LaMere, a member of the Winnebago Tribe, said many Native Americans come to Sioux City from reservations in Nebraska and South Dakota. Some fall on hard times, into addiction or both and end up on the streets.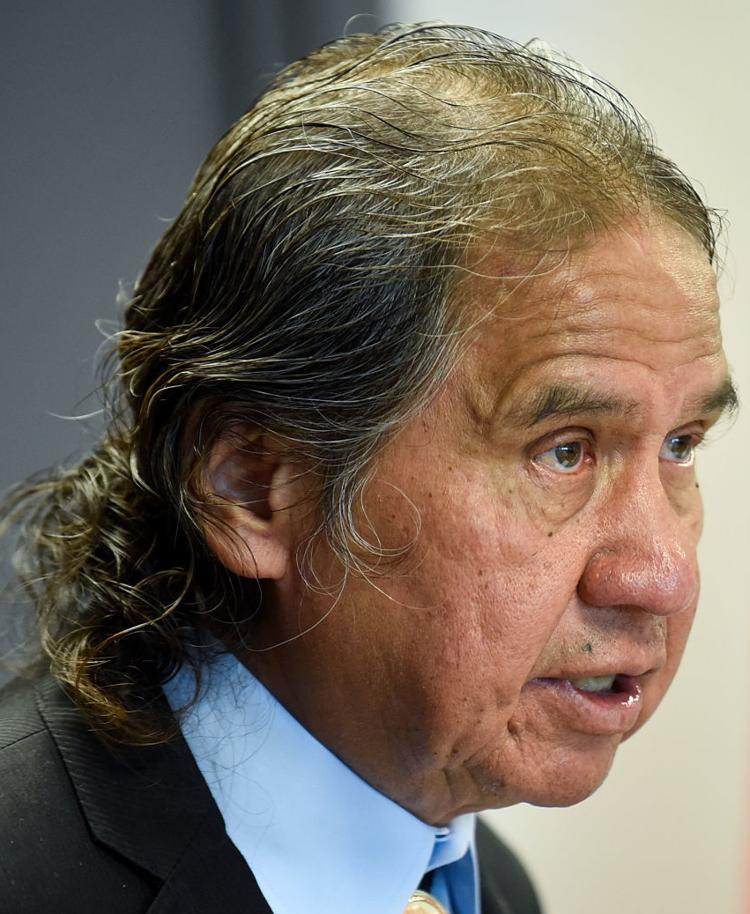 "They come here with the best intentions, but for whatever reason it doesn't work out," he said. 
Val Uken, care coordinator for Four Directions, a local agency that assists and advocates for Native American families and children, said the issues facing Native Americans are similar to those faced by all homeless -- mental health, alcohol and substance abuse. 
"A majority of that is there's mental health issues," she said. "It needs to be addressed." 
Intertwined with the growing number of Native Americans is a homeless veteran population that includes several chronically homeless Native Americans. Veterans comprised 21 of the 27 chronically homeless people counted in January's Point in Time Count. Approximately half of those were Native Americans. 
McGuire said the drastic change stood out to her but could have resulted from agencies this year not confirming the veteran status of homeless people who said they were veterans, which has been common practice in the past. 
Uken, herself a 27-year veteran of the 185th Air Refueling Wing, Iowa Air National Guard, said many veterans need more places to go where they can receive help fighting addiction and receiving assistance with mental health. She said they can also be embarrassed about their situation.
"The first time we talked to some of the homeless Natives, they didn't let me know that they were a veteran," she said. "It wasn't because they weren't proud of being a veteran, it was more of being embarrassed of the position they were in."
The Siouxland Street Project and other community stakeholders met with Indian Health Services June 1, with the hope the agency could assist with funding a detox center. The location would be a place where people can go to be detoxified from alcohol or substance abuse until they're sober enough to enter an addiction treatment facility.
Uken said a detox center and halfway house would go a long way toward helping them get on their feet. It would be a faster alternative than some programs that require evaluations and physicals to enter treatment, she said.
"There are many individuals that want to get well," she said.  
City leaders: There's room to improve
City leaders agree that a comparison of Sioux City's homelessness problem versus ones in San Francisco or New York paints a stark contrast. Homelessness is not unique to Sioux City, nor worse here, they say, and counts in Sioux City run comparable to those around the Midwest. 
But they acknowledge the community still faces struggles in how it deals with the problems it has, such as the lack of year-round shelter and affordable housing available. Another large issue is the number of taxpayer dollars spent as police officers respond to disturbances and public intoxication and book them into jail.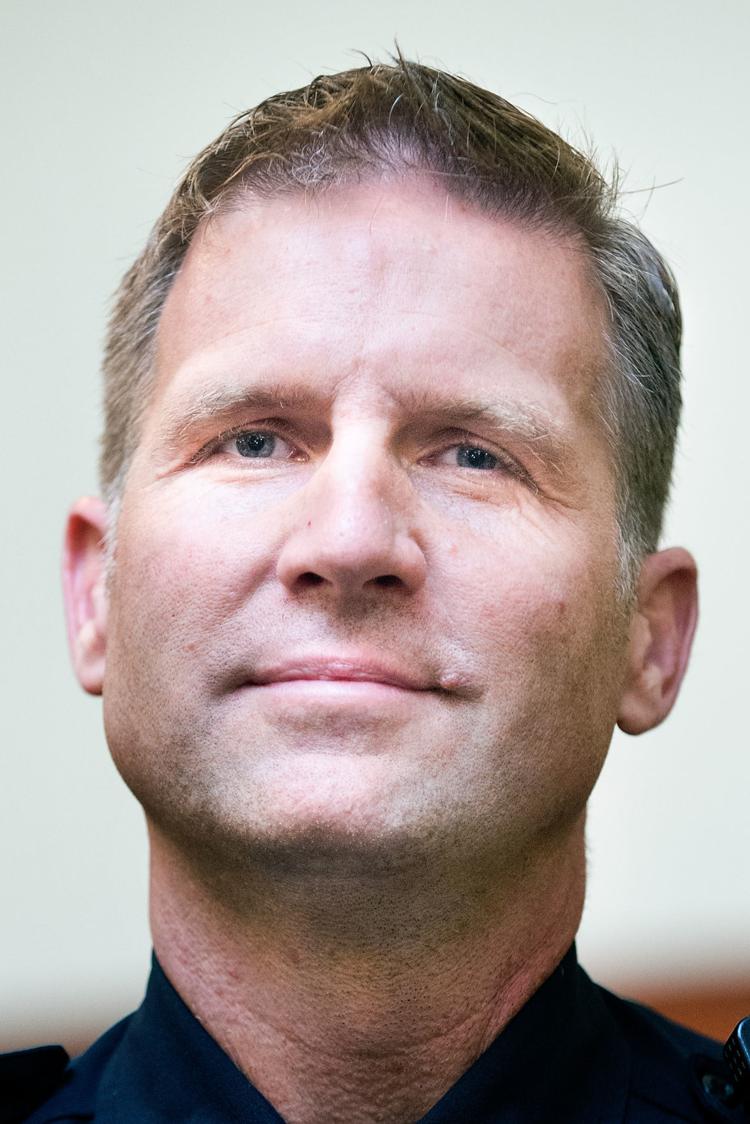 "There's a lot of community stakeholders in this problem," Sioux City Police Chief Rex Mueller said. "The community members, the businesses, the hospitals, the mental health organizations, the jail, community leaders -- everybody has a stake in this problem because it impacts us in so many ways."
The need for more resources to house the city's homeless has spurred city leaders and organizations to work toward increasing services. The Warming Shelter opened the separate Day Shelter Nov. 1 to offer 24/7 accommodations during the brutal cold of Siouxland winters through April 30. Two years ago, the Gospel Mission added more housing for single men with children, a group that was previously under-served.
Leaders are now pushing toward additional resources, such as the detox center. The Warming Shelter's board of directors is taking concrete steps to have its day and night shelters in a consolidated facility within the next two years, and next season plans to have more staff and a case manager at the facility. Twidwell said one of its further strategic goals is to eventually expand to 365 days a year. 
Sioux City Councilman Pete Groetken, who regularly participates in Siouxland Street Project meetings, said a 24/7/365 shelter would provide not only a place to shield the homeless from the elements, but also create a social environment and a place where they could enter a workforce development program. 
"The challenge has always been to find a funding source," he said. 
Ohman added that he would like to see case workers and wraparound resources to help people not just be put back on the streets, but cared for and helped down the path back into permanent shelter. 
From where he sits at the Siouxland Soup Kitchen, McKee says he'd also like to see city leaders do more to assist the homeless. 
"Sioux City needs to help out people like this," he says. "There's a lot of people who are homeless." 
He's light on the specifics. But for now he has more pressing things to worry about.
Mainly, a bed for the night.