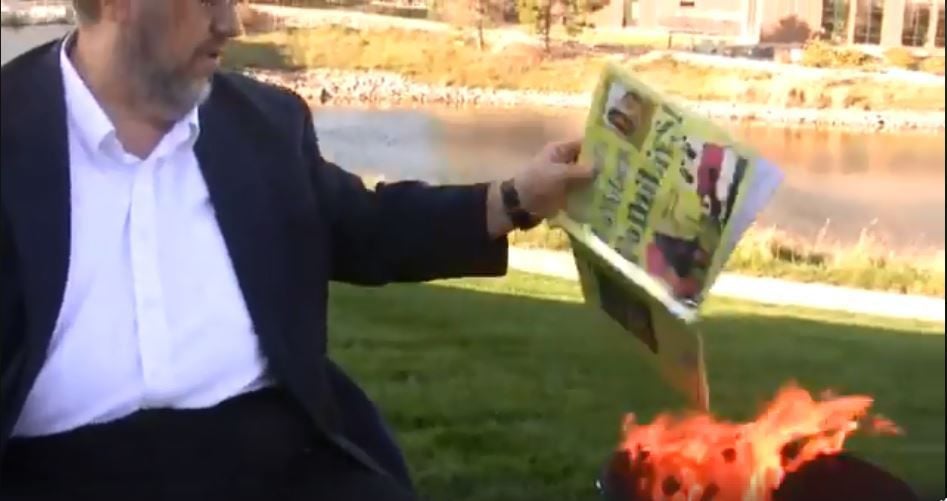 ORANGE CITY, Iowa -- The leader of a northwest Iowa pro-life, anti-homosexuality group on Friday made a Facebook Live video in which he burned several books from the Orange City Public Library, during the city's OC Pride event last weekend. 
Paul Dorr, director of Ocheyedan-based Rescue the Perishing, a group that he describes in the video as "a crisis center and pro-life, pro-family movement," said in an interview with the Journal Sunday that his protest was the result of his outrage at several things in Orange City and in the region. The events of OC Pride, a local LGBTQ festival, were, in essence, the straw that broke the camel's back for Dorr. 
Dorr cited, among other things, sexual education classes in schools (which he would only refer to as "classroom sex talk," and which he would like to see eliminated in favor of a Biblical, marriage-based curriculum); some local churches' reticence to combat homosexuality; and Northwestern College -- which drew his ire partly when it staged a play that portrayed homosexuality in a not-unfavorable light -- all as contributing factors to his protest. 
The video, which is more than 28 minutes long, consists mainly of Dorr talking about his displeasure with all things LGBTQ, as well as abortion and the sexual revolution of the 1970s, which he sees as a failing of his generation.
Dorr appears particularly irate at the fact that LGBTQ books were read to children during OC Pride. 
In a statement, OC Pride organizers said one book, Andrea J. Loney's "Bunnybear," about a bear who feels like a bunny, was read to kids during an OC Pride event.  
After nearly 25 minutes of speaking in the video, Dorr begins pulling out LGBTQ-themed books checked out from the Orange City Public Library and, after describing the problems he sees in them, throws them into a burning barrel sitting at his left. 
"Orange City Library, you won't be peddling this one anymore!" Dorr says in the video as he pitches an LGBTQ-themed children's book into the flames. "You should all be ashamed of yourselves and repent." 
The books Dorr selected for burning, he said, were those he deemed the most egregious. He said he has not spoken to anyone from the Orange City Public Library, and that he will not be replacing the books nor paying for them. 
"This whole (book) is designed to get 12-to-13-year-old boys to start having homosexual sex together," he said of one of the books. "I can't read you all of this stuff. It is so filthy, and so disgusting." 
In all, four books were thrown into the fire: David Levithan's "Two Boys Kissing"; Suzanne and Max Lang's "Families, Families, Families!"; Gayle E. Pitman's "This Day in June"; and Christine Baldacchino's "Morris Micklewhite and the Tangerine Dress." 
The Orange City Public Library said in a message that it is aware of Dorr's video, and that it will not be making any comments at this point. 
Organizers of OC Pride released a statement to the Journal that read in part: "It is disappointing to see folks break the law in a community where we believe abiding by the law keeps everyone safe.
"We are thankful for the LGBTQ+ community here in NW Iowa for setting a positive example of building community in light of those who do violent, illegal things to prove a point." 
Veronica Fowler, communications director for the Iowa branch of the American Civil Liberties Union, said that Dorr's actions were problematic, particularly because the books were not his own to burn -- he effectively made the decision that local children could not see certain literature, she said. She could not say whether the ACLU would proceed with any sort of action in this case. 
"It's deeply disturbing," Fowler said. 
This is not the first time the Orange City Public Library has found itself at the center of controversy regarding LGBTQ books. Earlier this year, the library's Board of Trustees was faced with a community petition asking it to specially label and separate such books. 
Copyright 2018 The Sioux City Journal. All rights reserved. This material may not be published, broadcast, rewritten or redistributed.