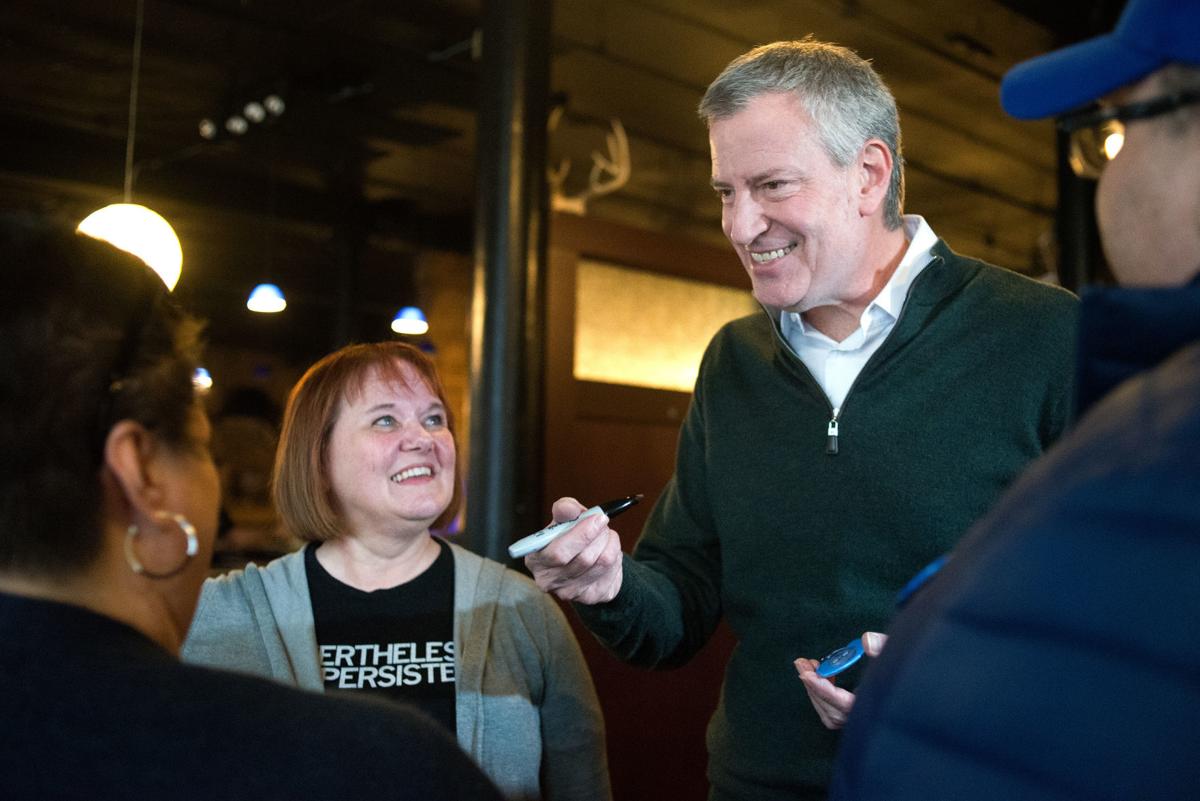 SIOUX CITY -- A little snow couldn't keep New York City Mayor Bill de Blasio away from Rebos bar Saturday night. 
In a meet-and-greet hosted by the Woodbury County Democrats, de Blasio advocated a progressive agenda for Democratic candidates in 2020. Despite considerable chatter about a possible de Blasio run for the Democratic nomination, he remained firmly noncommittal. 
"I have not ruled out a run for president, obviously," de Blasio said during his remarks. In a later conversation with reporters, he said the decision is a personal one, and that he wants to further consult his family. 
De Blasio was the third big-name, national Democratic presidential hopeful to visit Sioux City in a 24-hour period -- he followed Obama cabinet member Julián Castro, who visited with voters at a home Friday night, and former Colorado Gov. John Hickenlooper, who visited a coffee shop Saturday morning. 
Like many other Democratic politicians who visit the area, de Blasio had nothing but nice things to say about J.D. Scholten, who narrowly lost Iowa's 4th District to Rep. Steve King in November. 
"A lot of us all over the country watched with admiration, the Congressional race, and J.D. Scholten getting that close is an amazing achievement and it's a harbinger of things to come," de Blasio said. 
You have free articles remaining.
Progressivism was the theme of the evening for de Blasio, who said the Democratic Party was at its pinnacle during the presidency of Franklin D. Roosevelt in the 1930s. He suggested a new Progressive Era may be dawning in the U.S., given the budding group of liberal Democrats advocating healthcare for all and free college education. 
"The truth about the Democratic Party historically, is it's a big tent party, right?" he said. "The strongest era for this party was during the New Deal of Franklin Roosevelt." 
In recent decades, de Blasio suggested the party has been taken over by moderates, at the expense of the common people. Yet he suggested the party can win over the working class once again. 
"I know working people can answer the call of the Democratic Party easily, in every part of the country, if they heard that we were resolute in defense of their interests. I know it. I've seen it," he said. 
He couldn't resist getting in a jab at Rudy Giuliani, a former New York City mayor who now acts as a contentious attorney for President Trump. 
"First of all, I want to give people advice, if you're in a tough legal spot, do not hire Rudy Giuliani to be your legal spokesman," he said. "It's not working out well for his current client. It's kind of funny, hiring someone to go on TV and make his legal position worse." 
Copyright 2019 The Sioux City Journal. All rights reserved. This material may not be published, broadcast, rewritten or redistributed.