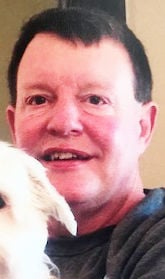 Albert (Al) John Ehrlich, 67, passed away unexpectedly at his residence on Wednesday, Nov. 27, 2019.
Funeral mass will be 10 a.m. Tuesday at St. Agnes Catholic Church in Vermillion, S.D. Burial will follow in the Hooper City Cemetery, Hooper, Neb. Visitation will be from 5 to 7 p.m. today, with a scripture service beginning at 7 p.m., at the church. Memorials may be directed to the family. For obituary and online condolences, visit hansenfuneralhome.com.
Albert John Ehrlich was born to Albert and Irene (Poggensee) Ehrlich on Dec. 14, 1952, in Lincoln, Neb.
Al had two children during his first marriage, Sarah and Justin, and a very special dog, Jag. Jag was his life for 18 years.
You have free articles remaining.
He worked between Sioux City and Sioux Falls, S.D., for many years at the Burlington Northern Railroad. Al had many positions with the railroad. He worked his way from working in the rail yard to becoming an engineer. He was very proud of his work and proud of the guys he worked with and spoke very highly of all his co-workers. Al retired after 42 years of working on the railroad. He remained friends with most of them through visits, luncheons or phone calls.
Al found the love of his life, Gemma Fadri Gallardo. They married Dec. 14, 2011.
After retirement, Al found some new hobbies to keep him busy. He always loved to travel once he found his camper; he put it in Rapid City at the Heart Ranch. He made many trips for two weeks at a time each month and made many friends. He also traveled to Canada to visit his wife.
Al loved to go to auctions, thrift stores, Menards, church, and boating, just to name a few hobbies.
Al was never in a hurry to get anywhere. He was a man full of knowledge, wisdom, patience and all about saving a dime on most things. Al was nothing less than a true friend with honesty and integrity.
Al is survived by his wife, Gemma Ehrlich, of Toronto, Ontario, Canada; son, Justin Ehrlich of Fort Myers, Fla.; and grandchildren, Gage Ehrlich and Emma Ehrlich of Fort Myers.
He was preceded in death by his parents, Albert and Irene Ehrlich; daughter, Sarah Marcoux; and his dog, Jag.