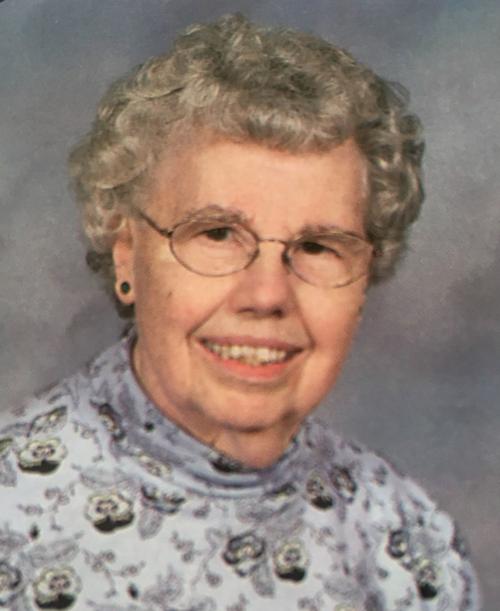 Bethyl R. Plendl, 94, of rural Hinton, passed away Friday, Nov. 29, 2019.
Services will be 10:30 a.m. Thursday at St. Michael Catholic Church in Sioux City with Rev. David Hemann officiating. Burial will be in St. Joseph Cemetery, Neptune, Iowa. Visitation will be from 4 to 8 p.m. Wednesday, with the family present from 6 to 8 p.m. and a vigil service at 7 p.m., at Meyer Brothers Colonial Chapel in Sioux City.
Bethyl Ruth Calderwood was born May 15, 1925, on her grandparents' farm near Manilla, Iowa. She was the youngest of five children born to Seth and Hattie (Macumber) Calderwood. Her family lived near Westside, Iowa, until she was 4 years of age. They moved to Arcadia, Iowa, where she attended school until 1941. Following her father's death, Bethyl and her mother moved to Manilla her senior year, where Bethyl graduated high school in 1942.
You have free articles remaining.
After working a year in the office of the Manilla school, Bethyl attended Wayne State College in Wayne, Neb., receiving her teacher's certificate in 1945. She taught elementary school for seven years at Hinton Community School.
Bethyl married Robert W. Plendl on Feb. 21, 1951, at St. Michael Catholic Church in Sioux City. They made their home on a farm east of Hinton until Robert's death in 2005. She remained on the farm with her sons until her passing.
Bethyl enjoyed playing games with her family, working puzzles, crocheting, and reading. She was a member of St. Michael Church.
She is survived by her five children, Dwight, Keith and Scott, all of rural Hinton, Bruce and his wife, Bobette of Everett, Wash., and June and her husband, Wade Hamil of rural Merrill; four grandchildren, Craig Plendl and his wife, Candice of Everett, and Allen, Katelyn and Amanda Hamil, all of rural Merrill.
She was preceded in death by her parents; her husband, Robert; and her four siblings and their spouses, Wayne (Bonnie) Calderwood, Dorothy (Robert) Zednichek, Lloyd Calderwood, and Ada (Robert) Phillips.