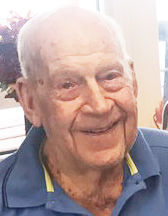 Charles "Chuck" Perrin, 92, of rural Cherokee, passed away Saturday, Sept. 7, 2019, at Accura Health in Cherokee.
Services will be 10:30 a.m. today at Immaculate Conception Catholic Church in Cherokee. The Rev. Mark Stoll will officiate. Burial will be in Mt. Calvary Cemetery in Cherokee. Military rites will be conducted by the V.F.W. L.A. Wescott Post 2253 of Cherokee and the Cherokee American Legion. Arrangements are under the direction of Greenwood-Schubert Funeral Home in Cherokee. Online condolences may be sent to the family at www.greenwoodfuneral.com.
You have free articles remaining.
Charles "Chuck" Edward Perrin, the son of Delbert and Mary (Goodwin) Perrin, was born on June 18, 1927, in Cherokee. His childhood years were spent in Cherokee, where he attended school. Chuck attended two years of high school in Fort Dodge, Iowa while working for the railroad. He returned to Cherokee his junior and senior year and graduated from Washington High School in 1945. Following school, he served in the U.S. Air Force and then the U.S. Navy, where he was a seabee stationed in Guam. Following his honorable discharge, Chuck worked for the Bridge Gang with Kip Nelson for one year and then went to work for the telephone company.
On Jan. 6, 1947, Chuck was united in marriage to Joyce Olson. They lived in Storm Lake, Iowa for a few years before moving to Cherokee in 1951, when he started farming and became a partner at the Perrin Mink Farm. He continued his love for farming and the mink farm until his retirement. Following the death of his wife, Joyce, in 2002, Chuck was united in marriage to Dorothy Schmidt in 2004 in Cherokee. Chuck continued to help Mark with farming part-time for the next 10 years.
Chuck was a member of Immaculate Conception Catholic Church in Cherokee and a member of the V.F.W. L.A. Wescott Post 2253 in Cherokee and served as a past commander. He served on the National Mink Rancher's Board for eight years and was president for two years. In 1975, he began a four year term with the Cherokee County supervisors. He had many hobbies and interests. He was an avid golfer and helped start the Quimby Golf Course. He enjoyed hunting and fishing, and time spent with family and friends at the Perrin family cabin in Canada. He enjoyed attending his grandchildren's activities and swimming. Most of all, he enjoyed spending time with his family and friends.
He will lovingly be remembered by his wife, Dorothy Perrin of Cherokee; children and spouses, Mark (Sue) Perrin of Cherokee, Timothy (Lisa) Perrin of Cherokee, Kelly (Teresa) Perrin of Cherokee, JoAnn Perrin of Cherokee, Judy (Jerry) Slota of Washta, Iowa, and Dewey (Kristi) Perrin of Huron, S.D.; grandchildren and great-grandchildren, Jana (Matt) Utesch and their children, Jaylee and Colton of Washta, Mary (Wade) Cowan and their children, Rebecca and Brody of Cherokee, Rachel (Derek) Simonsen and their children, Ava and Ella of Cherokee, Julia (Tyson) Conley and their children, Theo and Alivia of Austin, Texas, Melissa (Dale) Friedrichsen of Holstein, Iowa, and their children, Jonathan, Laura, and Caleb, Abby (Nathan) Tentinger of Cleghorn, Iowa, and their children, Benjamin, Brady, Derek, and Christian, Valerie (Andrew) Cronin of Meriden, Iowa, and their children, Tensley, Easton, and Kyla, and Emily Perrin and fiance, Eli Parsons of Johnston, Iowa; one sister, Kathi McGowan of Lincoln, Neb.; two sisters-in-law, June Perrin of Cherokee, and Barb Perrin of Cherokee; and several nieces, nephews, relatives, and friends.
He was preceded in death by his parents, Delbert and Mary Perrin; his first wife, Joyce Perrin; one son, Daniel Perrin in 1970; brothers, Delbert "June Bug" Perrin and his wife, Tootie, Dana Perrin and his wife, Rita, Jack Perrin, and Boyd "Bud" Perrin; sisters, Mary Frances Gates, and Rosemary Roepke and her husband, Wayne; brother-in-law, Bob McGowan; and sisters-in-law, Doris Hall, Marlene Grunig and her husband, Les, and Arleta Cossman.