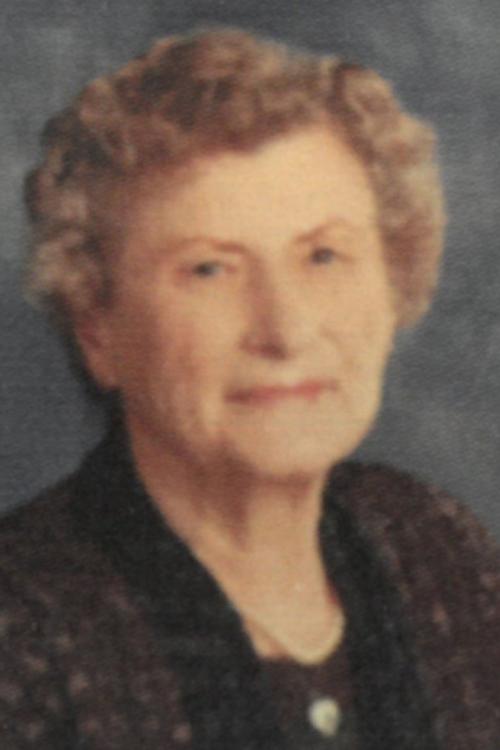 Christel A. Albertson, 94, of Sioux City, passed away peacefully in her sleep on Sunday, Nov. 3, 2019, at Brookdale Sioux City.
Services will be 1 p.m. Wednesday at St. John's Lutheran Church in Pierce, Neb. Burial will be in St. John's Lutheran Cemetery. Visitation with the family present will be 5:30 to 7:30 p.m. Tuesday, with a prayer service at 6:45 p.m., at Meyer Brothers Colonial Chapel in Sioux City. Online condolences may be given at www.meyerbroschapels.com.
Christel was born Dec. 4, 1924, in Germany, the only child of Otto and Amanda (Buske) Mai. She came to the United States when she was three years old, landing on Ellis Island. A large part of her family migrated to Pierce, Neb., where Christel was raised. She was confirmed at St. John's Lutheran Church and attended school there. Christel graduated from Pierce High School. After high school, she moved to Idaho Springs, Colo., where she met Glenn Edward Albertson, while he was stationed at Camp Hale. The couple married on April 9, 1944 in Denver, Colo. They lived in southern Indiana for a short time, before moving to Sioux City in 1947.
You have free articles remaining.
Christel worked as a waitress at the Warrior Hotel and as a cook for the Good Samaritan Home until retirement. She enjoyed cooking, sewing, gardening, her neighborhood pups as well as her grand pups and grand cats. She loved watching her grandsons play hockey, and enjoyed traveling to hockey tournaments with her family. Christel was a very active member of St. John's Lutheran Church in Pierce and Bethany Lutheran in Sioux City, teaching, Vacation Bible School, and participating in the church bazaars every year making countless jars of her famous raspberry rhubarb jam.
Survivors include her children, Glenn O. Albertson and wife, Vikki Mryon of Spencer, Iowa, and Glennda Nelson and Todd Abbotts of Highlands Ranch, Colo.; grandchildren, Kurt and Susan Albertson, Erik and Tabrina Albertson, Karie Albertson Seefeldt, Travis and Carrie Albertson, Jenny Albertson, Zach Nelson and Abby McDermott, Alex Nelson, and Max Nelson and Atlanta Shaw; nine great grandchildren; and seven great-great-grandchildren.
Christel was preceded in death by her parents; stepfather, Bill Kort; a grandson and granddaughter in infancy; and husband, Glenn in 1992.
We have been blessed to have her for so many years and wish to celebrate her as a life well lived.