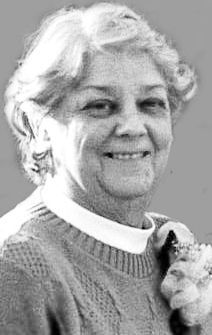 Donna Jean Peterson, 90, died on Tuesday, July 28, 2020, at Holy Spirit Retirement Home in Sioux City.
Services will be at 10:30 a.m. on Saturday at Christy-Smith Morningside Chapel, 1801 Morningside Ave., Sioux City, IA 51106 with the Rev. Erica Mac Creaigh of Westminster Presbyterian Church officiating; a luncheon will follow. Interment will be in Grace Hill Cemetery, Hawarden, Iowa. The family will receive friends and family from 4 to 7 p.m. today at Christy-Smith Morningside Chapel. Mask wearing is encouraged, but optional. Online condolences may be made to the family at www.christysmith.com.
Donna was born October 7, 1929 in Hawarden, to Que and Nina (Handy) Haines. She grew up in Hawarden and graduated from Hawarden High School. The family attended the Associated Church of Hawarden where Donna was baptized. Donna married Raymond L. Peterson on Nov. 9, 1950 in Alcester, S.D. In Jan. of 1951, Ray entered the service and left for Korea. During that time, Donna worked at the bank in Hawarden.
After Ray returned home, the couple started their family and had four children: Mark, Kirk, Cindy and Ann. The family relocated to Sioux City in 1961, they were longtime members of Faith United Presbyterian Church. Donna devoted her life to her children and later her grandchildren and great-grandchildren.
She enjoyed watching sports, cooking, sewing and spending time with her family. As an avid sports fan, she followed her children and grandchildren's events, along with cheering on the Cubs, the Bulls, and watching tennis and golf. Donna loved to cook and was "famous" for her homemade turkey dressing and frosted sugar cookies. She was an excellent seamstress and sewed many items for her family.
Donna loved to be outside in her yard, and enjoyed the bunnies and cardinals that visited her yard. Donna cherished family time, she rarely missed going for coffee and doughnuts with them.
Donna is survived by sons Mark (Jeannie) Peterson and Kirk (Lynn) Peterson of all of Sioux City; daughters, Cindy (Scott) Utech of Papillion, Neb., and Ann (Bob) Stephens of Sioux City; 15 grandchildren; 18 great-grandchildren; sisters Dolores Westcott and Barbara Kelley, both of Hawarden; and many nieces and nephews.
She was preceded in death by her parents; husband Ray; daughter-in-law Barbara Peterson; grandchildren Bridget, Brianna, Brendan and Ryan; brothers Que Jr. and Norman; and sisters Arlene, Nina, Carole, and Beverly.
To plant a tree in memory of Donna Peterson as a living tribute, please visit Tribute Store.
Obituaries Newsletter
Sign up to get the most recent local obituaries delivered to your inbox.