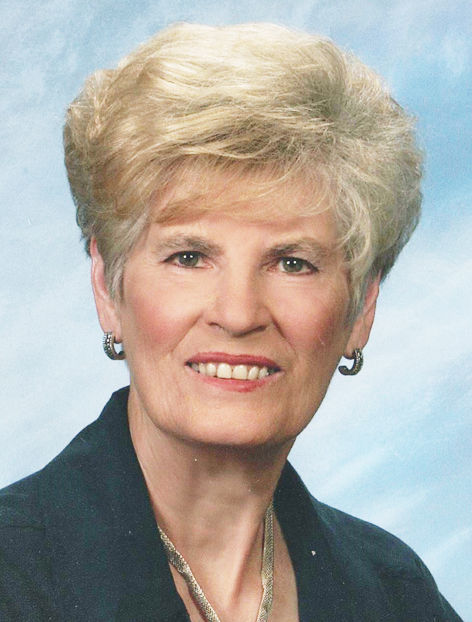 Ethel Mary Homan, 89, of Remsen, passed away Monday, Sept. 16, 2019, surrounded by her children, at her home.
Services will be 10:30 a.m. Wednesday at St. Mary's Catholic Church in Remsen, with the Rev. William McCarthy officiating and Deacon Rick Roder assisting. Burial will be in St. Mary's Cemetery. Visitation with the family will be 4 to 7 p.m. today, with a parish rosary and a vigil prayer service at 5 p.m., at Fisch Funeral Home & Monument in Remsen. Visitation will resume 9:30 a.m. until service time Wednesday at the funeral home. Condolences may be sent online to www.fischfh.com.
Ethel was born in Le Mars, Iowa, on Nov. 19, 1929, the fifth of seven children born to Edward and Mary (Langel) Ortmann. She grew up on a farm west of Le Mars and attended St. Joseph's Grade and High School. After her graduation, she attended St. Joseph's School of Nursing in Sioux City, from which she graduated in May 1950. She practiced her nursing career for many years at Sacred Heart Hospital in Le Mars, and later as a school nurse for the Remsen Union School District.
On Oct. 2, 1951, she was united in marriage to Paul Homan. They were the parents of six children, the oldest, Rose Ann who died in infancy, Louis, Alice, Michael, Philip, and Angela.
You have free articles remaining.
She furthered her education later by attending Creighton University in Omaha and Westmar College in Le Mars, from which she graduated magna cum laude with a degree in English in May 1967. She then taught high school English at Remsen-Union High School for 26 years, retiring in 1992. Paul passed away on May 4, 2016.
Ethel was a member of St. Mary's Parish, the Christian Mothers Society, and a former member of the St. Mary's adult choir. She enjoyed music, reading, playing bridge and golf, crossword puzzles, decorating, entertaining and china painting. She also enjoyed traveling, shopping, and having coffee with friends.
She is survived by her children, Louie and wife, Deb of Remsen, Alice and husband, Dave Elliott of Las Vegas, N.M., Mick and wife, Melissa of Cincinnati, Ohio, Philip and wife, Katie of Medina, Minn., and Angie and husband, Tom Lalor of Washington, D.C.; 14 grandchildren; 11 great-grandchildren; three sisters, Joan Thommes of Omaha, Sister Alice and Sister Eleanor of the Sisters of Christian Charity of Wilmette, Ill.; one brother, Jim and his wife, Gretchen of Le Mars; and numerous nieces and nephews.
Ethel was preceded in death by her parents; her husband, Paul; their daughter, Rose Ann; great-granddaughter, Josephine Elliott; her sister, Irene Bueltel and husband, Clarence; her brother, Cyril and wife, Rosie Ortmann; brothers-in-law, Gerald and wife, Armella Homan, Bob and wife, Kathleen Homan, Gordon and wife, Bertha Homan, and Bill Thommes; and sisters-in-law, Elaine Homan, and Marion Frampton and husband, Jack.
Pallbearers will be Chad Homan, Benner Homan, Adeline Lalor, Jeremy Homan, Bill Thommes and Tom Ortmann.