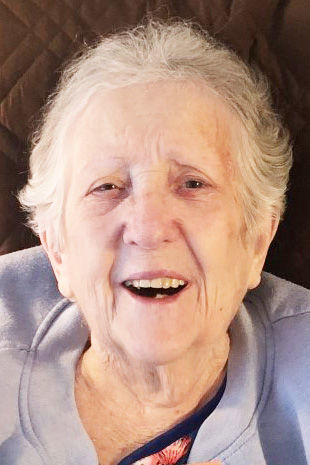 Janet M. VanAuken, 84, of Salix, passed away Sunday, June 28, 2020, at Burgess Health Center in Onawa, Iowa.
A celebration of life visitation will be 11 a.m. to 3 p.m. Sunday, July 19, at St. Joseph Parish Center in Salix. Arrangements are under the direction of Rush Family Care Service in Onawa. Condolences may be left online for the family at www.rushfamilycareservice.com.
Janet Mae VanAuken was born on Dec. 24, 1935, in Onawa, the daughter of Ira and Leta "Tootsie" (Gulick) Copple. She grew up near Salix and graduated from Salix High School in 1953.
She operated VanAuken Landscaping and Elmwood Flower Shop in Sioux City for several years. She then worked as a security guard for Mid-American and MCI, where she later retired.
Janet enjoyed spending time with all of her family, especially her grandkids. She also enjoyed her many flowers, and watching the beautiful hummingbirds.
She is survived by her children, Cindy VanAuken of Salix, Brad VanAuken of Apache Junction, Ariz., Jane (Bob) Brouillette of Salix, and Tracy (Deb) VanAuken of Mineola, Texas; grandchildren, Keaton VanAuken of Apache Junction, Jamie (Andrew) Kepner-Conley of Salix, Kyle (Austyn) Brouillette of Lacey, Wash., Brandon Kelly of Windsor, Colo., Amanda VanAuken of McKinney, Texas, and Dylan VanAuken of Mineola; great-grandchildren, Easton Kepner, Joseph Conley, Dalton Kelly, Errol Brouillette, and Lincoln Brouillette; siblings, Sally (Don) Maddox of Yankton, S.D., Ronnie (Bev) Copple of Sloan, Iowa, Sharon (Bill) Johnson of Sloan, Twila Copple of Sloan, and Gil (Vicky) Copple of Sioux City.
She was preceded in death by her parents, Ira and Leta "Tootsie" (Gulick) Copple; two brothers, Jack and Bennie Copple; and one great-granddaughter, Violet Brouillette.
To plant a tree in memory of Janet VanAuken as a living tribute, please visit Tribute Store.
Obituaries Newsletter
Sign up to get the most recent local obituaries delivered to your inbox.