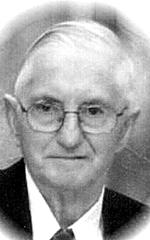 SANBORN, Iowa -- John B. Hofman, 78, of Sanborn passed away Sunday, Aug. 12, 2007, at his residence.
Memorial services will be 2 p.m. today at Cornerstone United Reformed Church in Sanborn. Graveside services will be 1:15 p.m. today in Roseland Cemetery. Arrangements are under the direction of Sanborn Funeral Home in Sanborn.
John B. Hofman, the son of Ben and Kate (Bonnes) Hofman, was born Oct. 23, 1928, on a farm near Sanborn. He grew up in Sanborn and attended Sanborn Christian School.
On Jan. 18, 1950, he married Lucille Vander Burgh at First Reformed Church in Sanborn. The couple farmed south of Sanborn from 1950 to 1983. After farming, he did electrical and carpentry work until a massive stroke forced his retirement in July 2001. From September 2001 until August 2002, he lived at Prairie View Nursing Home in Sanborn. He then returned to his own home were he resided until his death.
He was very active before his stroke. He was a great handyman and loved to fix anything. His greatest joy was serving the Lord and he put his carpentry skills to use in the remodeling of the parsonage and helping build the new Cornerstone Church building. He enjoyed fishing, biking and spending time with his children and grandchildren. He was a charter member of the Cornerstone URC and had previously been a deacon at the Sanborn CRC.
Survivors include his wife, Lucille; three children, Larry (Kathy) Hofman, Eileen Vander Werff and Alan (Cindy) Hofman, all of Sanborn; 10 grandchildren; two great-grandchildren; a brother, Dick (Polly) Hofman; three sisters, Cornelia Solsma, Bertha Meernik and Dorothy Bosma; two sisters-in-law, Joyce Reinke and Marlene Vander Burgh; a brother-in-law, Clifford (Barb) Vander Burgh; and other relatives and friends.
He was preceded in death by his parents, Ben and Kate Hofman; three sisters, Agnes (Bert) Solsma, Engelena (Bill) Damstra and Gertrude (John) Hengeveld; and brothers-in-law, Dick Solsma, Gilbert Meernik, Marvin Bosma, Robert Reinke and Lloyd Vander Burgh.