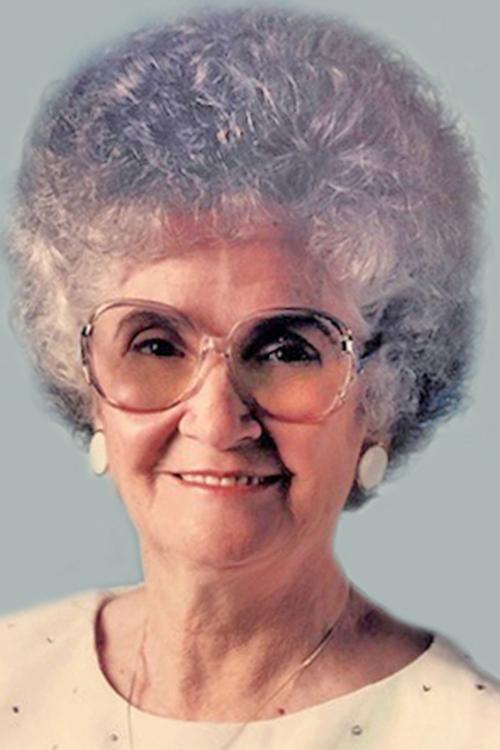 Loretta Annabelle Johnson, 96, lifelong resident of Sioux City, died on Tuesday, Oct. 8, 2019, at Sunrise Retirement Community in Sioux City.
Service will be 11 a.m. Monday at Christy-Smith Morningside Chapel, 1801 Morningside Ave., with Chaplain Jon Moravec of Sunrise Retirement Community officiating. Private family graveside service will be in Memorial Park Cemetery, Sioux City. Visitation will begin at 10 a.m. Monday at the funeral home. Online condolences may be made to the family at www.christysmith.com.
Loretta was born Dec. 11, 1922, in Sioux City, to Joseph and Dora (Ferdig) Sales. She grew up attending Sioux City Schools, graduating from East High School in 1941. Loretta married Jess S. Johnson on Dec. 22, 1941, in South Sioux City, Neb. The couple had two children, Jesse R. and Grace Ann. Loretta was employed by Sears Department Stores as a credit manager, retiring in 1987.
Loretta was a Past Matron of the Morningside Chapter of the Order of the Eastern Star. In 1992, she was the Grand Electra of Iowa Order of the Eastern Star, member of the Daughters of the Nile, Mispah Shrine (White Shrine) Past President, Hathor Patrol. She was a member of the Sioux City Women's Club, and was a Past President of Credit Women International.
She was a member of Reorganized Church of Jesus Christ of Latter Day Saints.
You have free articles remaining.
Loretta had such a vibrant, fun-loving personality. She loved her family and friends with all her heart, always willing to help anyone along the way, using her many talents including party planning, making ceramics, flower arrangements, nut cups, even writing poems and scripts for skits and plays. Eastern Star was a huge part of her life where she and her husband started a spaghetti dinner fundraiser that continued for 50 years. She loved making peanut brittle to help benefit the Shrine children, making sure her family knew how, in order to carry on that tradition for their families.
Loretta was the center of her family always giving her best and expecting nothing less in return. She will be deeply missed by all who knew her.
Loretta and Jess are dancing together once again.
Surviving are son, Jesse R. (Carla) Johnson of Sioux City; daughter, Grace A. (Frank) Fulton II of Spirit Lake, Iowa; five grandchildren; two stepgrandchildren; 15 great-grandchildren; 24 great-great-grandchildren; sister-in-law, Patty Sales; numerous nieces and nephews; along with a multitude of friends.
Loretta was preceded in death by her parents; her husband; two great-great-grandchildren; four sisters, Flossie Riese, Lucy Norton, Velma Sutherland and Grace Stark; and three brothers, Clarence, Joe "Brud" and Carl.
Memorial contributions may be sent to the Shrine Transportation Fund.