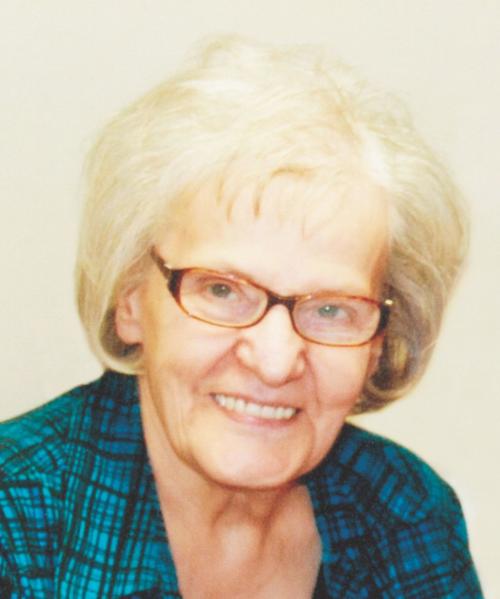 Lyda Van Otterloo, 88, of Rock Valley, died Tuesday, Feb. 11, 2020, at Whispering Heights in Rock Valley.
Services will be 2 p.m. today at Porter Funeral Home in Rock Valley, with the Rev. J.J. Witvoet officiating. Burial will be in Valley View Cemetery. Following the burial, Lyda's family will greet friends for a time of visiting during a luncheon from 3:30 to 4:30 p.m. today at Netherlands Reformed Christian School. Condolences may be left for the family at www.porterfuneralhomes.com.
Lyda was born in Corsica, S.D., the fifth of 11 children of Sam and Gertie (Zomer) Koedam. She was raised on a farm near Corsica. As a teen, Lyda moved to Rock Valley, where she worked at the bakery.
She met Richard Van Otterloo in Iowa and they married on June 23, 1950. They made their home in Rock Valley and later moved to an acreage outside of town where they raised eight children. Lyda took care of her children and the household, and her incredible work ethic meant she wasn't scared to get her hands dirty outside. After her kids were grown, Lyda then cared for others as a home health assistant. She was also employed in the kitchen at Hegg Memorial Hospital, where she enjoyed working alongside her daughter and granddaughters. These girls still talk about having a hard time keeping up with their grandma who at the time was in her late 60s.
Lyda will always be remembered for her patience, caring nature, gentle heart, and unconditional love for her family. She was a good listener but never took sides. Besides being a great mom, she was also a great mother-in-law.
Lyda enjoyed frequently gathering with her large family, especially annual vacations to the lake. Rich and Lyda also enjoyed taking their kids and grandkids fishing. Lyda always brought a fully-stocked cooler including hot dogs for the bonfire and a large mason jar filled with soapy water and a washcloth.
If a big project was underway for a family member, she would provide the work crew with her homemade soup, fresh baked bread, and a pan of brownies for dessert. Her favorite place to go was to church until her final days. The staff at Whispering Heights thought of her as a sweetheart, and she in turn loved them dearly. Her grandchildren and great-grandchildren will fondly remember their weekly Wednesday night and Sunday visits. She is a hero to her children and will not be forgotten.
Left to cherish her memories are her eight children, Rhonda (Loren) Klarenbeek, Bonnie (Bob) Davelaar, Cheryl (Glenn) Lange, Don (Josie) Van Otterloo, Lorri (Jerry) Schlotfeldt, Rick Van Otterloo, Lisa Groeneweg, and John (Marlys) Van Otterloo; 24 grandchildren; 40 great-grandchildren; brothers, Sam and Jim; several brothers and sisters-in-law; and nieces and nephews.
Lyda was preceded in death by her husband, Richard; granddaughters, Shawn Rozeboom and Missy Lange; her parents; brothers, Bill, Herm, John, and Andrew; sisters, Hermina, Jen, Ruth, and Martha: and several brothers and sisters-in-law.