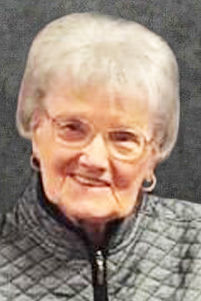 Odebolt, Iowa, formerly Arthur, Iowa
MaryAnn Lindgren, 93, of Odebolt, formerly of Arthur, went to be with her Lord and Savior Wednesday, May 20, 2020, at the Odebolt Specialty Care.
MaryAnn participated in the Medical Body Donation Program. A celebration of life and graveside services will be held at a later date. Arrangements are under the direction of Christensen-Van Houten Funeral Home in Odebolt. Condolences may be sent online at www.christensenvanhouten.com.
MaryAnn (Lindberg) Lindgren was born on March 13, 1927, in Crawford County near Boyer, Iowa, to Floyd and Fidelia (Greene) Lindberg. The family moved to Ida County in 1930, where she attended rural schools. She attended the Arthur Methodist Church and later Arthur Evangelical Free Church where she became an active member, serving in various capacities. She accepted Christ as her personal Savior when she was 12.
MaryAnn graduated from Ida Grove High School in 1944. She continued her education at Mounds Midway School of Nursing in St. Paul, Minn., where she graduated in 1948. MaryAnn worked at Ida Grove Hospital, Morningside Health Care and Sealed With A Kid daycare.
On Sept. 30, 1949, MaryAnn was united in marriage to Paul Lindgren in Arthur. They celebrated 70 years of marriage and were blessed with three children, Nancy Beth, Brent Paul and Reed Curtis. They raised their family on a farm near Arthur where they resided until retirement.
Grateful to have shared her life include her husband, Paul Lindgren of Odebolt; children, Nancy Youngren, Brent Lindgren and Reed Lindgren, all of Odebolt; five cherished grandchildren and 18 great-grandchildren, Cherity (Ryan) Schroeder and their children, Isabelle, Alexandra, Olivia and Jack of Odebolt, Cassity (Abel) Gutierrez and their children, Ana, Mateo and Christian of West Des Moines, Preston (Morgan) Youngren and their children, Jayden, Jayston, Brady, Wynn and Kal of Odebolt, Jordan (Joel) Hustedt and their children, Eve and Jett of Galva, Iowa, and James (Tisha) Lindgren and their children, Knox, Beckham, Ava and Jude of Urbandale, Iowa; brother, William (Arlene) Lindberg of Bartlett, Ill.; sister-in-law, Betty (Wayne) Olson of Annandale, Va.; brothers-in-law, LuVerne (Marge) Rydberg of Alta, Iowa, Richard (Bobbie) Lindgren of Burney, Calif., Dennis (Janet) Lindgren of Ida Grove, and Harold Petersohn of Tacoma, Wash.; and many special nephews, nieces, extended family and a host of friends.
Preceding MaryAnn to her heavenly home were her parents, Floyd and Fidelia Lindberg; brother, John W. Lindberg; son-in-law, Robert Youngren; father and mother-in-law, Algot and Ellen Lindgren; brothers and sisters-in-law, Iver (Peggy) Lindgren, Lois Rydberg, Virginia (Charles) McGee, Verna Petersohn and Milo Devlin; and lovingly remembered nephews, nieces, extended family and friends.
To plant a tree in memory of Mary Lindgren as a living tribute, please visit Tribute Store.
Obituaries Newsletter
Sign up to get the most recent local obituaries delivered to your inbox.