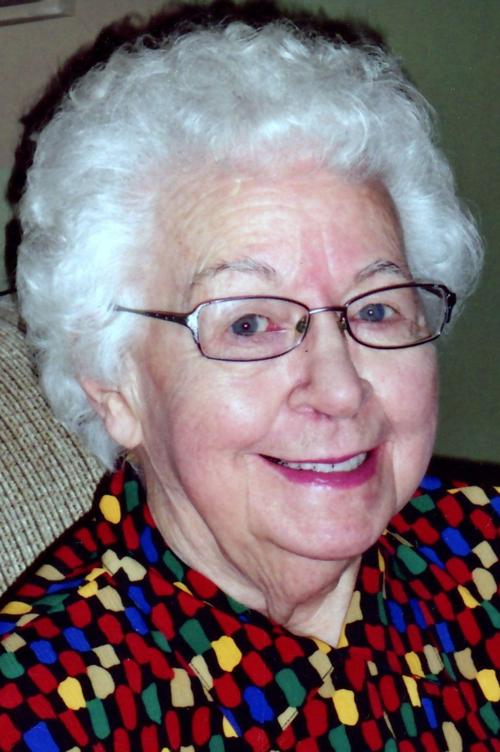 Mylet Mary McGath, 96, of Pender, died Saturday, Nov. 9, 2019, at Legacy Garden Rehabilitation and Living Center in Pender.
Services will be at 10:30 a.m. Wednesday at the United Church of Pender in Pender. Pastor Daniel Springer will be officiating. Burial will be in St. Peter's Lutheran Church Cemetery near Pender. Visitation will begin at 9:30 a.m. Wednesday and will run until service time  Memorials are suggested to the family for future designation. Munderloh–Smith Funeral Home of Pender is in charge of the services.
You have free articles remaining.
Mylet was born on Sept. 10, 1923, in Pender, the daughter of Carl Sr. and Johanna (Claussen) Otteman. Mylet attended Thurston County School District #3 and Pender High School, graduating in 1941. Mylet lived in California during WWII, where she helped support the war effort by building airplanes. She returned to Pender following the war, received her teaching certificate, and taught rural school in Thurston County.
Mylet was united in marriage to Fred "Fritz" Kubik on March 1, 1949. They lived on a farm in Cuming County, Neb. To this union two children were born, Beth Ann and Robert Fred. Fritz died in September 1958. Mylet met and later married Gerald McGath on July 5, 1961. She worked with Gerald at the Economy Market for many years. Following their retirement, they enjoyed spending their winter months in Arizona. Gerald died in May 2008.
Mylet enjoyed playing cards, golfing, bowling, reading newspapers, doing crossword puzzles, traveling, painting, quilting, Nebraska football and family reunions. She loved being with her siblings. Mylet was a member of the United Church of Pender, the church ladies group, P.E.O., Eastern Star and the VFW Auxiliary.
She is survived by children, Beth (Elden) Nihsen of Council Bluffs, Iowa, and Bob (Bonnie) Kubik of Red Wing, Minn.; stepdaughter, Vicky McGath of Seaside, Ore.; sister, JoAnn Brehmer of Ashby, Minn; brothers, Richard (Jean) Otteman of Medford, Ore., and Merlin (Nancy) Otteman of Fort Collins, Colo.; brother-in-law, Loren (Judy) Slaughter of Sterling, Colo.; grandchildren, Gina (Rean) Anderson and Jason (Teresa) Kubik; step-grandchildren, Jada Fleming and Adam (Crystal) Hove; great-grandchildren, Logan, Laken, Evin, Ashlyn, Rhyan, Rory, and Reese; and numerous nieces, nephews and other relatives.
Mylet was preceded in death by her parents; two husbands, Fritz Kubik and Gerald McGath; and siblings, Harold, Norma, Dorothy, William, Carl Jr., Ralph and Beverly.