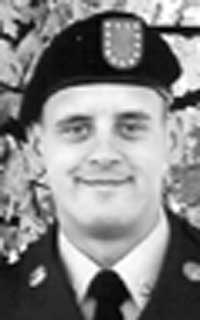 HOSPERS, Iowa -- Pfc. William E. Thorne, 26, of Hospers passed away Thursday, Aug. 24, 2006, in Baghdad after an improvised explosive devise detonated near his vehicle during Operation Iraqi Freedom.
Services will be 10 a.m. Saturday at First Reformed Church in Orange City, Iowa, with the Rev. Duane Tinklenberg of First Christian Reformed Church in Hospers officiating. Burial will be in Hospers Cemetery, with military rites. Visitation with the family will be 5 to 8 p.m. Friday at the church in Orange City. Arrangements are under the direction of Oolman Funeral Home in Orange City and Hospers. Condolences may be sent online to www.oolman.com.
William Edgerton Thorne was born Dec. 21, 1979, in Rock Valley, Iowa, to William and Karen (Vogelzang) Thorne. Also known as "Willy" or "Wilbur" by his family and friends, he was raised in Rock Valley. He attended school in Rock Valley, graduating from Rock Valley Community High School with the class of 1999.
In September 2000, it was love at first sight, when God introduced Willy to Corey, so Willy could develop a stronger relationship with God. He made profession of his faith on Sept. 16, 2001 and became a member of the First Christian Reformed Church in Hospers.
On Nov. 10, 2001, he was united in marriage to the love of his life, Corey Lee Jasper, known to Willy as "Babycakes". With God as their foundation, they made their home in Hospers. He attended Western Iowa Tech Community College in Sioux City for three years, studying criminal justice. Over the years, he had also been employed be several industries in Sioux County, Iowa.
Willy enlisted in the U.S. Army in May 2005 along with his wife. He reported to basic combat training on Aug. 4, 2005 at Fort Knox, Kentucky., and graduated on Dec. 15, 2005 as a Calvary scout. He was assigned to the 4th Infantry Division, 1-10 Calvary at Fort Hood, Texas. On Feb. 13, 2006, he was deployed to active duty at Camp Charlie, south of Baghdad in Iraq. He later was transferred to Camp Falcon in southern Baghdad.
You have free articles remaining.
He believed strongly in the cause for which he was fighting. He knew God had a plan for his life. By joining the U.S. Army, he was given the opportunity to protect the people he loved. However, one of the main reasons for joining was to save enough money to have or adopt a baby with his wife, Corey. Willy loved children, especially making them laugh.
His hobbies included tenting, fishing and playing pool. He was the number one fan of the Detroit Lions. He enjoyed anything with cherries, spicy foods, Dairy Queen Blizzards, chili soup, popcorn, potatoes, cheeseburger soup and eating at the Chit-Chat Cafe in Hospers.
He is survived by his wife, Corey, a native of Hospers, stationed at Fort Hood, Texas. She is also serving in Operation Iraqi Freedom in Baghdad, but thankfully was home on leave at the time of Willy's death. Other survivors include his mother, Karen Thorne of Rock Valley; a brother and his wife, Doyle and Shaunta Thorne and their four children, Samuel, Daunta, Monique and Tyresse, all of Rock Valley; a sister and her husband, Joey and Mike Sigsbee and their son, Michael Jr., of Doon, Iowa; and his maternal grandmother, Mina Vogelzang of Rock Valley, Iowa.
He is also survived by Corey's family, her parents, Harlyn and Deb Jasper of Hospers; a brother and his wife, Chad and Amanda Jasper of Aliquippa, Pa.; a brother, Clint Jasper of Sioux Falls, S.D.; her maternal grandparents, Norman and Dorothy Klynsma of Hospers; along with many uncles, aunts and cousins from both families.
He was preceded in death by his paternal grandparents, Doyle and Ida Thorne; maternal grandfather, Samuel Vogelzang; Corey's paternal grandparents, Glen and Jean Jasper; and two nephews, Darian Glynski and Jadon Immanuel Jasper.
Willy will be missed and forever loved by those whose lives he touched in such a special way. We will always honor him with gratitude for his ultimate sacrifice for our freedom. We praise God and offer him our thanks for the time he blessed us with Willy.
Because of Willy and Corey's love for children, memorials may be donated in his memory to the Make-A-Wish Foundation, Bethany Christian Services, Big Brothers/Big Sisters, Children's Miracle Network, the Hospers First Christian Reformed Church or Christian education.