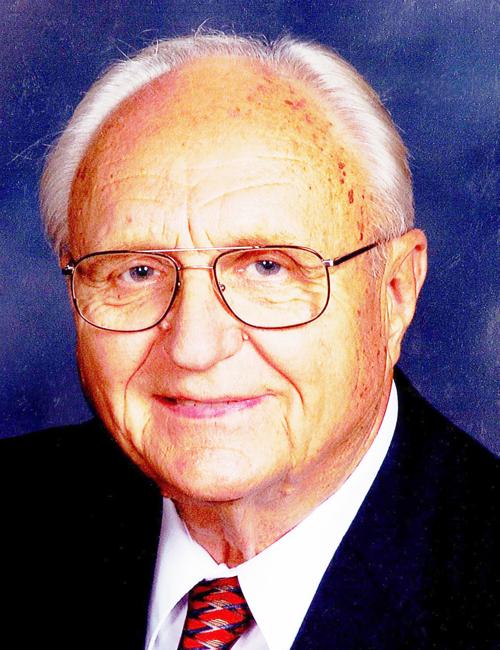 Richard Aykens De Boer Jr., 89, of Sioux City, passed away Thursday, May 30, 2019, at Sunrise Retirement Community, one week short of his 90th birthday.
Celebration of life services will be 10:30 a.m.  Monday at Central Baptist Church in Sioux City. Private graveside services will be in Gilman Township Cemetery, Ashton, Iowa. Visitation will be 4 to 7 p.m. today at Morningside Chapel, Christy-Smith Funeral Homes.
Richard was born in Sibley, Iowa, on June 6, 1929, to Richard A. and Ethel E. (Magnusson) De Boer. He was raised in Ashton and graduated from Ashton Public High School in May 1947.
He attended Sheldon Junior College for one year. He worked for the Farmer's Elevator in Ashton until he enlisted in the U.S. Navy. Rich served in the Navy from Sept. 8, 1950, to June 30, 1954. Duty stations included Patuxent River Naval Air Station in Maryland, the USS Mississippi, and the USS Wisconsin. Following service in the Navy, he attended the Radio Engineering Institute in Omaha, completing the course in January 1956.
On June 15, 1956, Rich married Lois E. Hickman at Ashton Bible Church in Ashton. They lived in Iowa City for 3 ½ years, where he was employed by AT&T. The couple moved to Sioux City in 1960, where he was employed as an electronics technician with the Federal Aviation Administration and later became the manager of the Sioux City Airway Facilities Sector Field Office. Rich retired in May 1992 after 32 ½ years of service with the FAA.
You have free articles remaining.
Rich was a longtime member of Morningside Baptist Church, where he served as Sunday School superintendent, Sunday School teacher, and trustee. In recent years, he regularly attended Central Baptist Church, where he enjoyed the fellowship of the Maranatha Sunday School class.
Rich was involved with the Boy Scouts, serving several years as a Webelos Cub Scout leader. He enjoyed woodworking and collecting and had numerous sets of antique collectibles. Rich and Lois had a special passion to travel and were privileged to visit many countries throughout the world. He was a member of the American Legion.
Rich is survived by his wife, Lois; son, Steve (Becky) De Boer; daughter, Jan (Scott) Swartzendruber; four grandchildren, Amanda (Eric) Bowman, Michelle (Chris) Nieset, Jeff (Lindsay) Swartzendruber, and Jill (Konrad) Swartz; four great-grandsons, Jace Swartzendruber, Charlie Swartzendruber, William Bowman, and Noah Nieset; extended family; and many friends.
He was preceded in death by his parents.
Memorials may be directed to Central Baptist Church, Sioux City, Daily Bread Ministries, or the Osceola County Freedom Rock in Ashton.
The family wishes to thank the staff at Sunrise Health Center and Hospice of Siouxland for their loving care and support.
To plant a tree in memory of Richard De Boer, Jr. as a living tribute, please visit Tribute Store.