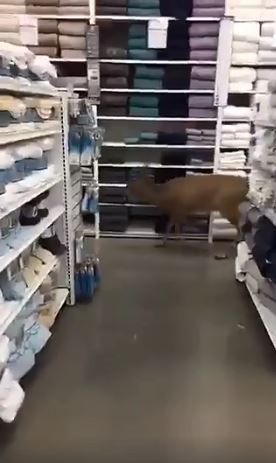 SIOUX CITY — A deer briefly browsed through the aisles of Sioux City's Bed Bath & Beyond store Sunday afternoon, but employees couldn't confirm if the creature brought any bucks with it.
The herbivore was spotted between noon and 1 p.m. at the store, 5751 Sunnybrook Drive, according to store manager Jeff Albert.
"Everybody was just doing their work and all of a sudden one of the cashiers said, 'Holy cow, there's a deer coming in the front door.'" Albert said. "I was up near the front and I peeked around the corner and there it was, a little deer running in the door."
Albert said the deer couldn't have been more than 3 feet tall and didn't cause any damage or directly interact with any people.
Rather than panic, he and the store employees opened up all of the emergency doors as onlookers snapped photos and videos so that the deer could see itself out, which it did unharmed.
"It was one of those things you see on Facebook happening in other places but you really don't believe it until it happens to you," Albert said.
While Albert doesn't know exactly what caused the deer to visit his store on Christmas Eve, he does have one theory.
"(It) dropped in to do a little last-minute Christmas shopping, I guess," he said.
Get local news delivered to your inbox!
Subscribe to our Daily Headlines newsletter.