ORANGE CITY, Iowa -- During the third weekend of every May, the downtown streets of Orange City are teeming with tulips, wooden shoes and as many as 100,000 people in a city with a normal population of less than 6,000.
"The Tulip Festival is something you have to experience in person," Mike Hofman, executive director of the Orange City Chamber of Commerce, said. "It draws people from around the state, from around the country and from around the world."
The 79th festival starts Thursday and will continue through Saturday in the Sioux County seat, which was founded in 1870 by Dutch settlers from Pella, Iowa, in search of less expensive and more fertile land.
"We've had people come as far away as Japan to sample our Dutch hospitality," Hofman added.
Luckily, there will be plenty of things for people to see and do. That includes a twice-daily parade, the Straatfest and street scrubbings.
But don't forget the carnival midway, the arts and crafts shows, a cruise-in car show, an antique tractor show and wooden shoe carving demonstrations.
For theater lovers, local actors, singers and musicians will perform in a Night Show production of "Disney's Beauty and the Beast," at 8 p.m. Wednesday through Saturday, at Unity Christian Knight Center, 216 Michigan Ave. SW.
The Tulip Festival Road Race, which starts at 8 a.m. Saturday inside Windmill Park, might qualify as a more recent tradition. Organized by OC Fit and Orange City Area Health System, the event -- including a 5K run, 10K run and one-mile walk -- raises funds for a host of kid-related charities.
A jaunt around Orange City will allow people to take a gander at more than 30,000 tulips that are grown each year. Equally as breathtaking are 2019's Tulip Festival Queen Allison Haverdink and court members Aarika Van Gelder, Emma De Groot, Jadeyn Schutt and Jadeyn Veltkamp.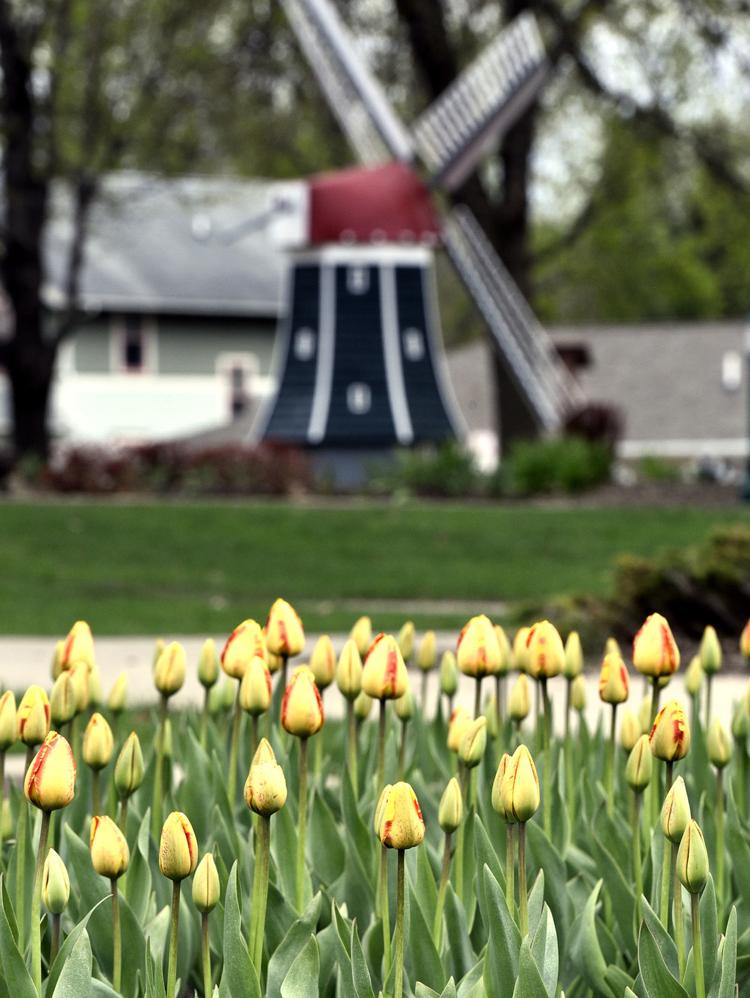 You have free articles remaining.
While you're in Orange City, you might as well as sample such Dutch treats as the poffertjes (silver-dollar-sized pancakes served in a sack) or the saucijsjes (the Netherlands' version of pigs in a blanket), which are a particular favorite of Hofman's.
"You can't come to Tulip Festival without trying some Dutch food," he said. "It's part of the fun."
Indeed, Hofman said he enjoys how the Tulip Festival brings more than 1,000 volunteers together each year.
"The Tulip Festival couldn't continue without the hard work of our volunteers," he said. "We have some people who've been volunteering their time for decades as well as families with multiple generations of volunteers."
Which is only fitting since Hofman said the Tulip Festival works hard to be as family-friendly as possible.
"We try to keep our costs as low as possible," he added. "You can keep your family entertained without spending too much money." 
Plus the Tulip Festival is often the first major, outdoor event of the year.
"After a long winter, the Tulip Festival means spring is finally here," Hofman said.
"Everybody gets to be a little bit Dutch at the Tulip Festival," Hofman said with a laugh.