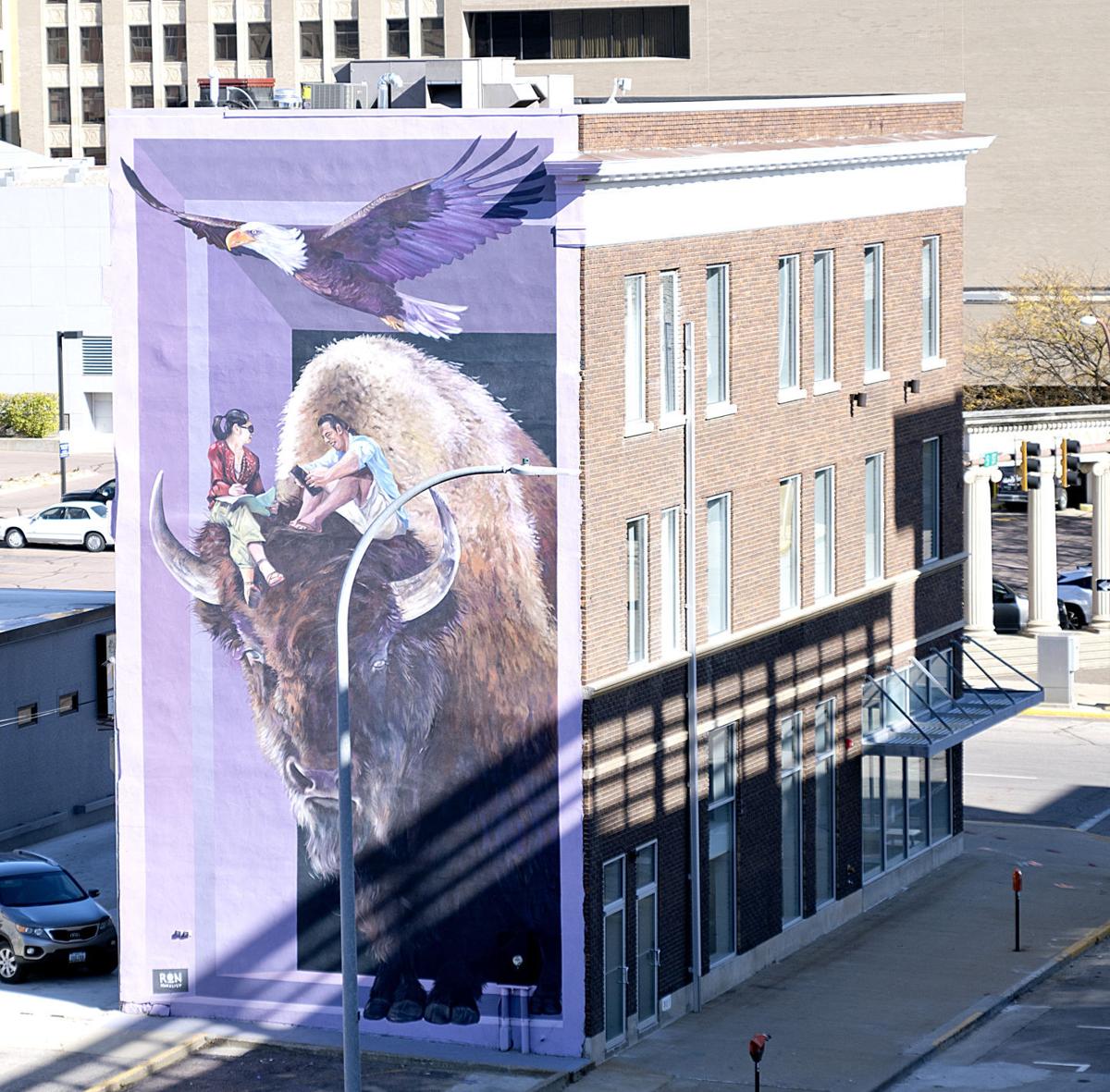 SIOUX CITY | Sioux City residents have a pair of new sights to see downtown, as two artists have completed a pair of brand-new downtown murals. 
Argentinian street artist Martin Ron on Monday put the finishing touches on his large three-dimensional mural at 501 Douglas St. in downtown Sioux City. Painted on the west side of a building being renovated by the Goosmann Law Firm, Ron's mural features two people sitting atop the head of a three-story-tall bison, with an eagle soaring over their head. The mural will greet traffic traveling east on Fifth Street. 
Ron's three-dimensional street art can be found in his native Buenos Aires, Argentina; Belgium; and Malaysia. He completed the work with the help of a single assistant during the course of a 15-day visit to Sioux City and departed Monday.
You have free articles remaining.
The mural is among two commissioned by Downtown Partners using a $25,000 grant from the Gilchrist Foundation awarded in August.
A second mural on the east wall of M's on Fourth, 1021 Fourth St., has also been completed by Des Moines artist Jenna Brownlee. That mural depicts a floral design that incorporates a handful of Sioux City landmarks: the Sergeant Floyd Monument, Woodbury County Courthouse, Chief War Eagle Monument and others.
The mural on the renovated 501 Douglas St. building came together as Goosmann Law Firm finished renovations on the structure and began moving in its administrative team. 
"It was amazing to watch Martin Ron's work come to life these past couple of weeks," Jeana Goosmann, CEO and managing partner of Goosmann Law, said in an email. "We are extremely honored to have our building be the canvas to one outstanding work of art." 
Goosmann said the name "Buffalo Building" is beginning to stick. "We love it," she said, thanking Downtown Partners for its role in bringing the murals to downtown. 
Get local news delivered to your inbox!
Subscribe to our Daily Headlines newsletter.