SIOUX CITY -- Longstanding baseball staples return Thursday as the Sioux City Explorers open their 2019 season.
Following tradition, "Take Me Out to the Ballgame" will be sung during the seventh-inning stretch for home games at Lewis & Clark Park. There also will be multiple in-game promotions, including the popular "beer batter," which allows fans to buy a beer for just $1 if a designated opposing player strikes out.
On Monday, several Explorers employees helped prepare Lewis & Clark Park for the home opener, stocking concession products and team memorabilia for sale.
"They are more than ready, they want to play," Pitkin said. "They are ready for opening night."
The X's, who compete in the independent American Association of Professional Baseball, open their 100-game season Thursday against the Lincoln Saltdogs. Half of the games will be home and the other 50 will be on the road.
"Always the expectations are to contend for a championship, and this year is no different," Pitkin said.
Last season, the X's qualified for the playoffs, but were eliminated in the opening series. It was the third postseason appearance in the five years that Steve Montgomery, or Mongo, has managed the team.
The last four years under Montgomery have been very strong, with three division titles, including being Southern Division champs in 2018, after a 71-29 regular season record with nine more wins than any other team. Over those four years, the X's have amassed a record of 246-154.
"(Montgomery) is a winner. I really think people need to turn out more for the Explorers," said Curt Stolpe of Sioux City, who has been going to Explorers games since the franchise started in 1993.
A Cubs fan, Stolpe was quick to name Pete Rose Jr. and Dennis "Oil Can" Boyd as players with an MLB connection who have played for the Explorers.
Stolpe says he has a 25-year-old son who "goes all the time" to Explorers games, while Stolpe himself may go to 10 games in a year when the team is winning more. He's more apt to go to weekend games or when the weather is better.
"They have been good. I have been going more ... I always enjoy it, even if there is nobody there," Stolpe said Tuesday.
You have free articles remaining.
In spite of the recent strong years, the Explorers still can't get into the middle of the pack when it comes to fan attendance in the 12-team league.
"You always hope that Sioux City would continue to support the Explorers, after 27 years of baseball," Pitkin said. "Steve and (pitching coach) Bobby (Post) have been putting together a great group of talent, the team is winning. It is nice whenever we get the crowds coming."
Stolpe had top-of-mind thoughts on how to boost attendance. The first mention was located on the first base line, and he figured a return could get 20 people.
"Remember the Hot Tub? Bring back the Hot Tub. Put some amenities in the suites, push those suites," Stolpe said.
The Kids Zone, which features inflatable bouncy houses and other interactive games, has been moved from the third base to the first base side of the ballpark. He said the grounds are looking great after prep work by club employees, and added that team officials continually work to freshen up fan contests that take place on the field between innings.
"We try to make it an enjoyable place for fans. We are always looking for new things to re-energize this place," Pitkin said.
Pitkin said another thing X's fans will notice is a resurfaced parking lot. The work will be done in two phases, with one half hopefully done by July 4, and the other by the end of the season.
"We try to make it an enjoyable place for fans. We are always looking for new things to re-energize this place," Pitkin said.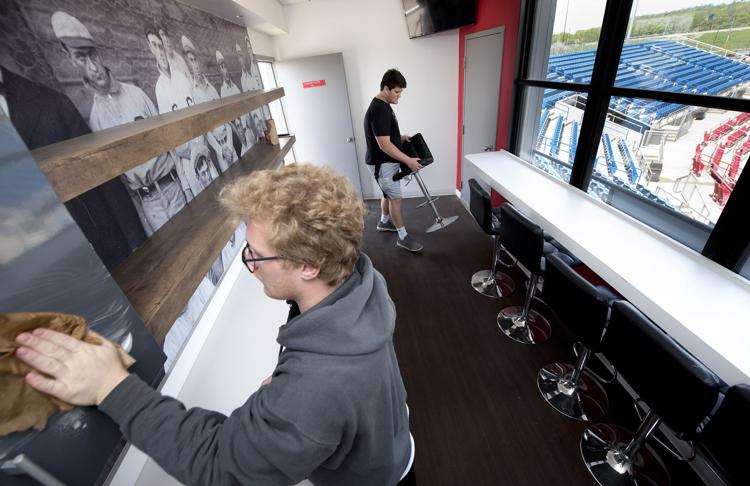 Pitkin was the coach of the Briar Cliff University baseball team for 22 years through this month, when he took the X's general manager post, following the departure of Shane Tritz. Pitkin said the team brings back several returning players, including defending league batting champion Nate Samson, who is the team's shortstop, and outfielder Michael Lang, who is the team's all-time hits leader. Those two have won American Association player of the year honors.
Additionally, there are two Explorers pitchers with MLB experience, with Taylor Jordan and Jason Garcia.
"The camaraderie of this team picked right up from where it left off last year and that's a good thing," Montgomery said earlier this month. "It shows me that we've got a bunch of good individuals in that clubhouse. We've got a bunch of good baseball players. So far, everyone's pulling on the same end of that rope."