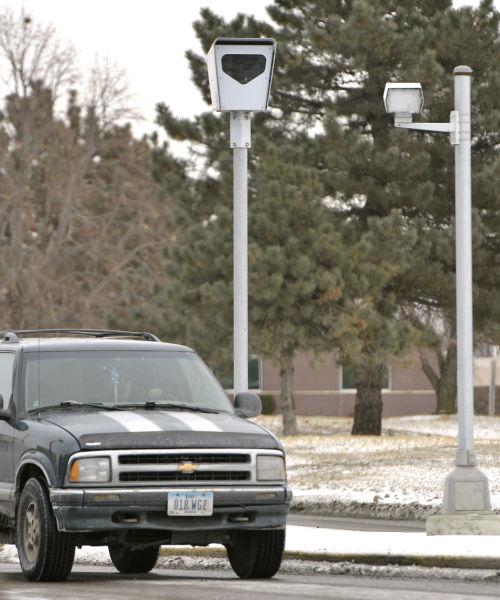 SIOUX CITY | Mayor Bob Scott on Wednesday called on city leaders to drop a contract with the vendor that runs red-light and speed cameras due to controversy surrounding the company.
"I don't like it one bit," Scott said. "It's the perception of it. We don't want that."
Aaron Rosenberg, a fired executive for vendor Redflex Traffic Systems, in a lawsuit said the company bribed government officials in California, Washington, Arizona, New Mexico, Texas, Colorado, Massachusetts, North Carolina, Florida, New Jersey, Tennessee, Virginia and Georgia to secure contracts, according to the Chicago Tribune.
Rosenberg, who was vice president of business development, was fired after Redflex lost a $100 million contract with the city of Chicago in 2012, following a Tribune investigation into the company's business practices. The company sued Rosenberg.
His counter-suit says Rosenberg was following orders and is cooperating in a federal investigation, according to the Tribune.
Redflex in a statement denies any wrongdoing.
"Redflex will aggressively defend itself against the allegations as well as prosecute its claims against the former executive," the company said Tuesday. "We are committed to transparency and honesty in our business practices."
Rosenberg's attorney, James Burr, did not return a call seeking comment on the case on Tuesday. An employee of his office said Burr wasn't discussing the lawsuit.
Redflex, part of Australia-based Redflex Holdings Ltd., in Sioux City operates 11 automatic red-light cameras at nine intersections and two speed cameras on Interstate 29. Violators are mailed tickets.
Sioux City officials said there is no indication of any unethical business dealings with the local contract.
"We want to be transparent and we want our people to know what's going on. And if that was going on, I, for one, would be ballistic," said Sioux City Councilwoman Rhonda Capron. "It would be absolutely non-negotiable. It would be something that we definitely would want to take care of."
The contract started in 2009 and expires in 2016, with two automatic two-year renewal periods. The city can opt out of the extensions by providing a 60-day notice.
City Attorney Nicole Jenson-Harris said the contract has a termination clause, but she needs to investigate whether the current issue meets the threshold.
City police found Redflex while searching for vendors that provided both still photos and video of violators. Sioux City police Capt. Mel Williams said only Redflex and one other company met that criteria.
When another city tipped off police the other company was preparing to go bankrupt, police asked city officials if they could begin negotiating with Redflex, Williams said. The company has more than 2,000 traffic safety systems in the U.S. and Canada. 
Sioux City officials have repeatedly said the devices improved safety and reduced accidents. The use of the devices on Interstate 29 has been especially controversial. Iowa is the only state that allows cameras to be permanently installed along thoroughfares managed by the state.
The Iowa Department of Transportation is asking lawmakers to require municipalities to prove the devices improve safety.
The expected loss of the camera revenue is creating a $4 million budget shortfall in the Sioux City municipal budget.