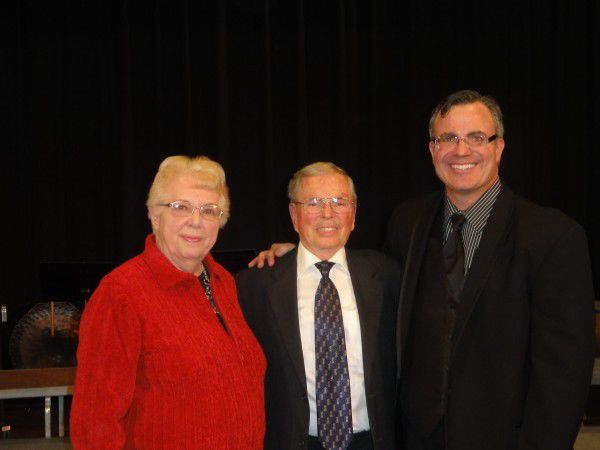 SLOAN, Iowa | An estimated 140 alumni from the Westwood Rebelaires Show Choir program will gather at the WinnaVegas Casino Resort Events Center this evening for a rehearsal, prepping for a three-song set that will highlight the 50th anniversary of the founding of the group.
The alumni performance takes place on Saturday during the finals portion of the Westwood Rebelaires' annual Jubilation competition at Westwood High School in Sloan.
"This is the 50th anniversary of the founding of the Westwood Rebelaires," said Tom Gerking, director of choirs serving the Westwood Community School District. "On Friday night, we're going to honor Myron Armour, one of the founding fathers of show choir in Northwest Iowa. He directed choir here (in Smithland and Sloan) for 30-plus years."
Armour was one of the first show choir directors in this section of Iowa.
Friends and alumni will gather for a social hour from 6-7 p.m., which then gives way to a buffet dinner, which will be followed by a program and then the rehearsal for the alumni choir.
You have free articles remaining.
Gerking is anticipating 140 past Rebelaires to participate, but that number might grow. He invites any last-minute guests to simply show up.
"I know of at least three from that first graduating class in 1966 who plan on taking part," he said.
The Saturday Jubilation show begins in two venues (the auditorium and the new gym) at Westwood High School, starting at 8 a.m. Thirty-three middle school and high school show choirs will participate in the competition, all vying for spots in the 8 p.m. finals.
Just before the finals, however, the alumni choir will sing and dance to three songs.
Gerking's current Rebelaires Show Choir will perform at approximately 10:30 p.m. on Saturday, helping wrap-up the finals portion of the event.
Tickets for Saturday's Jubilation are $10 for an all-day pass, $8 for finals-only.