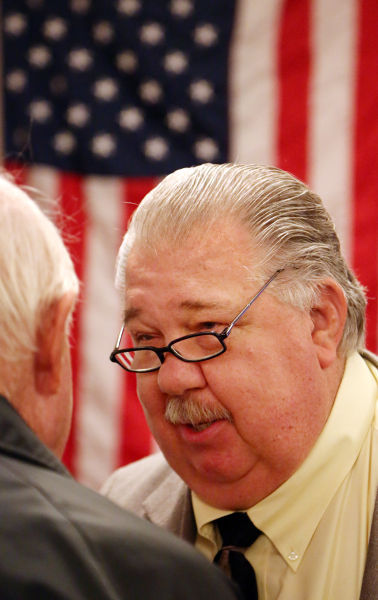 ALEXANDRIA, Va. -- As national co-chairman of Donald Trump's presidential campaign, Northwest Iowa's Sam Clovis encouraged a low-level foreign policy adviser to meet with Russian officials to build relations with the Kremlin, according to media reports Monday.
"Make the trip, if it is feasible," Clovis wrote in an August 2016 email to George Papadopoulos.
Papadopoulos, 30, a former researcher at the conservative Hudson Institute, was thrust Monday into the center of special counsel Robert Mueller's investigation into possible Russian meddling in the 2016 campaign. Papadopoulos, who was secretly arrested in July for lying to federal authorities, has pleaded guilty and is cooperating with Mueller's investigation, according to court papers unsealed Monday.
The campaign supervisor who sent the email to Papadopoulos was not identified in court documents, but the Washington Post and Yahoo News identified the supervisor as Clovis, who now serves as senior White House adviser to the U.S. Department of Agriculture.
In his plea filing, Papadopolous admitted that he told Trump and other top campaign national security officials during a March 31, 2016, meeting that he had contact with intermediaries for Russia who said they could set up a meeting between Trump and Russian President Vladimir Putin.
The statement does not describe Trump's reaction at the time but Papadopoulos continued to email campaign officials about a possible meeting with individuals claiming to work for the Russian government who were offering "dirt" in the form of emails from Democratic nominee Hillary Clinton.
You have free articles remaining.
Papadopoulos, who had no formal responsibilities, communicated most with Clovis and campaign chairman Paul Manafort, an official involved with the group told the Associated Press.
A separate raft of charges Mueller announced Monday against Manafort and his longtime aide Rick Gates do not appear to be directly related to their work for Trump.
White House press secretary Sarah Huckabee Sanders termed Papadopoulos' role with the campaign as "extremely limited."
Clovis "always vigorously opposed any Russian trip for Donald Trump and/or the campaign," Clovis' attorney, Victoria Toensing, said in a statement Monday to the Washington Post.
Toensing said Clovis was "being polite" when he encouraged Papadopoulos to meet with Russian officials in August, adding that the campaign had a "strict rule that no person could travel abroad as a representative of the campaign," the Washington Post reported. Clovis could not stop an American citizen from traveling abroad "in his personal capacity," she added.
Clovis, a conservative Republican who joined Trump's campaign months before Iowa's first-in-the-nation presidential caucuses in February 2016, has been nominated by the president to be the top scientist at the U.S. Department of Agriculture. The nomination, which has sparked strong objections from environmental groups and some ag organizations, is scheduled for a confirmation hearing before the Senate Agriculture Committee on Nov. 9.
Clovis ran unsuccessfully for U.S. Senate in the Republican primary in June 2014 and lost to Democratic incumbent state Treasurer Michael Fitzgerald that fall. A former Morningside College economics professor, he took an extended leave of absence from the Sioux City school when he joined the Trump campaign as national co-chairman and chief policy adviser in August 2015. He also formerly hosted a Sioux City radio talk show.
The Associated Press contributed to this story.