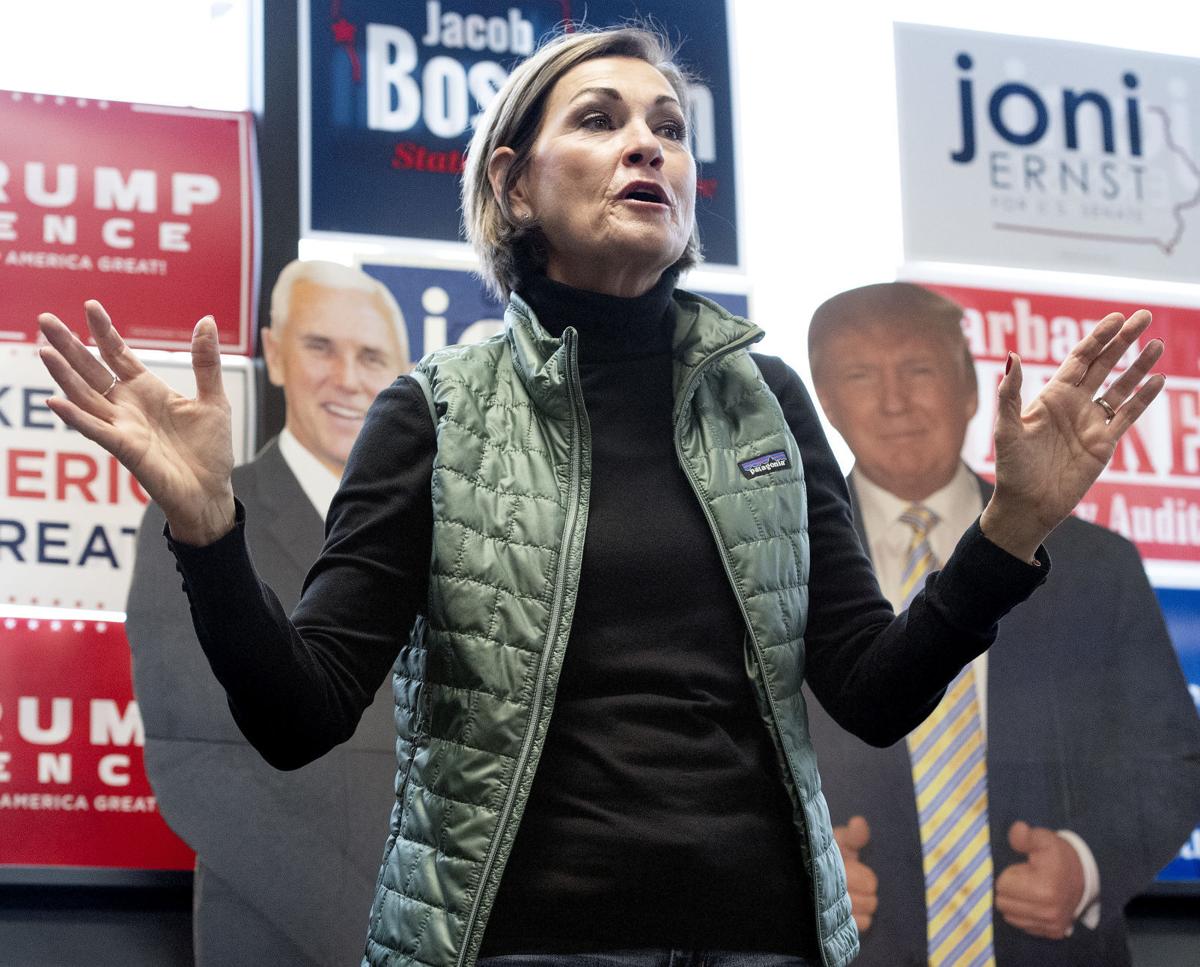 SIOUX CITY -- Gov. Kim Reynolds said Thursday that she has no immediate plans to change her approach to the novel coronavirus, but, if she had to, she said it would be "very, very targeted and mitigated." 
Reynolds made the comment during a media interview following a Sioux City rally for U.S. Sen. Joni Ernst, a Republican running for re-election. 
"Right now, I think we're gonna continue to remind Iowans what they need to be doing, work with our hospitals to make sure they're doing OK and continue to learn to live with it," Reynolds said. "Right now, I don't anticipate doing anything, but it's not to say that I wouldn't in the future if I needed to. It just would be very, very targeted and mitigated, because we know how to do that with the data that we have." 
The Iowa Department of Public Health reported 1,401 new confirmed positive cases Thursday morning, along with another 15 COVID-19-related deaths. On Wednesday, the state hit a daily record high of 31 deaths. As of Thursday evening, 1,601 Iowans had succumbed to the virus, according to state statistics.
Reynolds spoke to roughly two dozen people packed into the Woodbury County Republican Party election headquarters. The majority of those in attendance were wearing masks. Reynolds removed a mask emblazoned with the state flag before stumping on Ernst's behalf. 
"I love the energy. I love the momentum. I love the enthusiasm, but we can't just wave the flag. We have to take that momentum and we have to turn it into votes," she told those gathered. "We have to make sure that we're getting all of you to the ballot box to vote." 
Reynolds said she puts her trust in the people of Iowa, whom she called "resilient" and "responsible." Because of that mindset, Reynolds said 75 percent of the state's children have been able to return to the classroom in a "safe and responsible manner."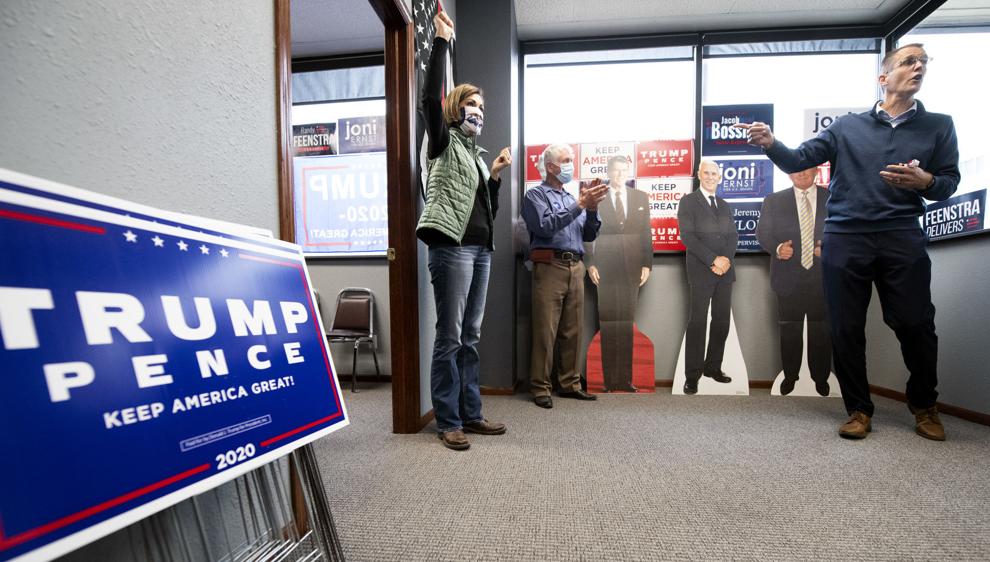 "They do the right thing. They're safe," she said of Iowans. "Because of that, we were able to keep over 80 percent of our workforce working and businesses open." 
Reynolds said Iowa's fiscal health is "strong" and that the state is "so poised" to come out of the pandemic, drought, derecho and floods in "a really good place." She also noted that the state's unemployment rate stands at 4.7 percent, down from a high of 11 percent. 
"If 2020 has taught us anything, it's that leadership matters and it matters in our local community, it matters in Des Moines and it matters in Washington D.C.," she said.
Reynolds said it's "critical" that Ernst is reelected. She pointed out that Ernst has visited all of Iowa's 99 counties, while her opponent, Democrat Theresa Greenfield, has not. 
"(Ernst) understands that there's four corners to the state. Theresa hasn't been to over half of the counties," Reynolds said. "Now, if somebody who's trying to win an election can't take the time to go to all 99 counties and talk about why she's the best person to represent you, what do you think she's going to do if she would get elected?"