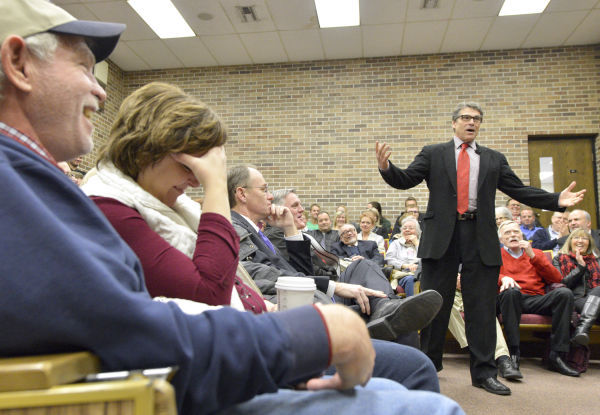 SIOUX CITY | Former Texas governor Rick Perry wouldn't say Monday whether he plans to run for president in 2016, but he told a standing-room-only crowd at Morningside College that to win the hearts of Iowa voters he would need to spend time in the state.
Speaking during a town-hall-style meeting, Perry said economic improvement begins by reducing excessive federal regulation. He said energy independence also is crucial to economic success, and he expressed support for the controversial Keystone XL oil pipeline, which would carry Canadian tar sands crude through South Dakota and Nebraska, and a proposed pipeline that would move oil from western North Dakota's Bakken oil fields through Iowa. 
Audience member Kevin Rutledge, 24, of Des Moines, asked Perry how voters could expect him to make decisions based on their best interests when he sits on the boards of big corporations, including Dallas, Texas-based Energy Transfer Partners, which wants to build the pipeline through Iowa.
Energy Transfer Partners' website lists Perry as James R. Perry on its board of directors and says he joined this month.
Perry acknowledged that he sits on the board and said, "I think it makes sense to have our own North American source of energy."
"I trust your citizens here in the state to decide whether or not that is a pipeline that needs to be built," he said.
He said his vision for the U.S. is one that allows the states to decide for themselves such matters as health care and gay marriage while leaving border security up to the federal government.
"You'll figure out where you want to live," Perry said.
You have free articles remaining.
Asked about immigration reform and whether he has a plan for millions of undocumented immigrants already in the country, Perry said the U.S.-Mexico border must first be secured to stop the flow of illegal crossings before immigrants' status  is addressed.
His remarks drew intermittent applause from supporters.
Nancy Charlson, 75, and Nancy Wiese, 67, both of Sioux City, said they consider themselves "very conservative." Any candidate who shares their beliefs and has integrity gets their vote.
"We want a candidate that has our values, like a candidate that is against abortion," Wiese said.
Neither of the women -- who call themselves "the Nancys" -- said they'd support Perry just yet. 
"You want to hear what they all have to say, and then you make a judgement when you have your facts together," Charlson said. "It's not necessarily what they say but what they do."
Morningside student James Farnan, 18, said he attended Perry's event because he is fascinated by campaigns.
"I'm really interested this year about the Republican field," Farnan said. "There are so many different candidates and they have similar positions but they differ enough that it's going to be a really fun campaign season."
Farnan said he doesn't exactly share Perry's ideological beliefs, but he said Perry was a good politician on Monday night.
"I think he did a good job of getting his message out and doing what he needed to do," Farnan said.